Retired Air Force Colonel Lays Out 'Affordable' Plan to Get Ukraine F-16s
NATO countries should immediately provide Ukraine with F-16 fighter jets and trained personnel as part of an "affordable" strategy, says an Air Force veteran.
In a pair of op-eds for The Hill and the Kyiv Post, retired Colonel Jeffrey Fischer laid out a plan for airborne assistance and said the reticence of the U.S. and other NATO countries is preventing Ukraine from winning both spectrums of the ongoing war.
"The clock is ticking. Ukraine needs fighter jets—soon," Fischer, who served 30 years and participated in seven combat missions, wrote in The Hill. "Western worries about transferring fighter aircraft like the F-16 to Ukraine appear to be based more on political concerns than military strategy.
"Few flag officers would suggest the incremental approach Western political leaders are undertaking as a strategy to win the Ukraine war. The American way of war prefers overwhelming force—and for good reason: It produces victory. The alternative is often a brutal war of attrition."
He wrote in the Kyiv Post that the F-16 presents the "capability" that other jets, such as the Typhoon, Gripen and M2K, simply don't have.
Over 1,000 F-16s have been flown for some three decades in countries including the Netherlands, Belgium, Greece, Turkey, Norway, Denmark, Portugal, Israel, Egypt and Poland.
He argues that the thousands of retired personnel across Europe, in addition to the 10,000-plus with experience worldwide who are privy to how F-16s function, can be accelerate Ukrainians' training on such aircraft.
"The idea is simple," he wrote. "Ukrainian pilots fly the jets, contracted experts work on the aircraft while providing on-the-job training to Ukrainian Air Force ground support personnel."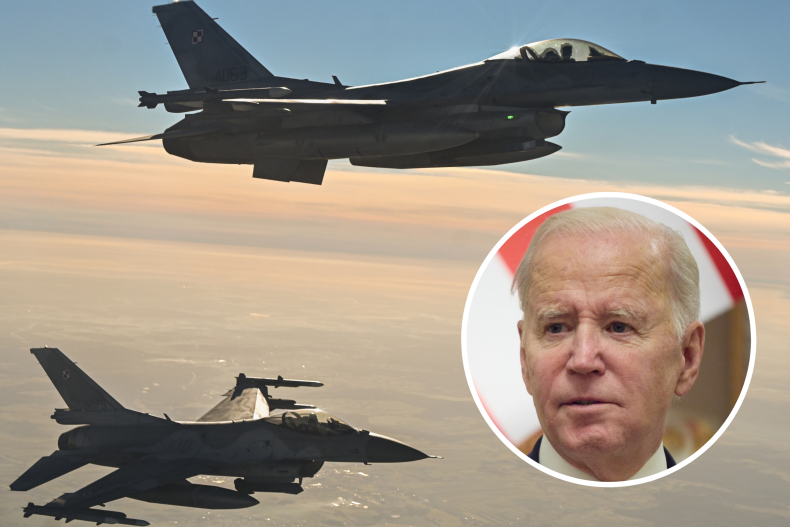 As for the cost, Fischer estimated that a total of $15 million would be split toward different aspects.
For about $10 million, around 100 qualified instructors would receive $100,000 each for six months of work, 12 hours on and 12 hours off, including weekend shifts.
The remaining $5 million would subsidize pay for a handful of leadership positions, with remaining funds covering overhead and profit for the military contracting company.
"While $15 million is a considerable amount of money, it's worth noting that the total is less than the cost of one F-16, it's a one-time cost, and nearly a rounding error in the billions offered to Ukraine," he wrote.
In recent weeks, Ukrainian officials have more strongly requested F-16s at their disposal. It's a bridge President Joe Biden has been reluctant to cross throughout the war's duration, saying as recent as January 30 that he would not provide the aircraft to Ukrainian President Volodymyr Zelensky.
Other officials, such as Dutch Foreign Minister Wopke Hoekstra, suggested in January that the Netherlands would listen to F-16 requests with "an open mind."
While 11 Republicans in the House of Representatives support legislation to cut all aid to Ukraine, other Republicans including Senator Lindsey Graham and Representative Mike McCaul have pushed for F-16s to be provided by the U.S. to Ukraine to avoid a more prolonged conflict.
Russians have openly expressed plenty of doubt about the U.S. and NATO countries delivering such aircraft.
"First of all, Ukraine cannot get so many planes, if any," said Yan Gagin, military adviser to Denis Pushilin, the head of the so-called Donetsk People's Republic, on January 31. "There are great doubts that it will happen at all. As for new models, the latest generations of aircraft, they will not get them in any case."
Newsweek has reached out to Fischer for additional comment.