Retired General Tells Fox Host 'You're Chasing a Myth' After He Suggests ISIS Defeated In Syria
Retired four-star U.S. Army General John "Jack" Keane pushed back hard after Fox Business host Lou Dobbs claimed that the U.S. could claim "victory over ISIS."
"What we can claim now is victory over ISIS, over al Qaeda to this point. We can claim..." Dobbs said Wednesday evening on his Fox Business show Lou Dobbs Tonight. But Keane interjected, saying: "No we can't. That's not true."
Dobbs pushed his point however, saying: "I said we can claim, I didn't say it was true. And we could've claimed, at one point, victory over the Taliban."
"You're chasing a myth," Keane responded. "A myth that we can have a conventional victory over these radical Islamist organizations, which are absolutely ideological driven organizations. The only way this actually ends is when we protect ourselves against those who would threaten us," he argued.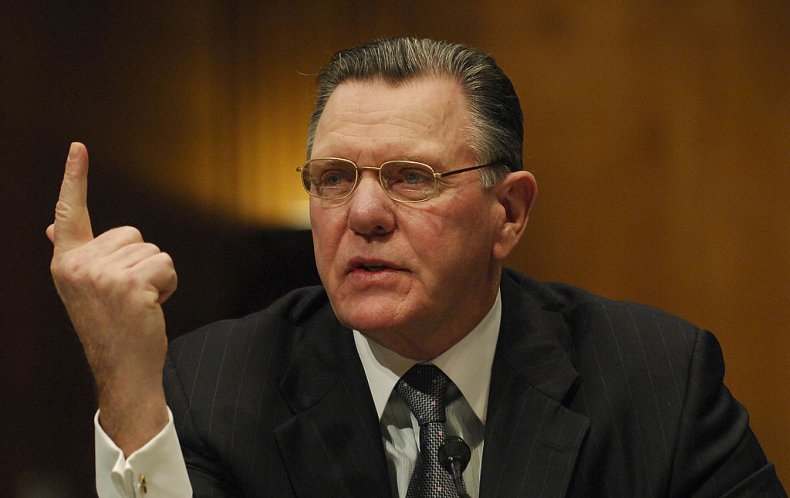 President Donald Trump has repeatedly claimed that ISIS has been defeated, suggesting that he is the primary person responsible for the so-called victory. However, this week Republican and Democratic lawmakers have warned that the extremist militant group could resurge in Syria as a result of Trump's contentious decision to withdraw troops from northern Syria.
"The United States was supposed to be in Syria for 30 days, that was many years ago. We stayed and got deeper and deeper into battle with no aim in sight. When I arrived in Washington, ISIS was running rampant in the area. We quickly defeated 100% of the ISIS Caliphate," the president tweeted on Monday to defend his controversial order.
GOP Senator Marco Rubio of Florida quickly retweeted Trump's post, fact-checking the president's claims.
"We degraded ISIS using Kurd's as the ground force. Now we have abandoned them & they face annihilation at the hands of the Turkish military," Rubio wrote. "ISIS could now be reinvigorated when 1000's of jailed fighters break out when the Kurdish guards are forced to leave to go fight Turkey."
Retired U.S. Navy Admiral James Stavridis raised similar concerns in an interview with MSNBC's Morning Joe on Thursday morning. "Pulling them [the U.S. forces] out will absolutely allow the reforming of that mass of Islamic State [ISIS] fighters," he argued. The admiral, who previously served as the North Atlantic Treaty Organization's (NATO) Supreme Allied Commander, pointed out that intelligence reports suggest some 20,000 to 30,000 disbanded ISIS fighters still remain in the region.
Republican Senator Lindsey Graham of South Carolina, who is typically seen as a close ally of the president, has become one of the harshest critics of Trump's Syria withdrawal. On Monday morning, he called into Fox News' morning show Fox & Friends to blast the president's claim that ISIS had been defeated.
"ISIS is not defeated. This is the biggest lie being told by this administration," Graham said.