Irish Rep's 'Belfast Girls' Is a Taut Drama of Women at Sea in Their Lives
The five young women who are on a ship in 1851 sailing from Ireland to Australia in Jaki McCarrick's gripping play Belfast Girls, which is now onstage at the Irish Repertory Theatre, all have some secrets, and they all have told a few lies. In fact, the play could have justifiably been called Secrets and Lies if Mike Leigh had not employed it so well for his 1996 classic movie. They also have more than enough pipe dreams to fit quite easily into Harry Hope's hell hole of a bar in Eugene O'Neill's The Iceman Cometh. But these women are a much more sympathetic group. Their delusions are not so much of their own making as they are the result of outside forces. These Belfast girls are in search of a new and better life, and they are in for the ride of their lives.
A confluence of historical circumstances led to these—and about 4,000 other—women being sent to Australia, where men largely outnumbered women. There was also a worker shortage. In Ireland, the Great Famine had left many young women destitute and thousands of them were in workhouses. Out of this came the Female Orphan Emigration Scheme in which so-called young morally pure girls ages 14 to 18 were shipped to Sydney and other cities in Australia.
These women have a love-hate relationship with Ireland, which is a land that lacked any real opportunity for them. Australia on the other hand is a blank slate, and as such a land of limitless opportunity, where they can reinvent themselves. So, if they lied a little or were not as morally pure as the Scheme supposedly required, well that is all in the service of their own greater good. And if they constantly think of Ireland, sometimes even wistfully, the odds are they will never return.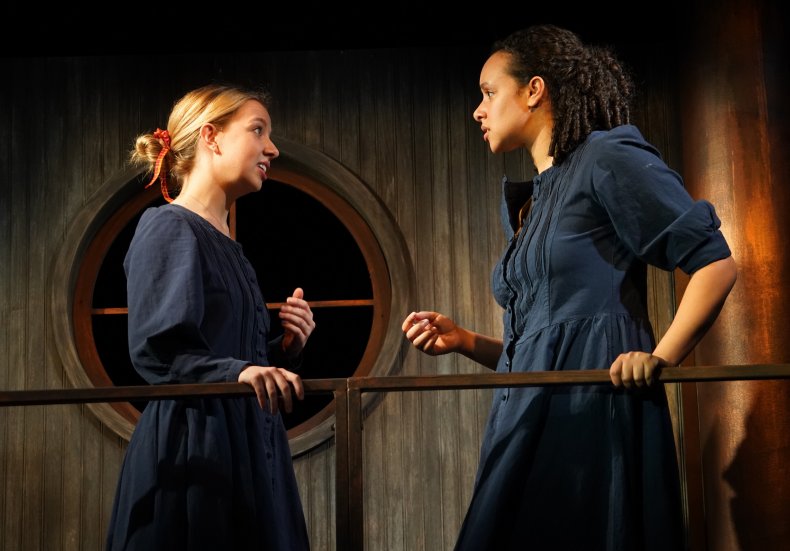 Into the mix comes Molly, an evangelist for a new world order with universal suffrage and better pay and wages for workers. She carries with her a suitcase full of books and worldly wealth of knowledge that sets her apart from and ultimately into conflict with her roommates.
Among her favorite books is The Communist Manifesto by Karl Marx but it is the personal manifesto of the group that hits home: Australia will enable them to be "mistresses of their own destiny," in control of their own lives for the first time. This is as much a hope as a motto, and the real world is not their friend in that regard.
Belfast Girls features taut direction by Nicola Murphy, who recently directed A Girl Is a Half-Formed Thing at Irish Rep as well as part of the company's Sean O'Casey play reading series. She is aided by a top-flight cast. As Molly, Aida Leventaki is a welcome voice of enthusiasm who gives these girls something to believe in, both immediately and in the long-term. Caroline Strange's Judith is at first the alpha of this group, keeping order in the rowdy group, her role changes as she falls under the influence of Molly. Mary Mallen's lovely singing voice gives Hannah a special charm which she uses to entertain the others and herself. Sarah Jane, played by Sarah Street, has letters from her brother, which give perhaps an all-too-rosy picture of life in Australia. It is no holds barred for Labhaoise Magee plays Ellen, who is tough as nails. Their interplay is as natural as if they had worked together for years.
Cramming strong personalities into tight quarters with no escape hatch has always made for great drama for centuries, and Belfast Girls is no exception. McCarrick is a gripping storyteller and in depicting this grim snapshot of history, she keeps the audience engaged with the stories of these women who are hopelessly abused, looking for any escape and grasping as what straws get tossed their way.
Belfast Girls is playing Through June 26 at Irish Repertory West 22nd Street, New York. For more information, go to IrishRep.org.