Rex Tillerson Is Feeling Sick after Working on North Korea, Cancels Scheduled Events in Kenya
Secretary of State Rex Tillerson has cancelled scheduled events in Kenya on Saturday due to illness.
Tillerson arrived in the capital Nairobi on Friday, the third stop of a five-nation trip to Africa that began on Thursday, his first visit to the continent as a Secretary of State.
He travelled from Ethiopia to Kenya on Friday, making a brief stop in Djibouti, and was scheduled to head to Chad on Monday and then to Nigeria on Tuesday. While the nature of the illness was not disclosed, it was understood not to be serious, the BBC reported.
"The secretary is not feeling well after a long couple days working on major issues back home such as North Korea and has canceled his events for the day," under-secretary of state for public diplomacy and public affairs Steve Goldstein told reporters, quoted in Reuters.
The top diplomat's already busy travel plan was complicated by major international developments, including proposed talks between North Korea and the U.S., which President Donald Trump accepted seemingly without consulting the State Department —at a press conference in Ethiopia's capital of Addis Ababa just hours before the White House announcement on Thursday, Tillerson said the U.S. was still "a long way" from direct talks and negotiations.
"I think the first step–and I've said this before–is to have talks, have some kind of talks about talks because I don't know yet, until we are able to meet ourselves face to face with representatives of North Korea, whether the conditions are right to even begin thinking about negotiations," he said, describing that position as "the current state of play."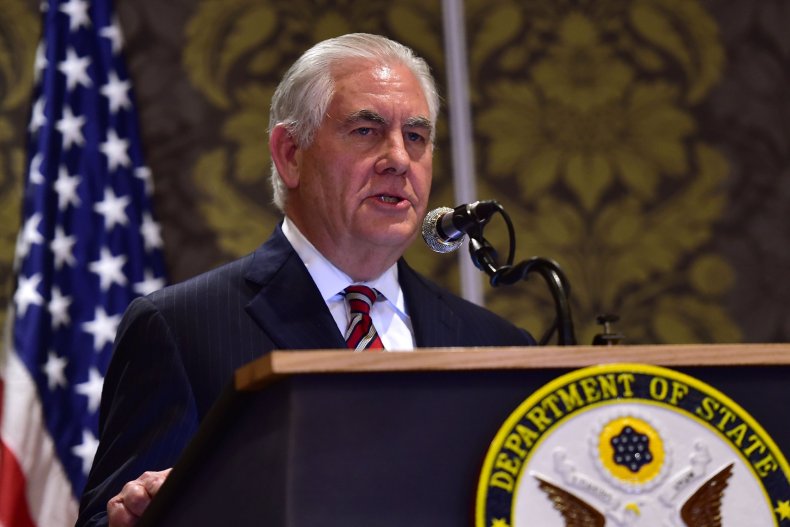 Later in Djibouti, Tillerson attempted to differentiate between negotiation and talks. "President Trump has said for some time that he was open to talks and he would willingly meet with Kim Jong Un when conditions were right and the time was right. And I think in the President's judgment, that time has arrived now," he said, adding "In my comments yesterday, I was indicating comments about negotiations, but we've been open for talks for some time."
Read more: North Korea Up Close: From the Bright Lights of Pyongyang to the Impoverished Countryside
Tillerson's Saturday schedule included an event for PEPFAR, the U.S. government-funded programme to fight HIV/AIDS, a visit to American diplomats at the U.S. embassy in Nairobi and a wreath-laying ceremony commemorating the 20-year anniversary of the deadly al-Qaeda bombing of U.S embassies in Kenya and Tanzania which killed 224 people.
"Some events will go ahead without him, while they are looking at the possibility of rescheduling others," Goldstein said.