NXT's Rhea Ripley Still Eager to Capture Gold In Spite of Roller Coaster Year
Former NXT Women's Champion Rhea Ripley's 2020 has been interesting, to say the least.
After defeating Shayna Baszler to win the gold back in December, Ripley would go on to dominate NXT and become the face of the brand as she defended her title against Charlotte Flair at WrestleMania.
Then the pandemic hit and Flair would defeat the 23-year-old Aussie at WrestleMania to become the new NXT Women's Champion, putting Ripley's time at the top to a screeching halt.
"It's honestly just a crazy roller coaster for me," Ripley told Newsweek. "It's quite funny because before I became NXT Women's Champion I was doing a lot of crazy things. And then when I became NXT Women's Champion and then to WrestleMania I'm a little more relaxed, but I'm still eager to get the gold."
Since her loss at 'Mania, Ripley has managed to remain one of the division's biggest stars. Sporting new bleach blonde hair, which Rhea told Newsweek inadvertently turned orange at one point during the process, she's ready to hunt for the gold again this Wednesday when she takes on Dakota Kai this week to determine the new number one contender for Io Shirai's NXT Women's Championship.
However, the journey to this match hasn't been easy for Ripley, but her experiences at WrestleMania and after have helped fuel her and made her a better performer despite the result.
"Going out there and performing in front of no one I didn't think I would be able to do, especially stepping in there with none other than Charlotte Flair," Ripley said. "She's no easy competitor to step into the ring with and I think that match made me so much better in so many different ways. It's hard to describe those ways, but it made me feel better about myself and it made my craft better."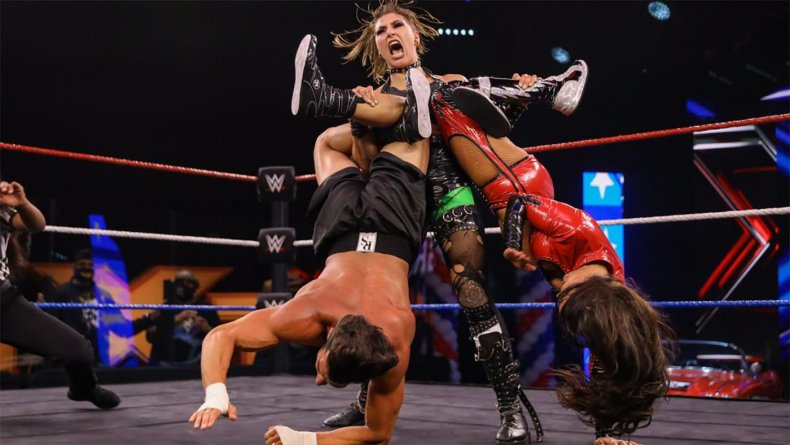 WWE has continued to put on shows in the midst of the COVID-19 pandemic from its Performance Center in Orlando without fans including this year's WrestleMania. The experience was bittersweet for Ripley. She was making history as the first NXT champion to defend their title at the biggest show of the year, but she wouldn't be able to share it with her loved ones.
"I had a little bit of those [I wish there was a crowd] feelings up to WrestleMania just because mostly I was upset that I knew my family wasn't going to be there, and I haven't seen them in a long time and I wanted to share that moment with them," Ripley said. "But then I had to realize that I'm still sharing it with everyone and it's still the same and it's still WrestleMania. It's still a massive deal and a huge leap in my career and I got to share it with everyone because they got to watch it from home and cheered me on."
In the months following WrestleMania, Flair would stand atop of the NXT Women's Division until Ripley got another crack at her, but this time Io Shirai would be joining them in a triple threat match at Takeover: In Your House.
All three women tore the house down, but it was ultimately Shirai who would pin Ripley to become the new NXT Women's Champion. From becoming one of the top names in WWE to losing and failing to recapture the title that catapulted her career would be frustrating for anyone, but Ripley understands the bigger picture.
"I feel like [the spotlight on me] diminished a little bit, but we all have to share the spotlight," Ripley said. "I had my time to shine and it will come again, but right now Io is the NXT Women's Champion and I'm working my way back up to be in that spotlight again. Whether that comes or not, we'll see. I've got to try other things and face other people as well. I had my time and everyone is going to have their time and I'm just happy to be here and wrestling and kicking butt."
Ripley says that everyone wants to be in the title picture and on television every week, but being able to step into the ring with people she's never faced before is something that Rhea really wanted to do in the weeks following WrestleMania. Even if that person is a man.
"How many people in the women's division can say they wrestled Robert Stone? Just me," Ripley said with a laugh. "To me that's cool. It doesn't always matter if you're in the title picture, you just gotta make the best of what you're given and it was fun for me. It wasn't as serious as everything leading up to WrestleMania and after, it was more fun. And I did really enjoy it."
Ripley says she reads a lot of the comments she gets on Twitter and Instagram and when she was in her feud with the Robert Stone Brand there were fans who were excited to see where it would go and others who weren't. She would get "this isn't Rhea" comments all the time, implying that she is above these types of comedy angles, but Ripley believes that every feud can help your development as a WWE superstar.
"At the end of the day, we are humans, right? Humans have different emotions and do different things and I needed to grow," Ripley said. "Everyone has seen the serious side of myself and sometimes I need to take a chill pill and have a good laugh. That's who I am as a person. I'd rather be real in the ring then someone who is trying to play a character."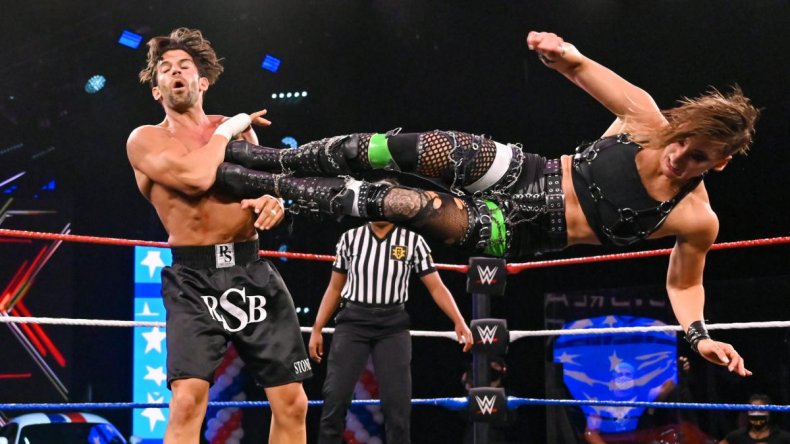 Robert Stone, despite he and client Aliyah losing to Ripley at Great American Bash, has a new client in Mercedes Martinez, a veteran wrestler of world renowned. She and Ripley crossed paths when Rhea was starting out in Riot City Wrestling in Australia, and revisiting that rivalry is something she hopes for in the future.
"I would love to step into the ring with Mercedes. I stepped into the ring with her in Australia when I was 17 years old," Ripley said. "To be able to step into a WWE ring with her would be incredible. She taught me so much back then and she could teach me so much these days as well. She's got so much knowledge, she's been in this game for such a long time and it's incredible that she's a part of the WWE. And I hope one day I get to step into the ring with her and if my feud continues with the Robert Stone Brand then I hope to throw him into the trash can again."
Martinez may be a potential future opponent, but Dakota Kai is Ripley's current obstacle. Kai whose new attitude has propelled her into the title picture has history with Ripley that dates back to before they were in WWE, not to mention how Dakota betrayed Rhea's team at War Games in 2019. Those ingredients will lead to a combustive match on Wednesday.
"Every time I step into the ring with Dakota it's always amazing and a great experience and we always get to beat the crap out of each other and I love that," Ripley said. "To be able to step into the ring again with Dakota, which I think is the fifth time that we've faced off, it's a different Dakota these days. She's in a stage of her life where she doesn't care about anyone, she's not a team player any more. This is a different Dakota than I've faced before and I'm excited to see what this version brings, but I know it's going to be a hard-hitting match for sure."
Ripley and Dakota are just two names in a stacked women's division. They are among some other great names like Shirai, Candice LeRae and many others, but Rhea Ripley has quickly become a foundational piece for the brand despite not being there as long. She represented NXT against RAW and SmackDown at the 2019 Survivor Series, a match her team won, and was the conquering hero when she ended Baszler's 200-plus-day reign.
Her place as the foundation for the women's division is undeniable with or without a title. That fact hasn't really dawned on Ripley though, who says that it's crazy to think about considering she arrived in NXT less than a year ago after spending months in NXT UK, but she's excited to see what the future brings.
"I'm proud of where NXT has come and all the girls and what they are accomplishing and how they have changed for the better," Ripley said. "I'm just excited to see what the future brings for the women's division. I'm keen to face Dakota, Candice, Tegan [Nox] again, Mia [Yim], everyone. I want to wrestle Raquel [Gonzalez]. Please someone book it, I want to wrestle Raquel."
While Ripley has a list of women she wishes to face in the ring, she has eyes set on her too, especially from the main roster. Former RAW Women's Champion Asuka has said in the past that she wanted to defend the title against Ripley, which made Rhea happy to hear since "The Empress of Tomorrow" is on her bucket list of opponents as well. The pandemic has forced NXT, RAW and SmackDown stars to be in one place, making it easier for them to crossover. We've seen it already when Bayley and Sasha Banks arrived in NXT and it's something Ripley hopes to see more of.
That said, getting the opportunity to appear on RAW or SmackDown doesn't mean she is ready to leave the black and gold brand. As fans of NXT have seen in the past, stars--especially former champions--have been called up to RAW or SmackDown. Ripley's ascension to superstardom in early 2020 and her exposure to the main roster would make her a prime candidate for a call up, but that won't happen if she has it her way.
"I don't think I can ever outgrow NXT. There is always something coming up and I honestly want to be in NXT for a long long time," Ripley said. "Whether that's the case or not, I don't know, I don't have that call. I feel like I have so much more to do here. Whether that's singles matches or whatever, I love NXT and I love being a part of it. And I hope I'm here for longer. I guess we'll see."
Watch Rhea Ripley take on Dakota Kai this Wednesday on NXT starting at 8 p.m. EDT on USA Network.