Real Housewives of Beverly Hills fans are not happy after the latest episode showed several cast members discussing Crystal Kung Minkoff's eating disorder without her being present.
The star, 35, who joined RHOBH in 2021, has previously spoken on the Bravo show about her longtime battle with bulimia, sharing with her co-stars that she is "a recovering bulimic."
On the August 3 episode of RHOBH, which is currently in its 12th season, cast members Sutton Stracke, Dorit Kemsley, Garcelle Beauvais, Erika Jayne and Sheree Zampino were seen attending a wine-tasting party for Lisa Rinna's new wine line.
Scenes showed Kemsley calling an unwell Kung Minkoff, who was not at the wine tasting because she felt sick, on her way to Rinna's house, and offering to bring Kung Minkoff soup.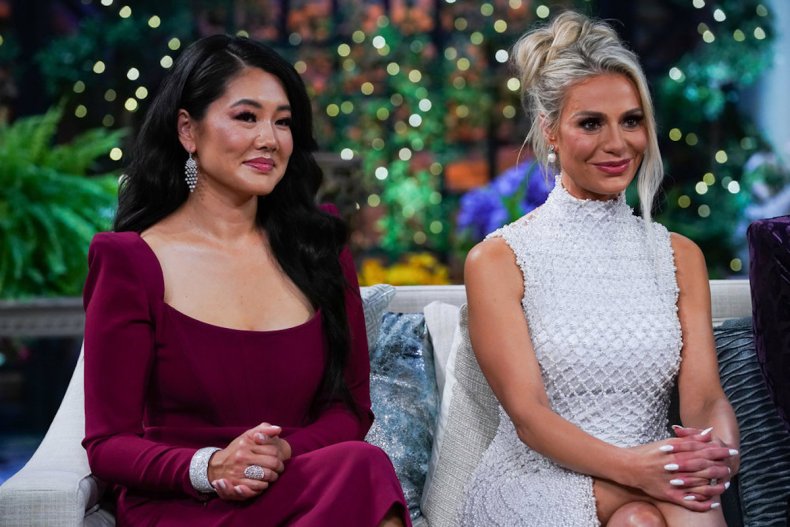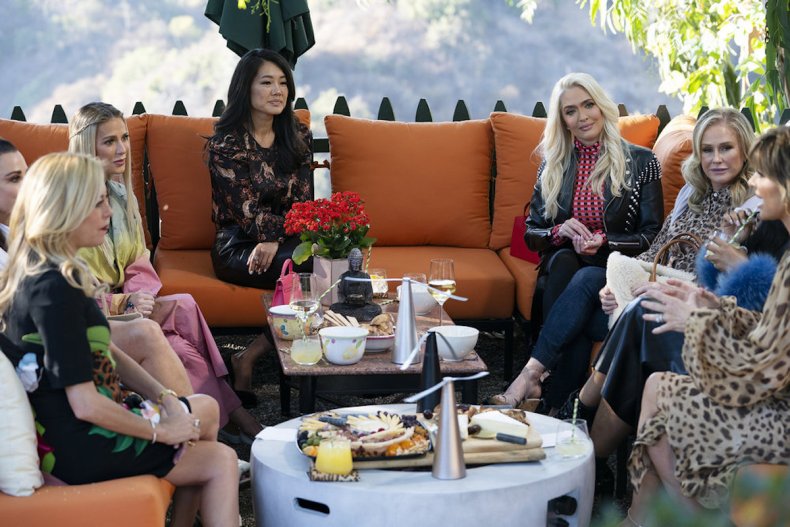 Once at the wine tasting, Kemsley began talking about Kung Minkoff, saying: "She talks a lot about having an eating disorder. She's vomiting every day."
Jayne then brought up a conversation she had with Kung Minkoff about her eating disorder, saying: "I had asked her if she had ever sought professional help and she said no. Because she talks a lot about having an eating disorder and what it does to young women and you know, she's brought it up. I'm just bringing that to the table."
Kemsley then shared another recent conversation she had with Kung Minkoff, saying: "We spent over an hour and she said she's OK but she told me she's vomiting every day."
Rinna, whose daughter Amelia Gray Hamlin has battled anorexia, then said: "I have a young daughter who went through this when she was 15 years old and we were already in therapy right away. So, my question is, why don't you get help for that? Once your family knows about it, your husband knows about it, by the way, you have to get help for that."
The scenes did not sit well with fans, who immediately rushed to Twitter to question why the women were discussing Kung Minkoff when she wasn't even there.
Calling out Rinna specifically, one fan wrote: "The way they're handling Crystals eating disorder on this show is disgusting. Lisa Rinna should know better especially. #RHOBH."
"#RHOBH Stop talking about Crystal behind her back. Stop questioning why no one gets help with eating disorders. There's so many factors that go into play," another posted, while a third viewer tweeted: "The discussion about crystal's ED tonight without her there was soooo uncalled for. nasty and mean spirited #RHOBH."
Newsweek has contacted a representative for RHOBH for comment.
Kung Minkoff has previously spoken out about her struggles with her eating disorder. Posting on Instagram in December 2021, Kung Minkoff told fans: "Even though it may seem like someone's life is seemingly put together, it doesn't mean they aren't going through something painful. This week, I've been really struggling with my ED and body image. Eating disorders can be tricky because they make you feel like you're in complete control when in reality you're spiraling [sic] out of it."
She continued: "I'm sharing this because I want any of you who are suffering as well to know you have my support. Recovery isn't linear, it's a process of learning, growing and healing. Some days can feel like a little bump in the road and others like an Everest. Honor your strength. Honor your journey."
In previous scenes aired on RHOBH, Kung Minkoff explained that her bulimia partly stemmed from attending a predominantly white school as an Asian-American.
"My body shame is so deeply rooted in my childhood," she said on the June 15 episode of RHOBH. "I had always felt like the chubby one—wanting to be blonde, blue-eyed and skinny. I totally wanted to be American, and what that meant to me as a child was white."
RHOBH continues Wednesdays at 8 p.m. ET on Bravo. Episodes stream the following day on Peacock.
If you or someone else needs help, contact your doctor or the National Eating Disorder Association hotline at (800)-931-2237.
About the writer
Laura Donaldson is a Newsweek Film and TV Reporter (SEO), based in Edinburgh, U.K. Her focus is on reality TV. She has covered shows such as 'The Bachelorette', 'Dancing With the Stars', 'The Masked Singer' and 'Sister Wives'. Laura joined Newsweek in 2022 and has previously worked at Grazia and OK!. She is a graduate of Glasgow Caledonian University. Languages: English.
You can get in touch with Laura by emailing l.donaldson@newsweek.com.