Ric Flair's Last Match: Wrestling Fans React to Star's Bloody Farewell
Pro wrestling legend Ric Flair returned to the ring Sunday night for what was billed as his final match. Though he emerged victorious, the bloody match has many fans hoping "The Nature Boy" has indeed hung up his sequined robes for the last time.
Flair is a two-time WWE Hall of Famer, and he's become a pop culture phenomenon unto himself, as has his signature "Wooo!" call. He's been name-checked by rappers from Kanye West to Pusha T, while Offset dedicated a whole song to him (2017's "Ric Flair Drip"). The legitimate sports world has also recognized Flair's impact on pro wrestling with ESPN producing a feature-length documentary on him in 2017.
Celebrity status aside, Flair is 73 years old with a pacemaker in his chest. He's also only five years removed from being placed in a medically-induced coma after experiencing complications from bowel surgery. Flair was so close to death during the 2017 health ordeal that last rites were reportedly read.
For these reasons alone, many wrestling fans are hoping that the Fite TV pay-per-view event on Sunday—appropriately entitled "Ric Flair's Last Match"—will be the legend's last competitive appearance.
"Really and truly, #RicFlairsLastMatch was one of the scariest and most upsetting things I've ever watched," one person tweeted on Monday. "I had to settle myself with the idea that I was going to watch Ric Flair die on live tv."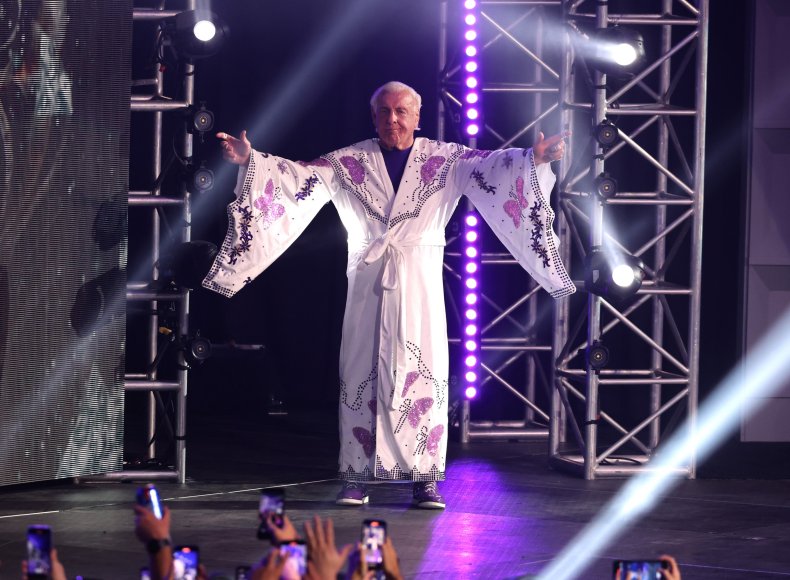 "The people around Ric Flair should have did something to prevent that match because that was horrific. It's also sad that legends think that they have to do this until they die," another post read.
Flair has called it quits before. In 2008, he wrestled Shawn Michaels at WWE's WrestleMania XXIV in what was billed as his retirement match. By the following year, he toured Australia with Hulk Hogan for an independently-promoted event. He also wrestled for the promotion TNA. However, it had been more than a decade before Sunday's event at the Nashville Municipal Auditorium since he last competed.
His "last match" this time was a tag-team affair, and he partnered with his son-in-law, Andrade El Idolo. (Andrade is married to Ashley Fliehr, better known as current WWE star Charlotte Flair.) Their opponents for the event were Jay Lethal and Jeff Jarrett.
During the match, Flair feigned a heart attack to take advantage of Lethal. He also ended up bloody after Jarrett attacked him with a high-heeled shoe. The brutal match left man fans happy that Flair survived.
"Glad to hear Ric Flair is still alive after that match," said a fan expressing a popular sentiment.
Plenty of people felt Flair rose to the occasion, though.
One Twitter user said, "@RicFlairNatrBoy is STILL The Man!" While another person commented, "Ric Flair just delivered the greatest performance in decades... ."
"Ric Flair is an incredibly flawed human being, but as a wrestler, I'm suffering no slander. I can't fault him for wanting to feel alive one last time. And he's on the Mount Rushmore of pro wrestlers," read one post.