'Everybody's Talking About Jamie' Star Richard E Grant on Dragging Up in His 60s
Richard E Grant, the star of Can You Ever Forgive Me?, Withnail and I and the recent Loki, takes part in the new Amazon Prime Video movie Everybody's Talking About Jamie as drag queen Loco Chanelle – meaning that the actor had to get into drag for the first time at age 63.
This movie required a lot of firsts for the actor. The film, adapted from a British West End musical, sees Grant doing a northern English accent for the first time, sing onscreen for the first time – and, of course, don a wig, heels and dress to become the drag mentor for main character Jamie New (Max Harwood).
Speaking to Newsweek, the actor revealed that when it came to drag, he learned from the best. "I shamelessly watched RuPaul's Drag Race's [then] 11 series in three weeks," he revealed. "Binged it and I thought well, that's the best drag school online that I could do. So, that was my preparation."
Perfecting the look of Loco took about two months of trying various costumes. Grant said that the key to it all was the wig, which he described as and "old Margaret Thatcher type Folies Bergère look."
This, however, was not the first look the show's hair crew settled on. "At one point, it was a sort of Liza Minnelli-like crop," he said, "and I thought, 'no, I can't hide behind that.' So, I was very grateful that the biggest wig they could find was the one that made me 6'8" tall in the heels."
All in all, he described the process of getting into drag as "like being a sort of vintage old Ferrari turning up in Monte Carlo for that 60 seconds pit stop, where everybody's hands-on deck. I arrived as an old crock and left as Loco Chanelle."
While Everybody's Talking About Jamie's costume team worked on Grant's look, he worked on his accent with his voice coach wife Joan Washington, who died in the time between Newsweek conducting this interview with the actor and the release of Jamie.
In the film, Grant speaks in a northern English accent – specifically that of Sheffield where the film was set. Luckily, his wife is an expert in the various British accents – among the stars she had previously worked with were Cate Blachett in Elizabeth, Emma Stone in The Favorite and Margot Robbie in Goodbye, Christopher Robin. "She was very strict and demanding about what I did," Grant said of working with his wife.
Asked how his wife and daughter reacted to first seeing him in drag, Grant joked, "they said, 'oh my God, you look just like your mother!'"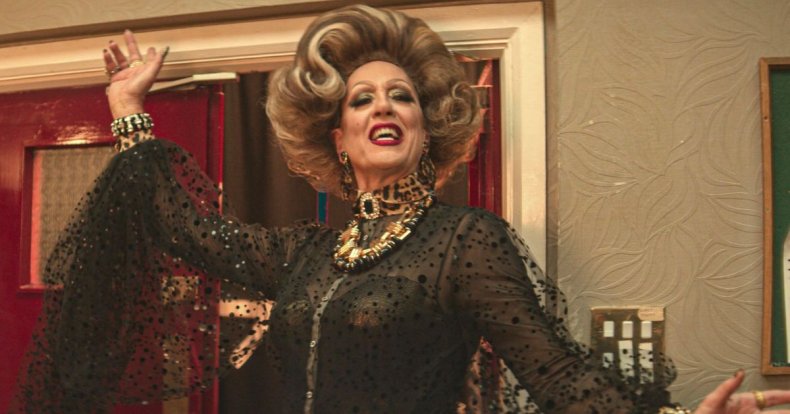 If the challenge of the drag and the accent were not hard enough, Grant also had to sing on screen for the first time. He described the process as doing "take after take after take until eventually have something that hopefully that be edited together to sound like I can sing."
There were so many challenges in becoming Loco Chanelle, in fact, that Grant admitted he almost did not take the role, especially as debates continue to rage about whether straight actors should play gay roles.
After meeting director Jonathan Butterell in a lift, Grant said he was put in a unique position: Whereas an actor is usually doing all they can to be cast in a project, he found himself giving every reason why he should not be in the movie.
He said: "Coming off the back of the work conversation that happened around Can You Ever Forgive Me? three years ago [in which he played a gay character], I said, 'How can you really justify casting a non-genuine drag queen or gay actor to play this part?'
"He said that 'the entire creative team are gay and we believe that you have the right qualities or whatever to play Hugo/Loco Chanelle.' I said, 'Well, I've never danced and sung, or been in drag, or seen drag in a musical, let alone be in a movie.' That fills me with righteous terror and I thought that was a good thing."
Everybody's Talking About Jamie is released on Amazon Prime Video on Friday, September 17.