Richmond Crowd Cheers as Robert E. Lee Statue Removed: 'Hey Hey Hey, Goodbye!'
Richmond, Virginia residents cheered as the country's largest Confederate statue was taken down on Wednesday.
As crews removed the towering Robert E. Lee statue from its 40-foot-tall pedestal, those gathered at the site began to sing a famous song from the band Steam.
"Hey hey hey, goodbye!" the crowd chanted.
The statue's removal comes 131 years after it was erected. Governor Ralph Northam first ordered it to be taken down in June 2020 following the death of George Floyd at the hands of Minneapolis police.
But a year-long legal battle delayed Northam's order until last week when the Virginia Supreme Court sided with government officials and ruled the statue could be dissembled.
"This is an important step in showing who we are and what we value as a Commonwealth," Northam said in a statement on Monday.
The statue will be placed in storage at a state-owned facility until a decision is made on what exactly to do with it. The pedestal, which supported the structure, will remain at its location for now until the city and the Virginia Museum of Fine Arts determine its future.
Crews had to take the massive 12-ton Lee statue apart in two pieces for transport on Wednesday. The cut will be at an original seam around the waist, according to the state.
Memorials for victims of police violence left at the base of the statue by the public last year were collected overnight by officials. The items will be cataloged and turned over to the Library of Virginia.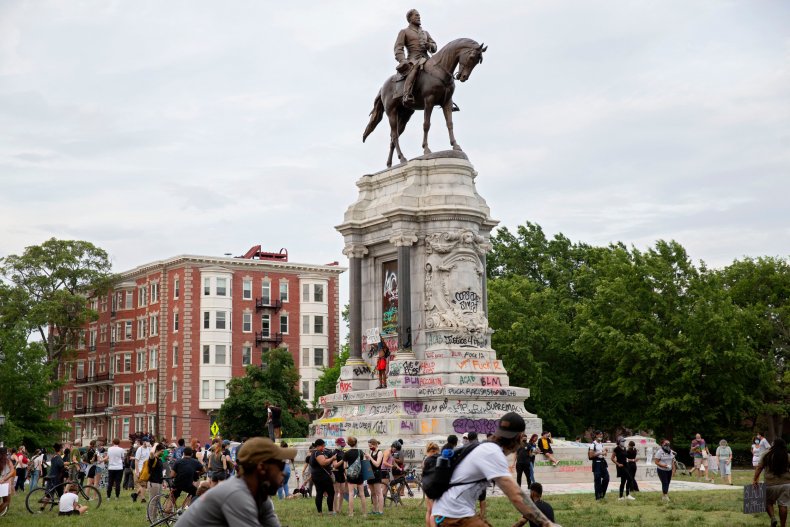 "156 years after the end of the civil war, Virginia has come one step closer to being a more inclusive and welcoming Commonwealth," Virginia's First Lady Pamela Northam wrote on Twitter. The post showed her and the governor at the site as the statue was removed.
A time capsule that was placed at the Lee monument when the statue was first installed is also set to be replaced. The list of new artifacts includes a Black Lives Matter sticker, an expired COVID-19 vaccination vial, a photo taken of a Black ballerina at the statue last summer and a Kente cloth worn by the Commissioners of the Congressionally-chartered 400 Years of African-American History Commission and Ghanian emissaries.
"This monument and its time capsule reflected Virginia in 1890—and it's time to remove both, so that our public spaces better reflect who we are as a people in 2021," the governor said.
Update 9/8/21 10:10 AM: This story has been updated with additional information about the statue's removal.