'Rick and Morty' Season 1-3 Box Set Includes All 31 Episodes
Grass tastes bad. Yes, that classic Rick catchphrase and so much more is included in the new Rick and Morty Seasons 1-3 Box Set, which will be released on DVD and Blu-ray Feb. 12, 2019. With 70 episodes ordered by Adult Swim, Rick and Morty will eventually hit a grand total of 101 episodes. (And there will probably be more after that!) Now you'll be able to get the first 31, all in one place.
The new Blu-ray box set includes all the bonus content from previous season releases, including the astounding roster of people gathered together for various episode commentary tracks, including John Mayer, Walking Dead creator Robert Kirkman, The Simpsons creator Matt Groening, Russell Brand, Courtney Love, Marilyn Manson, along with Game of Thrones showrunners David Benioff and D.B. Weiss, joined by Peter Dinklage. Beyond celebrities, commentary tracks include the show's writers, plus co-creators Dan Harmon and Justin Roiland, who end up dropping a surprising number of details about the upcoming Rick and Morty Season 4.
There's also animatics, behind-the-scenes featurettes and a documentary exploring the origin of Rick and Morty.
Here's the cover for the box set, which, appropriately, depicts Rick and Morty watching TV. It's like they're watching themselves.
Newsweek subscription offers >
But really, this collection is for anyone who hasn't picked up the season Blu-rays already, since there's little new here, except for an included poster, which the press release says depicts a "never-before-seen robot illustration of Rick and Morty," whatever that means.
While the special features aren't new, there will probably be no better way to rewatch Rick and Morty before Season 4 drops sometime in 2019. There are some major loose threads that might see some resolution in upcoming episodes.
For instance, in Season 3 episode "The Ricklantis Mixup," the most viewed episode of television in Adult Swim history, Evil Morty took control of the Citadel, an event almost certain to figure into Season 4. Will Rick and Morty finally confront Evil Morty, Morty-to-Morty?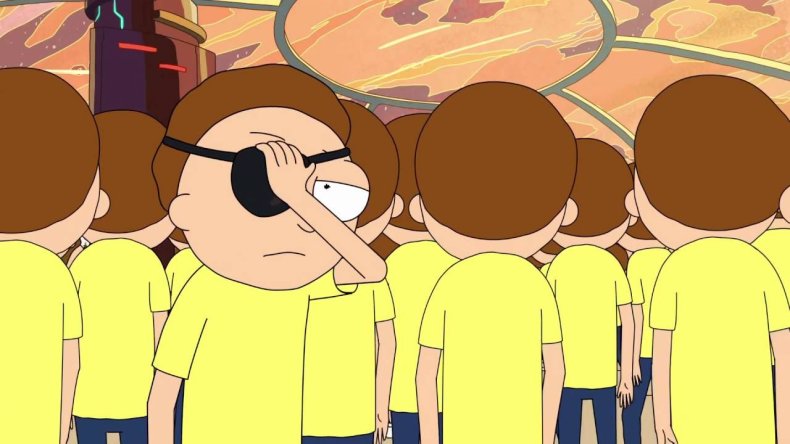 Newsweek subscription offers >
Or how about the surviving Vindicators, who are still out there, somewhere, eager for revenge?
Or take a trip back to Season 1 and see how much the show has grown since episodes like "Anatomy Park" and "Raising Gazorpazorp."
The Rick and Morty Seasons 1-3 Box Set will hit shelves Feb. 12, 2019 and cost $69.99 for the Blu-ray, $59.99 for the DVD. As for the Season 4 release date, well, keep waiting.
'Rick and Morty' Season 1-3 Box Set Includes All 31 Episodes | Culture