Just when Elon Musk was probably looking for something to take Twitter's mind off his armored glass fail, Cartoon Network's Adult Swim block has aired Rick and Morty Season 4, Episode 3, "One Crew Over the Crewcoo's Morty," where the Tesla boss appears as Elon Tusk, a version of himself but with tusks instead of teeth.
Followers of the SpaceX CEO's Twitter may have noticed that Musk changed his name to Elon Tusk, mostly likely after he had recorded his part on Rick and Morty, where his character is the CEO of tech company Tuskla.
Rick and Morty co-creator Justin Roiland hinted that Musk recorded his part in February, just before the pair appeared together to do a meme review on PewDiePie's YouTube channel. When asked by HollywoodLife how he ended up recording an episode of the controversial YouTuber's show, Roiland said: "Truth is....oh god, I almost...I caught myself. I can't really tell you the true story of how that happened. But I will say that I was hanging out with Elon and he said 'will you do this thing with me' and I was like 'yeah'. I didn't know what it was at first."
In the interview, fellow co-creator Dan Harmon adds, "you were recording..." before Roiland cuts him off.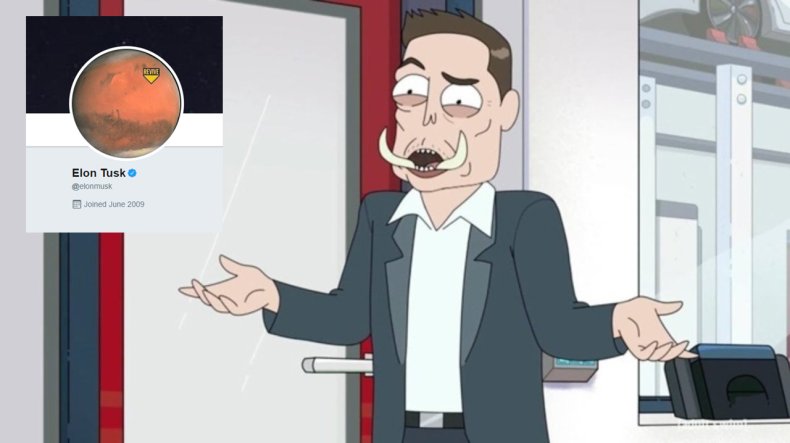 Elon Musk has previously revealed his fandom for the cult Adult Swim animated series. For example, at the end of January, in a tweet talking about a new potential Tesla feature, he wrote: "Tesla Sentry Mode will play Bach's Toccata and Fugue during a robbery (and keep Summer safe)"—a reference to Rick and Morty episode "The Ricks Must Be Crazy" in which Summer (Spencer Grammer) has to wait in a car which Rick (Roiland) instructs to keep her safe.
As previously reported by Newsweek, in August 2017 a fan asked him on Twitter whether he watched the show, and he replied: "It's kinda disgusting, but my boys and I love it :)." The creators of Rick and Morty then met Musk for the first time in October of that year, when the Twitter account for the show pictured the entrepreneur meeting Harmon and Roiland.
Musk is not the only big-name star set to appear in Rick and Morty Season 4. Sam Neill, Taika Waititi, Kathleen Turner, Paul Giamatti and Matthew Broderick are all set to star across the show's 10 Season 4 episodes.
Rick and Morty airs Sundays at 11.30 p.m. ET on Cartoon Network