Flint Emails From Michigan Governor Reveal Blame Game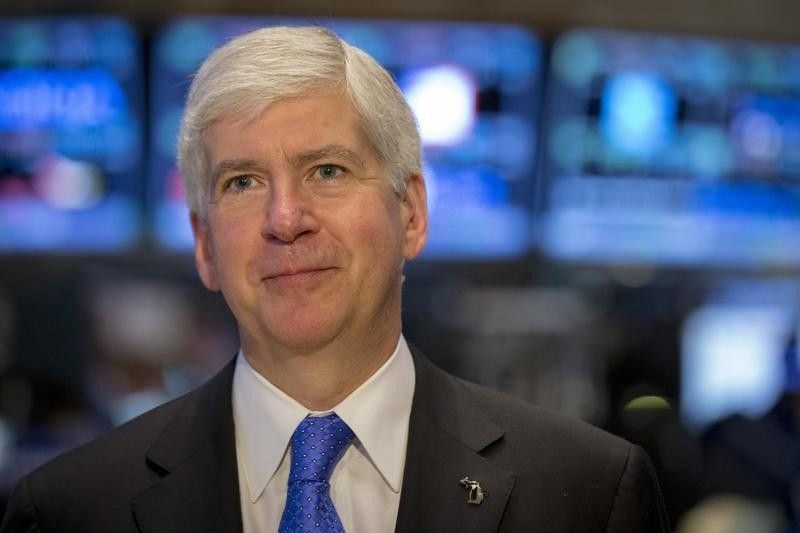 As the controversy grows over increased lead levels in the water supply of Flint, Michigan, newly released emails from the state's governor reveal that his aides were unsure of whom to blame for the crisis and felt the responsibility of the state in the matter was being overstated.
Governor Rick Snyder's office released more than 270 pages of emails on Wednesday covering his Flint-related correspondence between January 2014 and December 2015. Dennis Muchmore, then the chief of staff to Snyder, said in an email that Flint residents were "caught in a swirl of misinformation" about their poisoned water supply and a "long-term distrust of local government [was] unlikely to be resolved."
"I can't figure out why the state is responsible except that [then-Treasurer Andy] Dillon did make the ultimate decision so we're not able to avoid the subject," Muchmore said in an email to Snyder on September 25. Dillon was involved in the decision to switch the source of Flint's water supply, which resulted in lead seeping into the city's water.
"Of course, some of the Flint people respond by looking for someone to blame instead of working to reduce anxiety," Muchmore wrote on September 26. "We can't tolerate increased lead levels in any event, but it's really the city's water system that needs to deal with it."
Muchmore also said Michigan's Department of Environmental Quality and Department of Community Health felt that "some in Flint are taking the very sensitive issue of children's exposure to lead and trying to turn it into political football."
Muchmore retired from the government on Tuesday. Protesters are calling on Snyder to resign, and he is facing additional criticism from Michigan House Minority Leader Tim Greimel for redacted elements of the emails and for only releasing his emails, rather than all Flint-related correspondences from his office.
Flint's water supply became contaminated in 2014 after the city switched its water source from that of Detroit to water from the Flint River, which is treated by Flint's water treatment plant at lower costs. Soon after the switch was made, residents began complaining about a change in the water's taste and smell, but Snyder did not declare a state of emergency until January 5, more than a year later.
President Barack Obama, who visited Detroit on Wednesday and praised the city's recovered auto industry, declared a state of emergency last weekend in Flint. Last week, the National Guard was called to Flint to help distribute bottled water, water filters and testing kits to residents.
On Wednesday, Snyder asked Obama to reconsider his denial of a federal disaster declaration to address the emergency.