Alopecia Org Responds to Ricky Gervais' Jada Pinkett Smith 'Disability' Jab
Ricky Gervais has been told Jada Pinkett Smith's alopecia is "no joke" after he mocked people who referred to her autoimmune disorder as a disability.
Pinkett Smith has publicly spoken about her experience with alopecia areata, which leads to hair loss, over the years, with her condition becoming a talking point after her husband, Will Smith, slapped Chris Rock over his joke about her shaved head.
Gervais shared his opinion on the matter during a live Q&Z session on Twitter, saying: "You don't hit people over a joke, however bad it is. And it wasn't bad! That was like the tamest joke I would ever have told.
"Someone said it was joking about her disability," he said in a deadpan tone before laughing. "Well I'm going a bit thin. So I'm disabled. That means I can park right up next to [British supermarket] Tesco now.
"And I'm fat. That's a disease, isn't it?" Gervais, a five-time Golden Globes host added. "I'm fat and balding. I should get f****** benefits."
Responding to Gervais' comments, the National Alopecia Areata Foundation (NAAF) told Newsweek in a statement: "Simply put—alopecia areata is no joke.
"Alopecia areata is a common autoimmune disease that causes hair loss on the scalp, face and sometimes on other areas of the body. The disease affects nearly seven million people in the United States and 147 million people worldwide.
"It can be unpredictable and cause significant physical, emotional/mental health, psycho-social, and financial burdens—and there is no cure, effective treatment or standard of care."
While NAAF accepted that the condition is not "medically disabling," it noted that "emotionally, this disease can be challenging for those living with it, especially if they have extensive hair loss.
"Multiple studies have confirmed the impact of emotional/mental health and psycho-social burdens on people living with alopecia areata. In fact, it has been found that up to 50 percent of children and adolescents with alopecia areata suffer from depression and 39 percent suffer from generalized anxiety disorders.
"Another study showed that among adults with alopecia, 71 percent have some degree of depression or anxiety."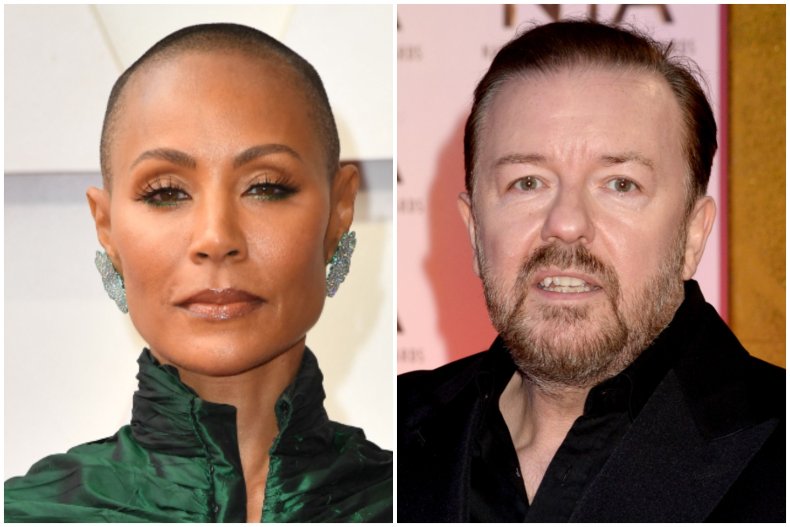 "Many people living with the condition are suffering, and we must do better to support this community and erase the stigma, discrimination, and societal barriers that persist," the statement went on.
"We stand with the alopecia areata community and are here to support those in need, especially in the wake of emotional moments such as the one we all witnessed at the Academy Awards," NAAF concluded. "We encourage the broader public to learn more about alopecia areata so we can end the stigma around this disease."
During the Oscars late last month, Rock joked: "Jada, I love you, G.I. Jane 2, can't wait to see it," in reference to her close-cropped haircut, similar to that worn by Demi Moore in her 1997 film G.I. Jane.
Smith reacted by taking to the stage and striking Rock in the face, before demanding that he "keep my wife's name out your f****** mouth." Less than an hour later, Smith returned to the stage to accept a Best Actor Oscar for King Richard.
In July 2021, Pinkett Smith debuted her shaved head on her show, Red Table Talk, after speaking about how "terrifying" the experience of hair loss was for her.
She said: "I was just like, 'Oh my god am I going bald?' It was one of those times in my life where I was literally shaking with fear. That's why I cut my hair and continue to cut it."
As a result of the incident at the Oscars, Smith has resigned from the Academy of Motion Picture Arts and Sciences, which is expected to announce disciplinary action against the actor.