Right-Wing Agitator Milo Yiannopoulos Interning for Marjorie Taylor Greene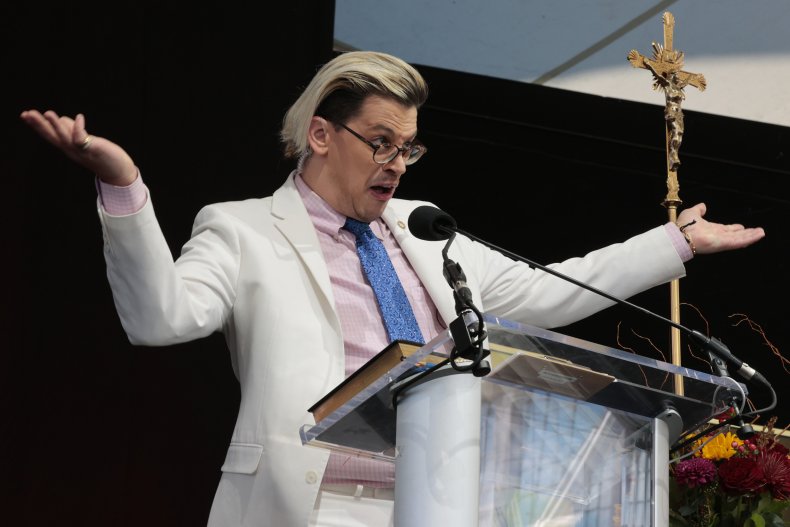 Right-wing agitator Milo Yiannopoulos has joined the staff of Republican Georgia Representative Marjorie Taylor Greene as an unpaid intern.
Greene touted Yiannopoulos joining her staff as a "great story" in a statement obtained by Newsweek on Monday. Yiannopoulos was a high-profile figure of the "alt-right" before comments from an interview where he appeared to condone sexual relationships between men and "younger boys" surfaced in 2017, prompting him to resign as an editor at Breitbart and lose a lucrative book deal.
"So I have an intern that was raped by a priest as a young teen, was gay, has offended everyone at some point, turned his life back to Jesus and Church, and changed his life," Greene said. "Great story!"
Yiannopoulos claimed to have become "ex gay," while adding that he had to "demote" his husband to "housemate." He also announced plans to open a Florida clinic specializing in discrediting gay conversion therapy, promising that the clinic would also use electroshock therapy to help others "pray the gay away."
In a Monday post to messaging app Telegram, Yiannopoulos shared an image of a photo identification badge that expires on August 5 and lists him as an intern for Greene. Yiannopoulos has been banned from mainstream social media platforms like Twitter and Facebook for years.
"I've finally been persuaded out of retirement," Yiannopoulos wrote alongside the photo. "But my skills are a bit rusty, so the best role I could land was an unpaid internship with a friend. Pray for me!"
"Mummy always said I'd end up in government!" he added a short time later.
Last year, Yiannopoulos shared that he had been diagnosed with COVID-19 alongside an image of himself using the unproven remedy ivermectin and a comment that the illness was "not fun."
It is not clear how long Yiannopoulos has been a member of Greene's staff. His Telegram account features a significant amount of content involving Greene and multiple photos of himself with the congresswoman stretching back to April.
Greene's statement on Yiannopoulos also included an attack on Democratic Representative Marie Newman of Illinois, whose Washington, D.C., office is across the hall from hers.
"If you don't want to write that, the press can go across the hall and interview Congresswoman Marie Newman on how to turn your son into a woman," wrote Greene.
A dispute between Greene and Newman, who has a transgender daughter, began shortly after both freshman congresswomen took office early last year. Newman planted a transgender pride flag outside of her office, while Greene posted an anti-transgender sign in front of hers.
Newsweek reached out to Newman's office for comment.