Rihanna, A$AP Rocky Party in New York Amid Super Bowl Halftime Announcement
Rihanna and A$AP Rocky were spotted partying on Saturday ahead of her Super Bowl Halftime Show announcement.
The couple—who reportedly welcomed a baby boy in May—attended his Rolling Loud afterparty at 42 d'Or in New York City on September 24.
The "Diamonds" singer wore a form-fitting dress and oversized Dion Lee coat with black, over-the-knee boots, while he donned a colorful sweatshirt and jeans.
The rapper headlined the Rolling Loud music festival in Queens over the weekend. Shortly before his performance, A$AP—whose real name is Rakim Mayers—announced he would no longer be doing live performances until the release of his next album.
His most recent album, Testing, was released in 2018, though it's not yet known when fans can expect a new one.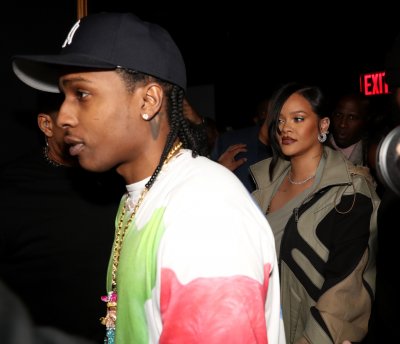 On Sunday, September 25, the National Football League (NFL) announced Rihanna—full name Robyn Rihanna Fenty—would take the stage on football's biggest night.
A press release from the organization read: "Today Apple Music, the NFL and Roc Nation announce international icon, entrepreneur and philanthropist Rihanna will take center stage at State Farm Stadium for the Apple Music Super Bowl Halftime Show at Super Bowl LVII on Sunday, February 12, 2023 in Glendale, Arizona."
Apple Music has replaced Pepsi as the 2023 Super Bowl Halftime Show sponsor.
According to NBC Sports, the 2022 Super Bowl featuring the Los Angeles Rams against the Cincinnati Bengals was the most-watched Super Bowl in five years. The average audience was estimated at 112.3 million, including 101.1 million television viewers and 11.2 million streamers.
The halftime show numbers also didn't disappoint with an estimated 103.4 million viewers tuning in to watch Snoop Dogg, Dr. Dre, Eminem, Mary J. Blige and Kendrick Lamar from 8:15 to 8:30 p.m. ET.
In addition to the press release, the NFL posted an Instagram photo of Rihanna's hand holding a football with the caption "Let's go," which she shared via her own social media.
Following the news, celebrities quickly commented underneath her post in support.
"The queen is back," Justin Bieber wrote, while Lizzo said: "Screaming," and Katy Perry chimed in: "Hell yeah."
Previously, Rihanna turned down the opportunity to perform at the coveted show in solidarity with Colin Kaepernick. The San Francisco 49ers alum made headlines in 2016 for kneeling during the national anthem to protest police brutality against Black people and minorities.
When asked if it was true that she declined the gig during an interview with Vogue in 2019, the Barbados native said: "Absolutely."
"I couldn't dare do that. For what? Who gains from that? Not my people. I just couldn't be a sellout. I couldn't be an enabler. There's things within that organization that I do not agree with at all, and I was not about to go and be of service to them in any way."