Rihanna Sparks Cultural Appropriation Debate Over Model Hairstyles
Rihanna has been criticized for the braided hairstyles worn by non-Black models at the latest Savage X Fenty fashion show.
The billionaire singer, designer and make-up mogul showcased her latest lingerie collection earlier this week at a star-studded event, which was also streamed on Amazon Prime Video.
Many of the models were familiar faces, with Gigi Hadid, Adriana Lima, Vanessa Hudgens and Emily Ratajkowski all walking the runway.
However, the hairstyles of two models in particular—Ratajkowski and Hudgens—have been criticized.
Both women appeared with braided hair, a style traditionally worn by Black women.
"I wish I could write something as funny as Rihanna putting all these white girls in braids for the fenty show," wrote TV writer Raina Morris on Twitter.
Twitter user Dylan Ali added: "I love the Fenty show but I think we need a trigger warning for seeing this many white women in braids."
Another social media user asked: "why did rihanna let vanessa hudgens and emily ratajkowski wear braids in the fenty show."
Debates about hairstyles have been an ever-present aspect of the cultural appropriation conversation in recent years.
Cultural appropriation has been defined by the Oxford English Dictionary as "the unacknowledged or inappropriate adoption of the customs, practices, ideas, etc. of one people or society by members of another and typically more dominant people or society."
Time and time again, white celebrities—most famously the Kardashians—have been called out for borrowing from a tradition but not acknowledging its origins. Critics say these celebrities are often praised for something that another group is demonized for.
Speaking to The Guardian about the Fenty show, St. Clair Detrick-Jules, author of My Beautiful Black Hair, described the situation as "exhausting."
"For the producers of Rihanna's fashion show to fashion white models with distinctively Black braids kind of feels exhausting," she said.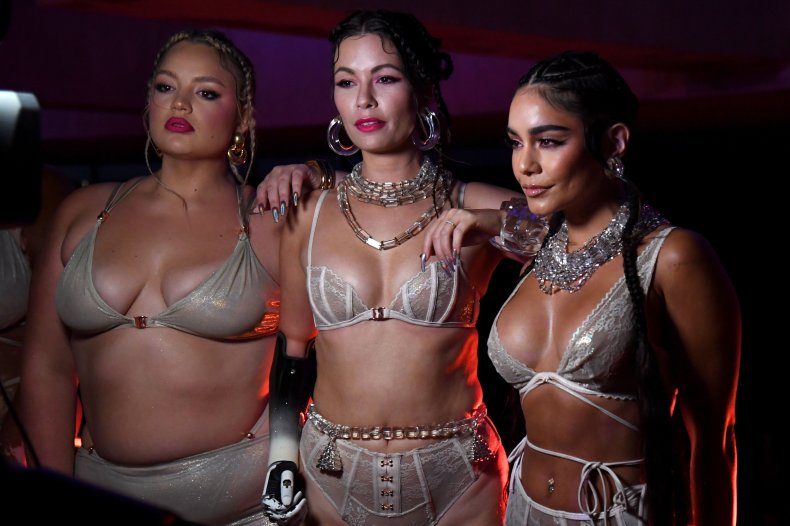 "We've been making some headway with educating non-Black women about how deep our connections are to our hair—yet here come the producers willfully ignoring all the easily accessible information online explaining what cultural appropriation is and why it's harmful."
However, many people disagree with this view and believe anyone can wear braids if they so wish.
One Twitter user wrote that Rihanna "should NOT be chided over her Fenty choices for hairstyles. No one 'owns' the rights to hairstyle choices. Black hair styles became a fad for others, when Bo Derek did her thing, years ago. Today attitudes have changed, but, hair is just hair."
Newsweek has reached out to Rihanna's representatives for comment.