Rihanna Slams Critics As 'Cougars' After She Called Son 'Fine'
Rihanna was not standing for people criticizing her post about her son, even referring to one fan as a "cougar."
The Barbadian singer, 34, sparked a debate online when she referred to her nine-month-old son with A$AP Rocky, 34, as "fine."
Rihanna posted a series of pics from her family cover shoot with British Vogue to her Instagram. One of the posts featured photos of the mother and son, where she gushed about how cute he was.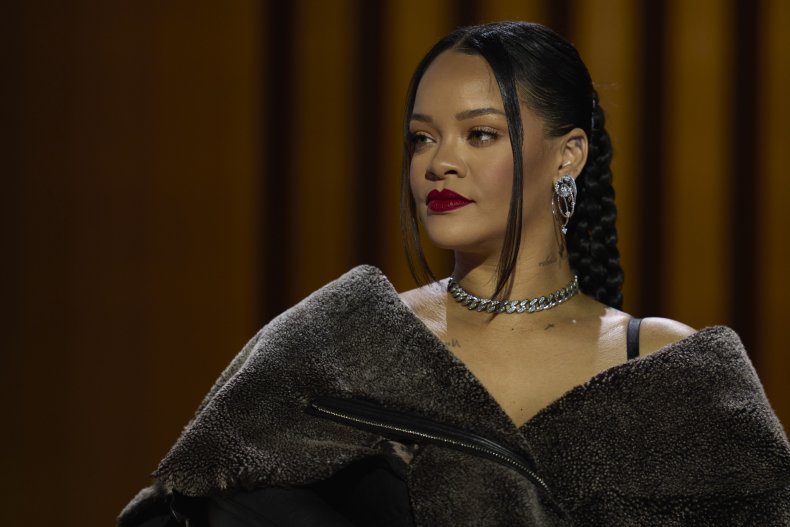 "My son so fine! Idc [I don't care] idc idc!" she captioned the post and revealed she didn't know she was pregnant during the photo shoot.
But many people in the comments did not approve of Rihanna's choice of words and let her know their thoughts on the matter.
"Who calls a baby fine?" asked one fan in the comments, to which Rihanna shot back: "His mother!!!"
Then she also took aim at another fan who accused Rihanna of referring to her son as a "grown man" by referring to him as "fine."
"You just keep your lil cougar paws away from him and we good!" Rihanna quickly snapped back.
Some people defended Rihanna, saying it was cultural that not all people would understand.
"The women in my family talk like that about babies as well. I think it's a Caribbean thing to say that. It's the same thing as saying handsome," commented one person.
Rihanna unveiled her newest pregnancy with A$AP Rocky during her return to live performing at Super Bowl LVII in Glendale, Arizona, on February 12.
The singer told British Vogue: "It's me really just getting back onstage—a crazy stage to be back on—but I'm really doing this for my fans.
"I want to have fun. I haven't done this in a minute and I'm doing this for the people that love my music, the people that have supported me and gotten me to this place in my career. And who miss me as a musician in particular."
Rihanna and her rapper partner welcomed their first child in May 2022, but are yet to reveal his name.
The couple started dating in 2020 and made a decision to reveal their son's face for the first time on TikTok to stop paparazzi from selling unauthorized images of the baby.
It was Rihanna's first ever TikTok post and showed the baby boy laughing in his car seat.
"We get to decide as parents when and how we do that. End of story," Rihanna explained of the decision. "Throw me to the wolves. Do what you want with me. But he doesn't have a say in any of this."
She added: "We've been protecting him thus far and you don't have any consent to be posting photos or selling photos of my child, a minor. Get the hell out of here with that.
"As parents, it just feels so icky, like a violation."