The wrestling industry is arguably the healthiest it has ever been. From new promotions to television deals and everything in between, it's a great time to be a wrestling fan, and a lot has happened in the last year alone.
"I think when we look back at the last 12 months we've seen a lot happen including, of course, our sellout of Madison Square Garden in April," Joe Koff, Chief Operating Officer of Ring of Honor told Newsweek. "AEW coming onto the scene, the proliferation of television with SmackDown going to Fox, AEW going to TNT, the sell of AXS TV to Anthem... It's a very vibrant period for wrestling."
Ring of Honor, the Maryland-based promotion who came into the scene in 2002, is going through its own changes. From high-profile departures, to increasing television visibility and the capabilities of its own streaming service, ROH looks to keep chugging along amid the changing tides of the industry.
Newsweek caught up with Joe Koff to chat about the state of wrestling, Ring of Honor and the upcoming Death Before Dishonor pay-per-view.
Note: This interview has been lightly edited for clarity and length.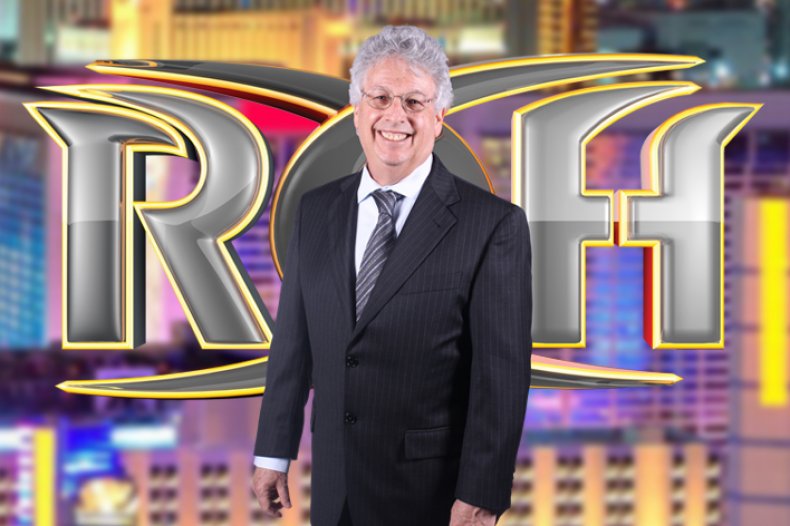 Amidst the changing landscape, Ring of Honor announced some major changes to HonorClub. Can you talk about those decisions?
One of the things we pride ourselves on is being very resilient and proactive to what is going on in the industry. And Ring of Honor is always rooted in the fan experience. And I think the adjustments we made to HonorClub in bringing the streams of all the house shows is really for the fan experience. They are our customers, they are our fans they come to the arena, they buy our merch and they pay monthly to have our service. We owe it to them to bring the best possible experience Ring of Honor wrestling can offer.
What is the future of the streaming service?
We have to challenge ourselves to create more reasons to join, more reasons to watch and to come. We've been having meetings over the last several weeks to talk about that fan experience and how we can further enhance. Those conversations are ongoing.
At the end of the day it's our wrestling, that's what people pay to see. That's why people come to see us and why they tune into our TV program. For all of the changes, and there have been a lot, but there's always been personnel changes with ROH over the years. The quality of the matches is at the same level it's always been. When fans watch ROH they know they are watching a product that's worth appreciating. And as long as that core is preserved, we will ride where the current takes us. But at the end of the day it's that core wrestling experience, integrity and that artistry, the respect of the wrestlers and fans that drives Ring of Honor.
Your roster has wrestlers like Jay Lethal and Matt Taven who are stalwarts of the promotion. How important is it to have guys like that?
We have to add in The Briscoes in that group. They are part of the DNA of the company. They are part of the fabric of the company, so their presence leaves a footprint and their footprints are for others to follow to take on that legacy and have that responsibility to lead the promotion and the locker room. It's the responsibility to excel in what they do.
Well, Lethal, Taven and The Briscoes are all in action at Death Before Dishonor, what can we expect to see?
Death before Dishonor as an event has always had a lot of surprises in it. And I think things happen organically at that event. It's very important for the mindset of the wrestlers and what that event specifically means. Every card I go to, and I go to a lot, I ask myself how will we top ourselves. And we always seem to do that because it goes to what's instilled in us, what's tacit to our promotion: doing the right things and doing it the right way.
The big story for this weekend is seeing Rush. He is a huge international star. He's a huge star in Mexico. Matt Taven has been an incredible champion for us, taking on any and all. And I think that match on display will really set the tone for that event. But there's always something under it that grabs everyone's attention. As I look at the card, even Bandido and Jay Briscoe had an amazing match at the Global Wars Espectacular. And Bandido is teaming with Mark Haskins against Jay and Mark, and I expect that to be really strong. And I also expect Marty Scurll and Colt Cabana to be really strong.
Not to say that the other matches aren't, but you never know which one will break out. The world championship match will stand by itself, but we're talking about the matches beyond that.
Speaking of the ROH World Champion and Matt Taven as champion being underrated. Why do you think that is, and what do you see in him?
He's a little bit arrogant, maybe personality-wise. He doesn't necessarily have the size, and he's not afraid to take on bigger men as evident by his championship defenses. Matt is a really good ring technician, and he's a really smart wrestler and a really good athlete. And he has good instincts, and that's what I think separates Ring of Honor from a lot of promotions. Just that tacit knowledge and the instincts that our wrestlers have inside the ring and how they respond and tell a story. Matt is really at the top of his game.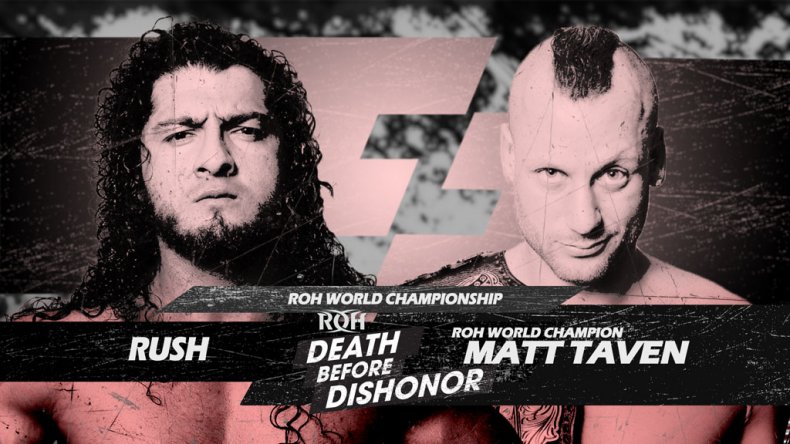 There's a lot of promotions promoting their women's divisions. How does Ring of Honor plan to make the Women of Honor division stand out?
Talent will speak to that. And the reason you see a slower growth is because we have high standards for our talent. There's a lot of women's wrestling and good women's wrestling. To be a wrestler right now is an excellent time. To be a fan is an excellent time. The business right now, it's a cyclical business. If you've followed wrestling before, you've seen these cycles before. Maintaining, staying focused keeps you in the game to keep playing and playing on.
Our women's division is strong, it's not huge. We are still looking for a stable of high-profile women, and that's not to say women who are wrestling aren't, but you need more than four, five, or six to have a robust division. And there's a lot of training and development going on, and we are a patient company, so I don't feel the need to rush that out. We've had some pretty good signings over the last couple of months in the women's division, and I think you'll see an uptick in that shortly.
Yeah, you recently signed Maria Manic
Yes. And she's not necessarily the profile that you would expect to see from a women's wrestling perspective. That element is what we see. It's the eye of our creative and bookers so see something different. Lots of women can wrestle right now. When Maria Manic walks into a ring, you know she's a wrestler.
It's not secret of your desire to bring Ring of Honor to live television. Sinclair's recent purchases of local sports networks seems to be moving in that direction. What can you say on that?
We will always strive to be live. The acquisition of the RSNs was major. It was a tentpole for our company, because not only are we the largest provider of local news and Ring of Honor, we can now add sports to that portfolio and to that crowning achievement.
It's a little too early. We just acquired them so assimilation takes time, but there have been conversations. I know people at the RSNs have asked about Ring of Honor. They are familiar with Ring of Honor, and I'm sure they'd love to see it there. But it just takes a little time We'll get there, though.
You spoke about the Global Wars Espectacular, your partnering show with CMLL and you have had a good relationship with New Japan. It seems promotions partnering up is becoming more and more common. Is it still an important aspect of the business?
They are important in the development of your organization. We've been very generous in that regard, because we think wrestling as an industry is important, not just being the promotion or "that" promotion. So whenever an opportunity arises, we are open to taking it. I think right now what you are seeing is, as more eyes are on it, you have people saying "let's get in it." And getting in it today is a lot different than the past. One thing Sinclair has always afforded us, and one reason we got into professional wrestling, is that I had distribution. I have a lot of distribution via our over-the-air, free coverage, be it at our emerging network like on Stadium or Charge. Hopefully soon, nothing is finalized yet. Plus we have our own streaming platform. I don't have to go out and find it. That will always be an advantage.
Right now it's a good time for a lot of these promotions to start to come out on their own. New Japan is a wonderful partner. I don't want you to think MSG was all Ring of Honor. It was a combination at the right time with a good card, and it was a good partnership. We would have done the same for them at WrestleKingdom and their Japan shows. But they want a stake in America as well and not be associated with it, which is why you're seeing New Japan touring independently of other promotions. I don't blame them. It's a business and that's their business.
Balance between having a partnership and being a little selfish with your promotion and the desire to go solo.
It's not a term I like to use, but it came up in my mind while we were talking. There's somewhat of an "ego" in this business and in any business. Every business thinks they can do it better than the best business, have a better idea. And I'm not saying for a second that they do or don't, but that's the entrepreneurial spirit that drives this country, and it's what's driving this sport right now.
People who think its opportunity to get involved on a larger scale basis, maybe now is the time. But when you look at the players you have to look at who is backing them, and there's some big money so I expect them to have to have success right off the bat and hopefully sustain it. When the business is sustainably good, it's good for everybody. There can only be one, two or three people at the top of a promotion. There's a lot of wrestlers under that that would love to have that opportunity, and a lot of other promotions give that opportunity to those wrestlers. I think we are seeing it, and I'm just starting to see it because of the number of new promotions and how their contracts are drawn out. I see the independent promoter taking more of the brunt because of what's going on, because they are not being able to get that big name guy to draw those houses. Possibly It's just beginning to surface. I'm not sure if that exists yet.
I've heard stories about the U.K. independent scene and how promotions are having a hard time drawing because of the lack of talent.
What happens to those independent shows that used to draw a lot of people because they were able to bring in stars that weren't affiliated with WWE or ROH at the time or Impact? And there is still plenty of talent available for those shows, but it's not necessarily the big names. The big names are being tied up by all the other promotions.
Your wrestlers are under exclusive contracts? How do you determine who can wrestle for other promotions?
[Exclusivity] is pretty standard in the industry right now, and there are different levels of contract. But you protect your top stars because it's your brand and you want them representing that brand. Journeymen wrestlers or guys breaking in who need work and want more work, we don't mind that. But it's at different levels.
With so many promotions popping up, how does ROH plan to bring in and keep talent?
It's your culture, it's what you provide to that culture and what part they play in that culture. Ring of Honor has traditionally been a collaborative culture where input from its wrestlers is greatly appreciated and accepted. It really matters what you want as a lifestyle.
Wrestling is a very hard business on the body. We don't wrestle 200 nights a year, and obviously we have big stars who are happy with that. And I'd imagine that the money is good for them to maintain that life and their bodies. We look for people who are interested in that, because that's what we provide. We provide a warm, stable atmosphere that's serious, athletic has a ton of integrity... But there are people who still want more, and there are other promotions that can offer that.
Speaking on how wrestling can be hard on the body. Do you think having live events still makes sense?
As promotions go live and go weekly live, that's 50 shows right there. Say you couple on another show because you're in the area, and that's 100 shows. Let's say you had four or five promotions that do a live weekly show. I think that's a lot. I'm sure wrestling fans would say that's unbelievable, but I'm not sure how sustainable that is. You're dealing with a lot of competition to get people into the houses. That's where the challenge is. It becomes a marketing challenge. We're going to see how good people in marketing are.
That's a lot live shows, and not to say we don't have ours, but we don't have that many or of that scope. And they are not at that expectation where you're expecting huge production values. Look at the WWE, god bless them, and I say that out of respect. They are going to do three television products a week live plus whatever else they are going to do. I'm not sure if their live events are going to wane because of this extra layer, but that's a lot, and that's a lot to ask fans. Look at WrestleMania weekend. You're going into town where we're going to be in or AEW is going to be in, Impact is coming in. Being the best at what you do is going to take precedence because whoever appeals most to that fan is going to get that ticket.
What's the Ring of Honor audience and what are you looking for?
Our fans have been pure wrestling fans who respect the action in the ring, who aren't looking for a "show" in between matches - they don't want to hear the talk, which is traditionally the way. But you have to adapt. If you don't adapt you die. And Ring of Honor has always been an adaptable organization. And I think it requires more of that today more than ever. We will continue to adapt and test and find that perfect medium that satisfies all constituents that are into the wrestling and hopefully we are successful.
I'm not going to compete at levels I can't compete at, we never have. But I can be really good at what I do, and that's what my goal is: to be the very best at what we do.
What can we look forward from Ring of honor for the rest of 2019?
Death before Dishonor is this weekend, and we're going to be in New Orleans and England at the end of October and we end the year with Final Battle, which has always been a defining card for the promotion to set the stage for the next year. We are very focused for the rest of this year, and what we bring into next year will be determined over the next three-four months so it's a pretty exciting time for us.
Ring of Honor's Death Before Dishonor pay-per-view will stream live on HonorClub Friday, September 27 starting at 9 p.m. EDT.
Uncommon Knowledge
Newsweek is committed to challenging conventional wisdom and finding connections in the search for common ground.
Newsweek is committed to challenging conventional wisdom and finding connections in the search for common ground.
About the writer
Phillip Martinez is a game and culture reporter for Newsweek. Prior to joining Newsweek in 2018, he was a reporter and editor for iDigitalTimes and Player.One. A Bronx native, he graduated with his Bachelor's degree in Journalism from St. John's University in 2010. An avid Nintendo fan and wrestling mark, he's always looking to become a Pokémon Master while fantasy booking this year's WrestleMania. You can contact him at p.martinez@newsweek.com