Scientists Warn Against Repeated Re-Use of Masks for at-Risk Group
Researchers have suggested that people with compromised immune systems should avoid re-using face masks due to germ growth.
The finding was made as part of a Japanese study into face mask hygiene. In the study, the researchers surveyed 109 people on their face mask usage and collected bacteria and fungi samples from both the inner and outer sides of their masks.
They also asked the survey participants about the mask type and how long they tended to wear their masks. The study noted three main types of masks that were commonly available in Japan: non-woven, polyurethane, and gauze or cloth masks.
Polyurethane masks in particular are often used to protect against hay fever in Asian countries and have also been used and re-used during the COVID-19 pandemic since they're washable. Gauze masks, too, can be washed and re-used "and effectively prevent infections," the study states. Disposable non-woven masks are not washable and are designed for single use.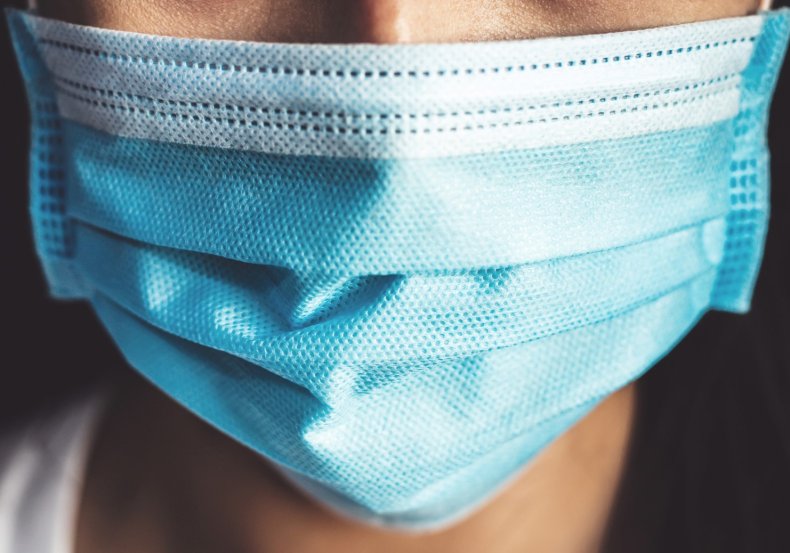 However, the authors of the study also stated that hygiene issues associated with masks remain unclear. Of note was the fact that a short supply of non-woven masks in Japan led to them being used repeatedly despite them being disposable.
"Even after the shortage of mask supply has been resolved, some people have used disposable non-woven masks repeatedly or other types of face masks," the authors wrote.
They expected that wearing masks for a longer period of time would cause higher counts of bacterial colonies. However, they found that a longer duration of mask usage did not correlate with bacterial colony counts. They suggested that this was due to the fact that masks dry out when people take them off for long periods—perhaps to go to bed—and dry conditions are not conducive to bacterial growth.
However, the authors found that a longer duration of face mask usage did correlate with increases in fungal colony counts, perhaps due to the fact that fungi are more resistant to drying.
"This explains why fungi tended to accumulate and increase with longer mask usage," they wrote.
In addition, the authors found no significant differences in bacterial or fungal colony numbers based on washing—something they said could be down to a lack of information on how to wash masks properly to disinfect them.
"We propose that immunocompromised people should avoid repeated use of masks to prevent microbial infection," the authors wrote. "Since masks can be a direct source of infection to the respiratory tract, digestive tract, and skin, it is crucial to maintain their hygiene to prevent bacterial and fungal infections that can exacerbate COVID-19."
Limitations to the study include small sample size and the fact that not all mask types were studied, nor were factors such as mask thickness that might affect microbial growth.
The study was published in the journal Scientific Reports on July 18.
The U.S. Centers for Disease Control and Prevention (CDC) states that disposable face masks should be thrown away after they're worn once and that wet or dirty masks should be replaced right away with clean, dry ones.
Meanwhile in the United States, indoor face mask mandates have returned for students and staff at the San Diego Unified School District in California due to rising COVID cases.