Ritz Cracker Recall: Salmonella Fears for Several Products
Confectionery giant Mondelez has recalled some products bearing its Ritz branding, fearing that the snacks may contain Salmonella.
The company, set up as a spin-off for Ritz and other marquee brands owned by Kraft Foods, such as Cadbury's chocolate and Oreo biscuits, announced the precautionary measure after one of Mondelez's suppliers recalled a possibly tainted ingredient.
The company said it has not received any complaints or reports of its customers contracting Salmonella but decided to recall products voluntarily.
Citing "the potential presence of Salmonella" in whey powder already recalled by one of its suppliers, Mondelez recalled more than a dozen Ritz food products sold in the United States, including Puerto Rico and the U.S. Virgin Islands. The recalled snacks include Ritz Crackers and Ritz Bits products, The Wall Street Journal reported.
The company published a full list of the recalled batches of the suspect products, along with their UPC number and expiration dates, in a statement, announcing the recall.
The batches include 6 different packings of Ritz Bitz Cheese, 6 variations of Ritz Cheese Cracker Sandwiches, the 35 oz Ritz Everything Cracker with Cream Cheese and two multipack Mixed Cookie Cracker Variety assortments.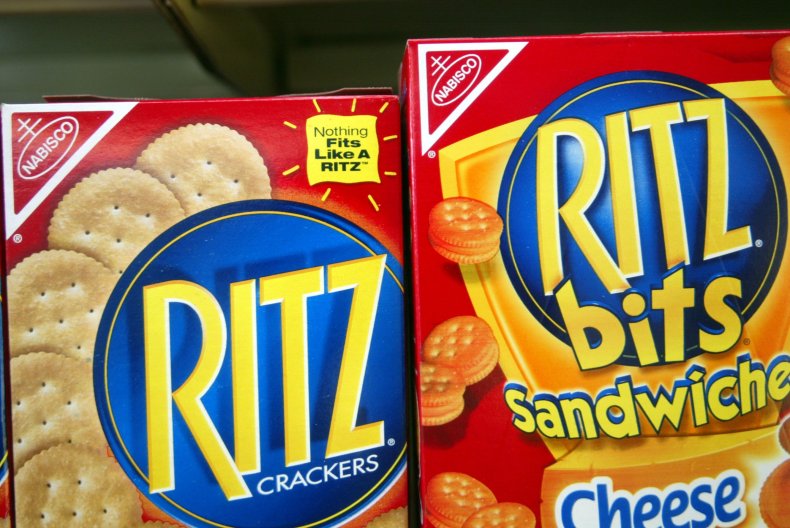 "Consumers who have these products should not eat them, and should discard any products they may have," the company said. Mondelez urges those who have purchased a potentially contaminated product to contact them.
Read More: Does baby powder cause cancer? These women have been awarded billions in damages from Johnson & Johnson
The recall follows an outbreak of Salmonella across 31 states last month that was linked to breakfast cereal produced by the Kellogg Corporation. The outbreak caused infections in at least 73 people, 24 of whom had to be treated in hospital. The company recalled 11 million of boxes of the Honey Smacks cereal believed to have been the vector of the illness.
The symptoms of Salmonella, which is caused by bacteria, tend to overlap with signs of food poisoning, causing a person to experience fever and nausea, and have various gastrointestinal problems.
The bacteria is not visible to the naked eye and can be carried naturally in the intestines of some animals that show no signs of being ill. The disease is foodborne, meaning one must ingest it to contract it, according to the Food and Drug Administration.
Although treatable, the illness can be more serious if contracted by children or adults with a weakened immune system, in which case, leaving the Salmonella untreated can be fatal.