'Riverdale' Season 5: How the Prom Episode Sets Up the Time Jump
Riverdale Season 5, Episode 1, or "Chapter Seventy-Seven: Climax" saw the students of Riverdale High celebrate their prom—though in typical style, things were of course interrupted by a rogue broadcast of a potential snuff film.
The characters' high school time may be coming to an end, but the show is not going to show us the college years of Archie (played by KJ Apa) and the rest of the cast. Instead, the show will soon do a seven-year time jump, which will see Archie return to Riverdale all grown up and shocked at how the town he loves has been destroyed.
WARNING: The following contains spoilers for Riverdale Season 5, Episode 1.
Though that time jump is still a few weeks away on The CW show, "Climax" gave us some big hints at what Riverdale will look like seven years in the future.
The episode, for example, ended with two major couples breaking up: Archie and Veronica (Camila Mendes), after she learned that he had kissed Betty (Lili Reinhart), and Cheryl (Madeleine Petsch) and Toni (Vanessa Morgan), after Toni seemed to follow her grandmother's warnings about never dating a Blossom.
As such, this leaves four of our major players single in the lead-up to the time jump, allowing all the characters to go in different directions. Jughead (Cole Sprouse) and Betty remained together after the Season 5 premiere—but with Archie and Betty's kiss hanging like a cloud above the friendship group, it could only be a matter of time for them as well.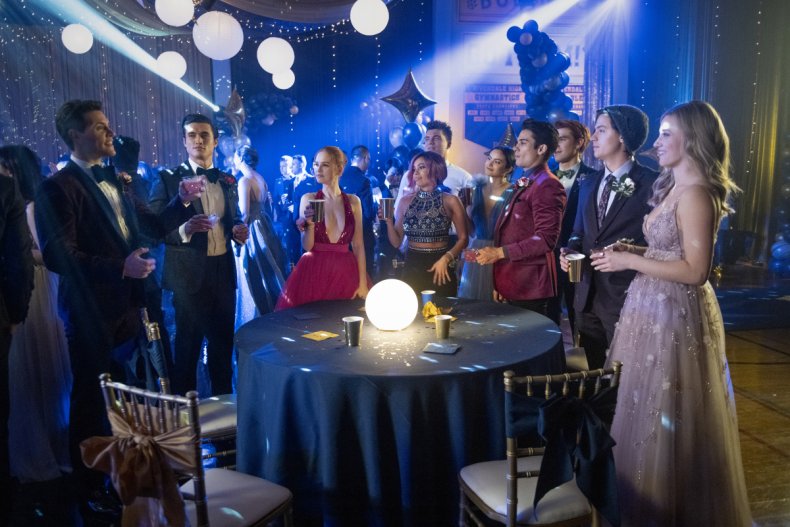 Riverdale also teased a possible role for Archie going forward, only to take it away again. After Archie did not get into the military academy, Hiram (Mark Consuelos) offered him the role of deputy mayor. However, with Archie now broken up with Hiram's daughter, that job may be off the table.
Per Apa's interview with TVLine, it seems like Archie does decide to join the military after all. He said: "We learn that everyone kind of went their separate ways. Archie enlisted in the Army after graduation, and when he returns, after all that time in the Army, he discovers the town is on the verge of becoming a ghost town, thanks to Hiram."
Though Archie seems set for service and the rest of his friends are off to college, "Climax" suggests that another character is going to stay behind to raise a little hell—Jughead's younger sister Jellybean (Trinity Likins), who Jug caught at the underground movie rave in the episode. This suggests that, with her older brother off to college and neither her father (Skeet Ulrich, who has left the show) or mother (Gina Gershon) around, Jellybean may be set to go off the rails during the time jump.
A guest appearance in Riverdale Season 5, Episode 1, meanwhile, seemed to hint that some new faces could be joining the show. In the episode, Archie battled KO Kelly (Zane Holtz), who fans may know as the boyfriend of Riverdale spin-off character Katy Keene (Lucy Hale). Katy Keene was canceled after one season by The CW, but KO's appearance on Riverdale suggests that we may see some of its characters crossover to the mother show in the coming weeks.
Riverdale Season 5 airs Wednesdays at 8 p.m. ET / 7p.m. CT on The CW in the U.S. and on Thursdays on Netflix internationally.