Five Reasons Why Rob Gronkowski Might Be the Greatest Tight End in NFL History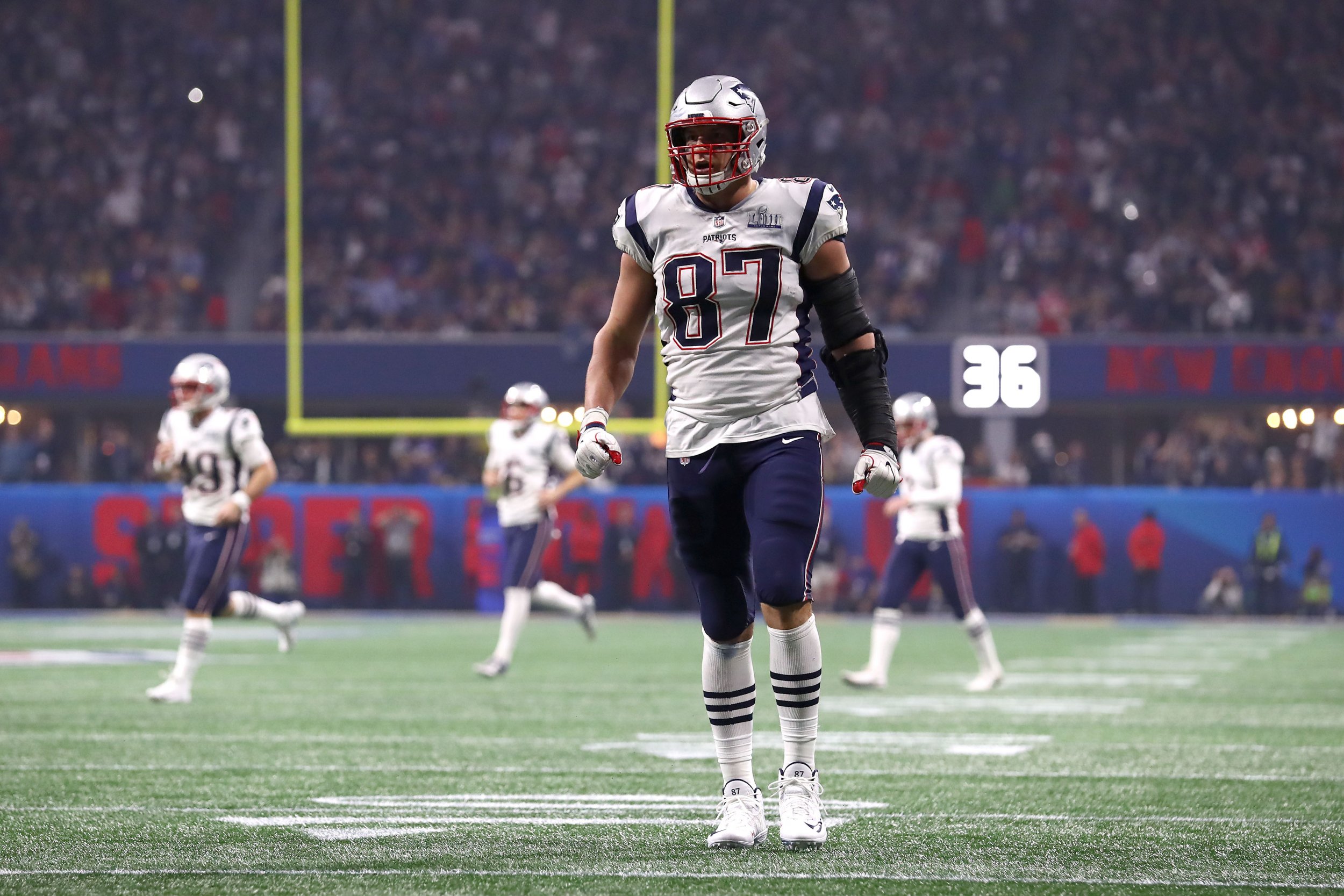 The Rob Gronkowski era is officially over after nine years, as one of the most dominant players in NFL history announced his retirement on Sunday afternoon.
Three Super Bowl rings would normally speak volumes for a player's legacy, but in the former New England Patriot's case they only go so far in explaining how big an impact he had on the league since he made his debut in 2010.
There is a strong case to consider Gronkowski the best tight end in the history of the game, for not only did he excel in the position but he redefined some of its crucial aspects.
Let's consider a few factors.
Career statistics
Gronk ranks joint 28th in the all-time list of receiving touchdowns during the regular season with 79. However, of the players ahead of him in the list, only two tight ends—Antonio Gates and Tony Gonzalez—fared better.
The former recorded 116 receiving touchdowns in a 16-year spell in the league, while the latter accumulated 111 over 17 seasons in the league.
Gronkowski, by contrast, put together 79 in just nine seasons. In that period, no other NFL player has recorded more receiving touchdowns. He ends his career with the most receiving yards per regular season game (68.4) of any tight end in NFL history.
He's also the only player among those who plied their trade in his position to lead the league in receiving touchdowns, a record he set in 2011 with 17, and the only tight end in the history of the game to have at least 10 receiving touchdowns in five separate seasons.
According to ESPN Stats & Info, Gronk caught a touchdown every 6.6 receptions and scored 0.69 touchdowns per regular season game. Among NFL receivers with 500 catches or more, both figures rank third in the all-time list.
Consistency over time
The New York native is the only tight end in NFL history to have recorded at least three seasons with 10 or more touchdowns and over 1,000 receiving yards. Gronk also holds the record of being the only player in his position to record at least three consecutive seasons with 10 or more touchdowns.
Among tight ends, only Jason Witten and Tony Gonzalez had as many seasons with at least 1,000 receiving yards as Gronk's four. The fact Gronk amassed such impressive figures despite two injury-curtailed seasons shows what a special player he was.
Five Pro Bowl selections and four first-team All-Pro nominations in nine seasons speak volumes for his impact.
Incredible catches
Over nine seasons in the NFL, Gronk produced some insane catches. The grab against the Los Angeles Rams in Super Bowl LIII was the fitting finale to a glittering career, while his 22-yard touchdown in Super Bowl XLIX also stands out.
However, there are other plays that deserve a mention. His 10-yard score against the Denver Broncos in January 2012 highlighted his incredible athleticism, as did a one-handed catch against the same opponent two years later.
In 2011 he seemingly redefined physics with a half-flip score against Kansas City, before shrugging off half of Washington's defense for a 50-yard gain only a few weeks later.
Clutch in the postseason
A dominant player during the regular season, the 29-year-old elevated himself to a whole new level in the playoffs. His 81 receptions for 1,163 yards and 12 touchdowns in the playoffs are a record for a tight end and among all NFL players only Jerry Rice has recorded more touchdown receptions than Gronkowski in the history of NFL postseason .
His combined 23 receptions for 297 yards are also a record for a tight end in Super Bowl history. Fittingly, his last ever reception, set up the winning score in Super Bowl LIII in February as the Patriots added a sixth ring to their collection.
Impact on his position
At 6 foot 6 and 268 pounds, Gronkowski revolutionized the tight end position. His size and power allowed him to block line an offensive lineman, while his athleticism made him a super receiver.
"Rob will leave the game as among the best, most complete players at his position to ever play," Patriots coach Bill Belichick said Sunday. Given next season will be Belichick's 45th in the league, it is high praise indeed. Five seasons must pass after retirement before players can be considered for the Pro Football Hall of Fame, meaning Gronkowski won't be eligible for entry until 2024.
However, it is a matter of when, rather than if, he will be inducted.