Tom Brady, NFL Twitter React to Rob Gronkowski's Retirement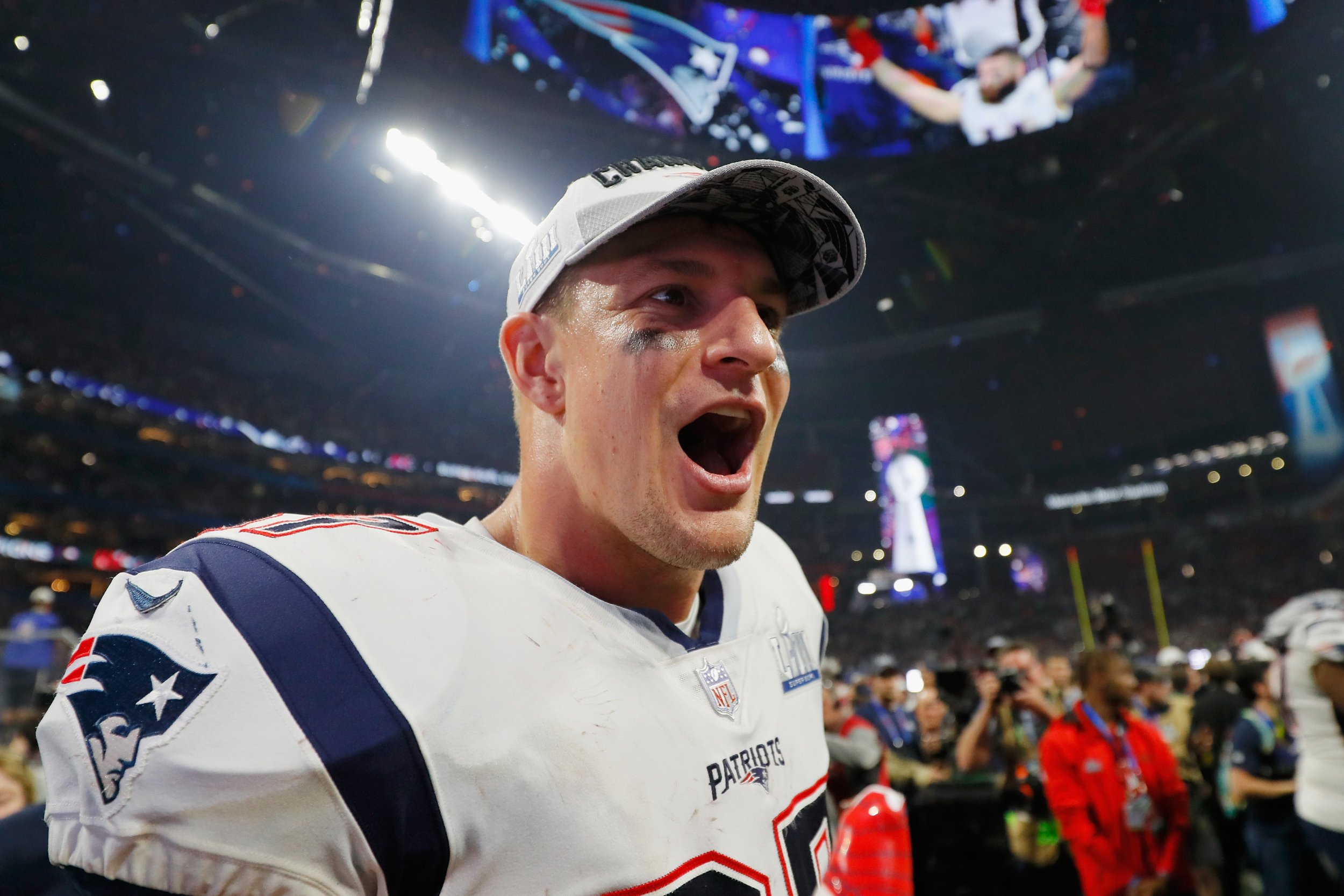 The NFL world paid tribute to Rob Gronkowski after the New England Patriots tight end announced his retirement Sunday night.
The 29-year-old called time on his professional football career after nine seasons that returned three Super Bowl titles, five Pro Bowl selections and four first-team All-Pro nominations.
Gronkowski announced his retirement with a lengthy post on his Instagram profile, in which he thanked New England Patriots owner Robert Kraft and coach Bill Belichick for giving him the opportunity to play at the highest level for the past nine seasons.
"I'm so grateful for the opportunity that Mr. Kraft and Coach Belichick gave to me when drafting my silliness in 2010," he wrote.
"My life experiences over the last nine years have been amazing both on and off the field. The people I have met, the relationships I have built, the championships I have been a part of, I just want to thank the whole New England Patriots organization for every opportunity I have been given."
Kraft and Belichick were among the first to pay tribute to the retiring tight end, who will turn 30 in May.
"In the nine years that I have known Rob Gronkowski, I have never known him to have a bad day," Kraft said in a statement on Sunday. "He always has a youthful exuberance about him and is a joy to be around. As a player, he earned the respect of his coaches and teammates for his hard work, preparation, selfless attitude and the sheer dominance of his game."
In a separate statement, Belichick added: "Rob's impact on our team and organization was felt in many ways. In the ultimate team sport, Rob was a great, great teammate. "
Unsurprisingly, Tom Brady was among the first to wish his former teammate a happy retirement. Since Gronkowski's NFL debut in 2010, no other player has recorded more receiving touchdowns than his 79 and Brady was responsible for 78 of them.
"What an honor and privilege to play with you these past nine years Gronk," the Patriots quarterback wrote on Instagram as a caption to a picture of himself and his teammate on the field.
Fellow Patriots players and other NFL stars echoed the sentiment.
Widely regarded as arguably the greatest tight end to ever play the game, the Gronkowski recorded 10 or more touchdown receptions in five seasons, the most by a tight end in NFL history.
He finished his career with 521 receptions for 7,861 yards in 115 regular season games and 81 receptions for 1,163 yards and 12 touchdowns in the playoffs, a record for a tight end.
Among all players, only Jerry Rice has recorded more touchdown receptions than Gronkowski in the history of NFL postseason. Among tight ends, apart from the soon-to-be Hall of Famer, only Vernon Davis and Keith Jackson recorded 100 receiving yards in four separate postseason games.