Rob Schneider's Criticism of Hillary Clinton, 'SNL' Divides Internet
Rob Schneider's criticism of Saturday Night Live, including the singling out of a famous Hillary Clinton moment on the show, has left the internet divided.
Schneider, 58, worked on the long-running NBC comedy show between 1988 and 1994, going from writer to cast member in 1990 during an era that included such stars as Chris Farley, David Spade and Adam Sandler.
During a recent appearance on The Glenn Beck Podcast, the conservative comedian said that a November 2016 sketch featuring Kate McKinnon as Clinton after her election loss to former President Donald Trump was a moment he decided the show was "over."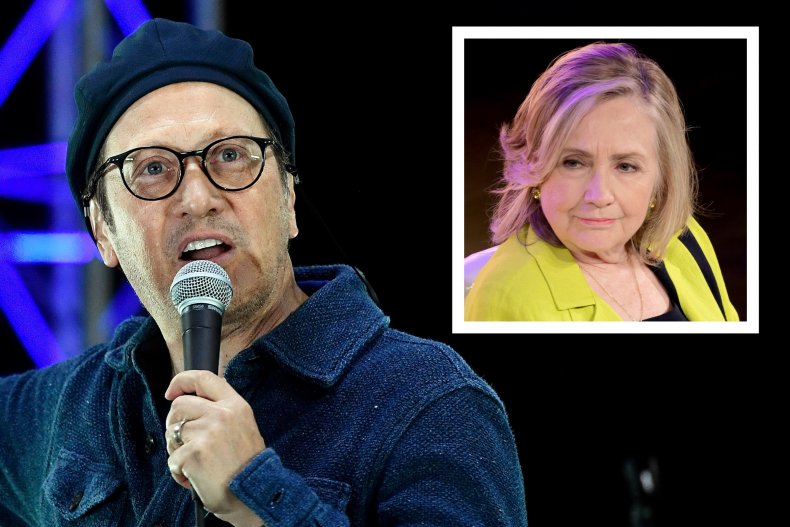 "I hate to crap on my own show," Schneider told conservative commentator Beck. "When Hillary Clinton lost—which is understandable why she lost. She's not exactly the most logical person in the room."
He continued: "Then when Kate McKinnon went out there on Saturday Night Live in the cold opening and all that, and she's dressed as Hillary Clinton, and she started playing 'Hallelujah.' I literally prayed, 'Please have a joke at the end. Don't do this. Please don't go down there.' And there was no joke at the end, and I went, 'It's over. It's over. It's not gonna come back.'"
While SNL cold opens are traditionally comedic in nature, McKinnon, who had portrayed Clinton on the show during election season, sat at a piano and sang Leonard Cohen's "Hallelujah," before saying into the camera: "I'm not giving up, and neither should you."
The moment was also a tribute to Cohen, who had passed away days earlier.
Beck alluded to Schneider's right-leaning comments potentially damaging his career, as he asked the comedian: "Are you willing to lose it all for what you believe?"
"Absolutely," Schneider responded. "Because if we don't have it then we have nothing. I don't care about my career anymore. I care about my children, the country that they're gonna live in."
Schneider has three daughters, including pop star Elle King, 33.
Schneider's comments were met with a wave of support from fans whose political views aligned, while others mocked the comedian's statement about his career.
"No one who cares about their career.. appears on @GlennBeck's show... so.. redundant," wrote comedian Hal Sparks on Twitter.
Farron Cousins, the host of the progressive radio show Ring of Fire, suggested that Schneider may already have very little to lose.
"Rob Schneider saying he doesn't care if he loses his career is like me saying I don't care if I get fat - It happened long ago," Cousins tweeted.
SciBabe science blogger Yvette d'Entremont recounted Schneider's commercial for State Farm Insurance being pulled back in 2014 over his stance against vaccines.
She tweeted: "I remember when Rob Schneider got fired from State Farm for being an antivaxxer and since they sell health insurance, they did not like this in their spokesperson. But we also knew he didn't care about his career because we've seen his work."
Murderville writer, executive producer and showrunner Krister Johnson also added to the flood of quips made about Schneider's career.
"Never has one man given up so little for so much," Johnson wrote.
While Schneider's comments were met with much derision, there was also a wave of enthusiastic support from Twitter users who shared and embraced his views.
Benny Johnson, the chief creative officer at Turning Point USA, tweeted: "Comedy legend Rob Schneider repeatedly DROPS mic on SNL— DESTROYS woke comedy in SECONDS: 'It's OVER. It's not gonna come back.'"
Amid the online conversation, Schneider shared a link to the full Beck interview with his 1.2 million Twitter followers on Tuesday.
"I had a nice conversation, with a nice person who's been in this business and is the same age as me," Schneider captioned the link. "I gave some opinions.
If you'd like, it's worth a listen..."
Elsewhere in his interview with Beck, Schneider also spoke about unnamed late-night hosts, who he accused of participating in an "indoctrination."
"You can take the comedic indoctrination process happening with each of the late-night hosts and you can exchange them with each other," he said. "That's how you know they're not interesting anymore. There's not an independent voice anymore. It's just all indoctrination by comedic imposition."