A Republican candidate for the Michigan House of Representatives who made headlines in March for suggesting that women who are raped should "lie back and enjoy it" has lost his race in a surprise defeat.
Robert "RJ" Regan has lost his bid to represent Michigan's 74th district, according to unofficial results reported by The Detroit Free Press on Tuesday night and with all precincts reporting.
Democrat Carol Glanville had defeated Regan in the special election by more than 1,500 votes based on results as of 10.30 p.m. ET, winning 51 percent of the vote to Regan's 40 percent, while 7.9 percent support went to write-in candidates.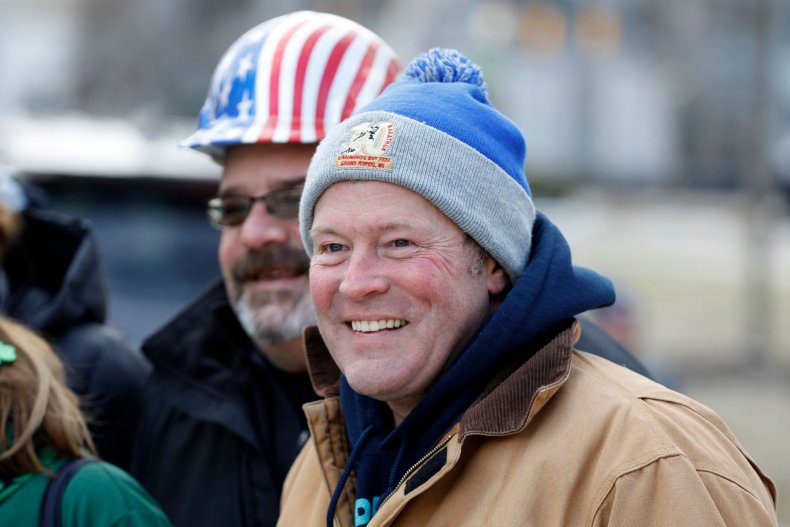 "West Michigan values of integrity, decency, and care for the common good won tonight," Glanville tweeted in response to her apparent victory.
"The people of the 74th District have spoken, and I hear you. We are united in fundamental ways, and I will take our values and concerns to the Capitol to affect positive change. Thank you!"
Regan had been considered the leading contender to win the race as the 74th district has traditionally been deep red and has never been represented by anyone other than a Republican.
In March, Regan earned criticism from Democrats and Republicans over comments he made about rape during a virtual panel. He was speaking during a section of the panel about whether Republicans should continue to argue that the 2020 presidential election was stolen. No evidence has been produced to support this claim.
"Having three daughters, and I tell my daughters, 'Well if rape is inevitable, you should just lie back and enjoy it so.' That's not how we roll, that's not how I won this election. We go right at it," Regan said.
Regan had won the Republican primary on March 1 and a video of the panel where he made the comments was posted to video sharing site Rumble on March 6.
Those comments earned bipartisan backlash, including from the Republican Regan was running to replace.
State Senator Mark Huizenga, who vacated the 74th district to pursue a successful state Senate bid, condemned Regan's remarks.
"As a Christian, a public servant and a father of two daughters, I find Robert Regan's comments about sexual assault to be revolting and immoral, and I strongly denounce them," the senator said in a statement.
Huizenga's statement also addressed Regan's history of sharing conspiratorial content online, including about the Russian invasion of Ukraine.
"His statements about Russia's unprovoked attack of a sovereign country are contrary to our own nation's values, and his anti-Semitic posts claiming Jewish people control the banks and were behind the 9/11 terrorist attacks are shameful and disgusting," Huizenga said.
Regan also shared misogynistic content and suggested that COVID-19 vaccines are not effective.
Michigan's 74th district will cease to exist on December 31 when new maps will take effect. Both Glanville and Regan have filed to run in the new 84th district.
Newsweek has asked the Glanville and Regan campaigns for comment.
Update 05/04/22 07: 00 a.m. ET: This article was updated to include more information and to add a new photo.