Robinhood Blocks Cryptocurrency Trading, Blames 'Extraordinary Market Conditions'
Robinhood has restricted trading in cryptocurrencies a day after blocking new purchases of 13 stocks amid "extraordinary market conditions," the app said.
Screenshots shared on social media apparently taken from the investment platform showed a message informing users that instant deposits were "temporarily unavailable for crypto purchases."
The message added: "This means you wont be able to buy crypto with funds from a deposit until it settles (which can take up to five business days to complete)."
A statement provided to CNBC by Robinhood said: "Due to extraordinary market conditions, we've temporarily turned off Instant buying power for crypto.
"Customers can still use settled funds to buy crypto. We'll keep monitoring market conditions and communicating with our customers."
It came as the value of a joke cryptocurrency called Dogecoin skyrocketed in recent days amid speculation on Reddit that it could benefit from the same market frenzy sparked by the r/WallStreetBets community which surged share prices for more than a dozen companies this week, including the video games retailer GameStop.
The infographic below, provided by Statista, illustrates the year-to-date stock performance of GameStop.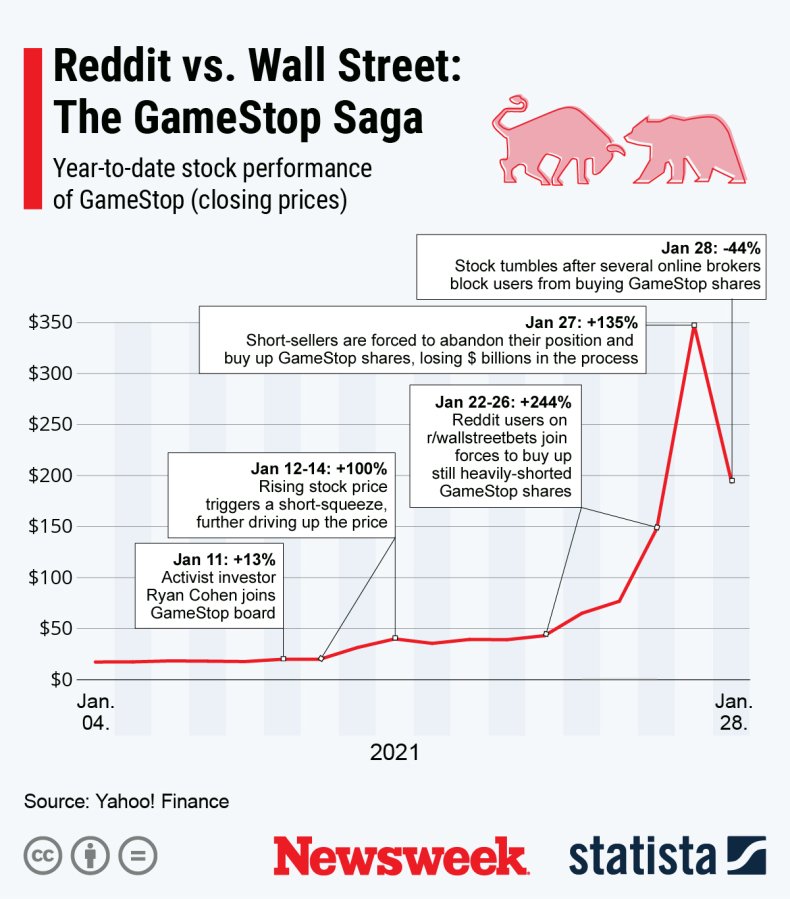 Dogecoin soared over 800 percent on Friday, according to Coingecko, while a day earlier a tweet from the head of Tesla and SpaceX, Elon Musk, apparently referencing the digital currency was interpreted as a nod of support from the billionaire entrepreneur.
Listed as DOGE on the crypto markets, the coin was launched in December 2013 with branding inspired by an internet meme of a Shiba Inu dog.
Unlike the better-known Bitcoin brand, Dogecoin is pitched as a "fun and friendly" currency alternative.
After Musk changed his Twitter bio to "#bitcoin," that cryptocurrency's value also shot up.
Many traders took to social media to share alternative ways of purchasing cryptocurrencies after the action by Robinhood.
"They're doing all they can to slow us down," wrote one claiming to be a user of the app.
In a statement on Thursday posted on its website, Robinhood said it had taken the decision to "temporarily limit buying for certain securities."
The firm said: "We'll continue to monitor the situation and may make adjustments as needed. To be clear, this was a risk-management decision, and was not made on the direction of the market makers we route to.
"We stand in support of our customers and the freedom of retail investors to shape their own financial future. Democratizing finance has been our guiding star since our earliest days.
"We will continue to build products that give more people—not fewer—access to our financial system. We'll keep monitoring market conditions as we look to restore full trading for these securities."