'Roblox' David Guetta DJ Party: Start Time and How to Join the Virtual Concert
David Guetta will soon be performing his first-ever virtual concert, with a 45-minute set taking place entirely in Roblox.
If you're not actively immersed in the community, then you might mistake Roblox for just another online game, akin to Minecraft or Fortnite. Yet, while there is an element of truth to this, it doesn't fully represent what the platform is all about.
Roblox is more like a creation tool, which allows amateur developers to create their own digital "experiences" and then share them with others around the globe. There aren't many limitations on what you can build using the studio (although moderators will take down NSFW content). You can make the next battle royale shooter, an obstacle course (or Obby), a haunted house attraction filled with jump scares, a community quiz, a virtual pet simulator or even a storefront where you trade cosmetics with other users.
In short, Roblox isn't a game, but rather a metaverse platform that offers a wide range of different experiences. Collaborations with celebrities and major brands are therefore quite common. For instance, last year Gucci partnered with a group of developers to present a museum-like area that celebrated 100 years of the fashion company.
Virtual concerts are also quite big, with 21 Pilots, Lil Nas X and Royal Blood all performing in Roblox as digital avatars. When in-person tours first started to get canceled owing to Coronavirus, fans would even take it upon themselves to organize unofficial gatherings in the platform, as the Juggalos did for Insane Clown Posse.
The upcoming David Guetta experience is official, however, with input from the Warner Music Group.
When Is the David Guetta Virtual Concert in 'Roblox'
One of Roblox's most successful developers, Wonder Works Studios, has created the virtual environment for Guetta's show. It's not just a vanilla stage though, as there's actually scope for plenty of interactivity.
Similar to the popular Fortnite concerts, there's a lot you can do here as a player. There is an Obby course that you can try and complete while listening to Guetta's tracks, an assortment of competitive minigames, a lounge area to hang out in, a secret puzzle that you can solve to unlock rewards, and a virtual merchandise table.
All of this is set against an intergalactic backdrop that features meteor showers, alien planets, laser bombardments and teleportation tubes. Even if you aren't particularly fond of Guetta's music (which has been nominated for 10 Grammys as of 2022), it's a really well-designed experience to delve into with your friends.
The French DJ's set will begin at 7 p.m. ET on Friday, February 4. For those in other time zones, this translates to 4 p.m. PST and 12 a.m. GMT (on February 5).
Don't worry if you can't make that slot though, as the concert will repeat every hour on the hour over the coming weekend, until 2 a.m. ET on Monday. Each server that is hosting the event is capped at 50 attendees.
Incidentally, you can explore the stage area right now to participate in the obstacle course, puzzles and minigames.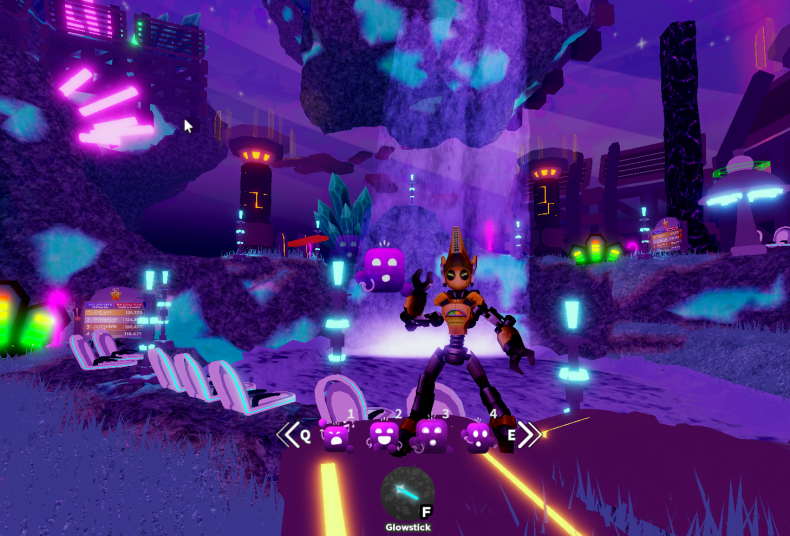 How to Join the David Guetta Virtual Concert
You can attend the David Guetta experience by finding it in the Roblox Player app, where it's titled "David Guetta DJ Party." Alternatively, you can launch it via your web browser using the link here.
If you join before the concert starts, then you will still be able to look around the experience and appreciate what Wonder Works Studios have done. David Guetta's Roblox avatar will then appear on Friday, February 4, and will continue to perform on an hourly basis for the proceeding weekend.
It's worth noting that the experience does come with a warning for those who have photosensitive epilepsy, as there will be strobe lighting effects.
Speaking about the virtual DJ party, Guetta said: "Working on this concert has allowed me to bring an amazing new creation to life with design and production to suit the virtual world [...] We've built something that will play host to one of the most unique shows I've ever done, and I can't wait for everyone to experience it with me."
In other Roblox news, the platform's vice president of product recently spoke with Newsweek about the metaverse and how the corporation helps you create your own "Virtual You."
Meanwhile, Jennifer Lopez will soon be performing in her own virtual concert, hosted on the Snapchat app.