Rochelle Walensky Warns That Omicron Cases 'Likely to Rise' as U.S. Still Battles Delta
Dr. Rochelle Walensky, director of the Centers for Disease Control and Prevention (CDC), said Sunday that Omicron coronavirus cases are "likely to rise" as the U.S. is still working to combat a surge of infections from the Delta variant.
Walensky told ABC's This Week that the CDC is still working to determine information about Omicron, but maintained that a majority of COVID-19 cases in the U.S. continue to come from the Delta variant of the virus.
"We have about 90 to 100,000 cases a day right now in the United States, and 99.9 percent of them are the Delta variant. We have an issue right now with Delta. And we have so many things we can do about Delta, including getting vaccinated and getting boosted," Walenksy said Sunday.
The Delta variant was detected as early as May in the U.S. and drove a summer surge in the number of cases, hospitalizations and deaths across the country. However, in recent days, Americans have shifted attention to the Omicron variant, which was first detected in South Africa last month and has so far spread to at least 16 U.S. states.
Little is still known about the Omicron variant, but early data has suggested that it is at least twice as transmissible as Delta and may be more effective at evading immunity due to its high level of mutations.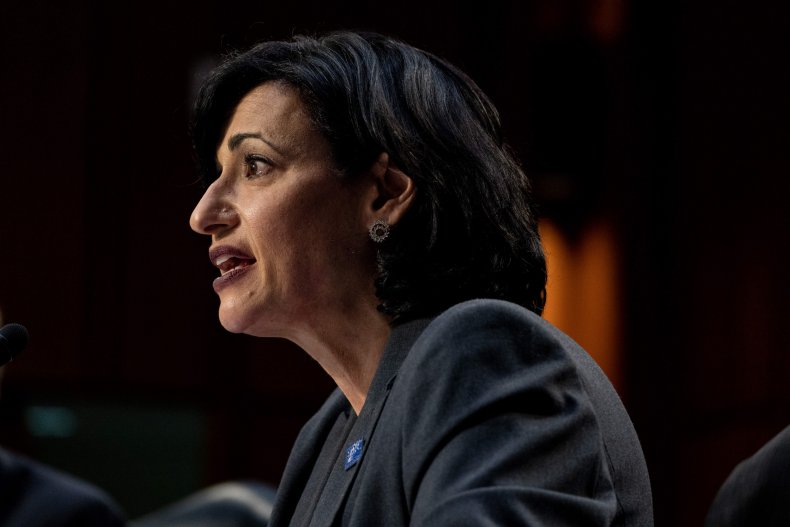 "We know we have several dozen cases and we're following them closely and we are every day hearing about more and more probably cases so that number is likely to rise," Walensky said Sunday.
"We know it has many mutations, more mutations than prior variants. Many of those mutations have been associated with more transmissible variants, with evasion of some of our therapeutics, and potentially evasion of some of our immunity, and that's what we're watching really carefully," she added.
The more mutations a single variant has, the more successful it could be at bypassing levels of natural or vaccine immunity. Because of this, Walensky stressed that getting vaccinated and receiving a booster shot is "critically important" to addressing the variant early on.
"Right now we're really pushing to get more people vaccinated and more people boosted to really boost that immunity in every single individual," Walensky said. The CDC director added that researchers are "hopeful" that current vaccines will work to prevent severe disease and keep people out of the hospital.
"We have so many more tools now than we did a year ago," she said. "We know so many things that work against SARS-CoV-2, the virus that causes COVID, regardless of the variant that we've seen before."
Walenksy also discussed the importance of following CDC regulations, such as wearing masks indoors in areas with high or substantial transmission.
As of Sunday morning, cases of the Omicron variant have been found in California, Minnesota, Colorado, Hawaii, Nebraska, Maryland, Missouri, Pennsylvania, New Jersey, New York, Utah, Massachusetts, Connecticut, Washington, Wisconsin and Louisiana.
Omicron patients in the U.S. have so far displayed mild to moderate symptoms. As of Saturday, there were no hospitalizations among those infected with the variant, according to state health departments.