Rock and Roll Hall of Fame Induction Ceremony Suspended Following Coronavirus Concerns
The Rock and Roll Hall of Fame announced Thursday that it would postpone its 2020 induction ceremony, originally scheduled for May 2 in Cleveland, in response to the coronavirus outbreak.
The inductees for this year's ceremony are Nine Inch Nails, Depeche Mode, the Doobie Brothers, Whitney Houston, T-Rex, and the Notorious B.I.G.
"This was a decision that we were all were just monitoring," Rock and Roll Hall of Fame President and CEO Greg Harris told Newsweek, "the news and regular conversation about the changing state of travel, about the other events like Coachella that were rescheduled for later in the year, SXSW being cancelled, the NBA postponing games, and the way the NCAA was handling their finals--a plethora of other events and activities. It really informed us that we were going to make a decision early enough so that everybody involved would know, and we could get the message out. And we've done so. Now we're looking for the ideal date to reschedule it and have the inductions later this year,"
Harris said that it was too early to tell when the event would be rescheduled.
"Here in Ohio, this decision was made following the governor of Ohio, the county commissioner of our county, and the mayor of Cleveland all declaring varying degrees of states of emergency in response to this COVID-19 outbreak," he explained. "For us, it was a very natural decision, when we think about the safety of our visitors, of our concertgoers, of the artists themselves, and of our staff. We look forward rescheduling this and lifting up all of induction week to another time of year, when we're past this national crisis."
The organization's annual ceremony isn't the first major music event to be delayed or cancelled due to the pandemic. Coachella, one of the long-running and popular music festivals, recently announced that it would be rescheduled for October.
"At the direction of the County of Riverside and local health authorities, we must sadly confirm the rescheduling of Coachella and Stagecoach due to COVID-19 concerns. While this decision comes at a time of universal uncertainty, we take the safety and health of our guests, staff and community very seriously. We urge everyone to follow the guidelines and protocols put forth by public health officials," Coachella promoters Goldenvoice wrote in a statement.
Last Friday, the South by Southwest (SXSW) festival shut down in an effort to protect public health. SXSW officials said they were working towards rescheduling the event and were planning an a "virtual SXSW online experience" for the 2020 participants.
"We are devastated to share this news with you. 'The show must go on' is in our DNA, and this is the first time in 34 years that the March event will not take place," SXSW said in a statement. "We are now working through the ramifications of this unprecedented situation."
Several music acts have also had to change their performance plans amid the outbreak. Pearl Jam postponed their upcoming spring tour in support of their new record Gigaton, while Riot Grrrl icons Bikini Kill cancelled seven shows in the Pacific Northwest. On Wednesday, alt-rockers They Might Be Giants announced on Facebook that they would move their shows in Washington, D.C., Philadelphia and New York originally scheduled for March and April to September and December.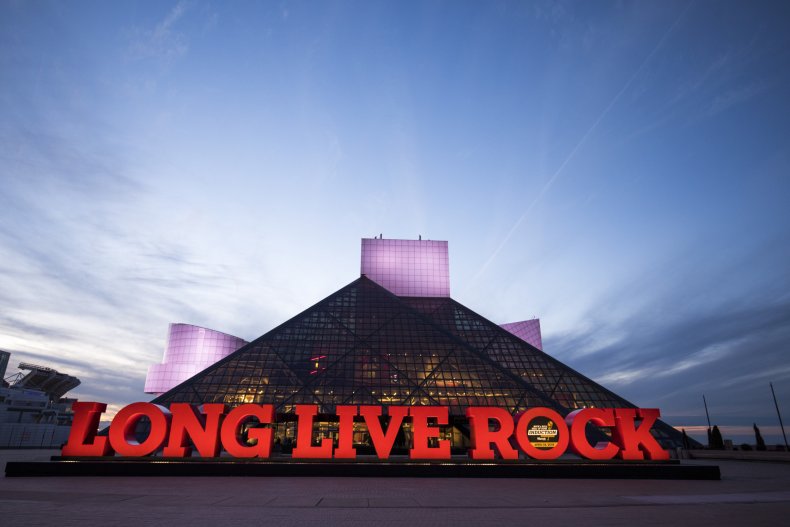 Updated 3:43 p.m. ET This story has been updated to include comment from Rock Hall CEO and President Greg Harris, which was obtained after publication.