James Bond Fans Will Love This 'No Time to Die' x 'Rocket League' Crossover
Rocket League will be updated with No Time to Die content later this week, as 007's Aston Martin Valhalla is coming to the item shop.
The vehicular soccer game is no stranger to these kinds of crossover events, with it already featuring various stages and cars from the likes of Halo, Gears of War, Stranger Things, Ghostbusters, The Fast and the Furious, WWE and Hot Wheels.
In fact, this is not even the first time that the James Bond franchise has been integrated with Rocket League. The Aston Martin DB5, from 1964's Goldfinger, is in the game right now, along with a matching set of wheels and a decal.
When that set debuted in July, developer Psyonix confirmed that they would "declassify" more of 007's garage later in the year and implored fans to watch out for future briefings.
Aston Martin Valhalla DLC Announced for 'Rocket League
We now know that this was a tease for the new Aston Martin Valhalla, which is being added to the item shop on Thursday, October 7.
For context, this is just one day before No Time to Die is released in the U.S and the hypercar makes a (very brief) cameo in that film. If you have already seen it and are racking your brains trying to remember where the Valhalla was, that is because it is not actually driven by Bond at any point. Instead, it can be glimpsed in the background of Q's lab.
You can take a look at some preview images of the Valhalla in action below. As you would expect, it is a very faithful recreation of the model that appears in the upcoming movie, with the same sleek design and silver paint job.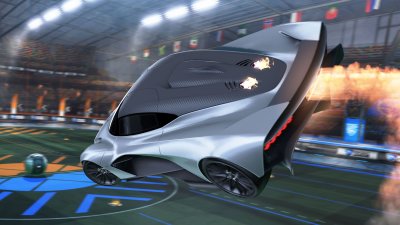 How Much Does the Aston Martin Valhalla DLC Cost?
The Aston Martin Valhalla DLC will cost 1100 credits (which equates to $11) and includes the car itself, unique engine audio, a corresponding set of wheels, and a "Reel Life" decal.
Alternatively, you can pick up the "Bond 007" collection, priced at 2000 credits, and get both the DB5 and the Valhalla together in one bundle.
There is a catch, however, as both items will only be available for a limited time. You will have until Wednesday, October 13 to purchase either of them before they are removed, giving you just under a week to make your decision.
'No Time to Die' Challenges and Events Coming To 'Rocket League'
In addition to the Valhalla DLC, a trio of James Bond themed challenges are also being introduced to Rocket League. By participating in these, you will have an opportunity to unlock unique banners, avatar borders and the enticing "00" prefix for your online title.
Finally, there will be a mysterious "Agents Vs. Villains" event to coincide with the release of No Time to Die. More information about this will be revealed on the official Rocket League Twitter account in the near future.
If you are eager for more James Bond video games, Newsweek has compiled a list of the best and worst adaptations that the British superspy has featured in.
Rocket League is available now on PC, Xbox One, PlayStation 4 and Nintendo Switch.