The owner of the trucking company involved in Rogel Aguilera-Mederos' fatal 2019 Colorado crash is allegedly linked to a business with a history of defective brakes.
Online federal transportation records show that the owner of Castellano 03 Trucking, LLC, is now tied to a new business, Volt Trucking LLC, which has a history of violations involving brakes and brake connections, 9NEWS reported.
Texas truck driver Aguilera-Mederos was sentenced by a Colorado judge on Monday to 110 years in prison after he was convicted for vehicular homicide in the fatal crash that killed four motorists in April 25, 2019, on Interstate 70 in Lakewood, near Denver.
The company Aguilera-Mederos, now 26, was driving for was identified in local news reports as Castellano 03 Trucking LLC in Houston.
The trucking company was dissolved months after the fatal crash, according to 9NEWS. However, according to public records obtained by the news outlet, Volt Trucking LLC was registered as a business with the Texas Secretary of State's Office one day after the fatal crash, on April 26.
Both Castellano 03 Trucking, LLC, and Volt Trucking LLC were registered to the same address in Houston at 12010 Fork Creek Dr, according to 9NEWS.
The now-dissolved company involved in the crash is also listed by Volt Trucking LLC as its principal place of business, financial records reportedly show.
The former owner of Castellano 03 Trucking, LLC, Yaimy Galan Segura, appears in the signature line for a Texas Franchise Tax Public Information Report filed for Volt Trucking LLC.
When Newsweek attempted to contact a telephone number for Volt Trucking LLC, nobody answered, however, the company's voicemail featured a woman who called herself "Yaimy."
According to inspection reports on the Federal Motor Carrier Safety Administration website, Volt Trucking LLC has been linked to at least 23 violations, including "Inoperative/defective brakes" and "Brake connections with leaks or constrictions."
Records show violations for "Brake connections with Constrictions Under Vehicle," "Brake Connections with Leaks - Connection to Power Unit," "Clamp or Roto type brake out-of-adjustment," and "No or defective brake warning device or pressure gauge," among others.
Kyle Bachus, an attorney for Leslie Ross, who survived the 2019 crash, told 9NEWS he believes the findings are "disgusting."
"It is also extremely difficult for victims to understand how the State of Texas ever allowed these same people to reopen and operate under another trucking company under a different name after they destroyed so many families....," Bachus said.
Millions of people have signed an online petition seeking for Aguilera-Mederos' sentence to be reduced. At the time of writing, more than 4.8 million people have signed the change.org petition titled "Offer commutation as time served, or grant clemency to Rogel Lazaro Aguilera-Mederos, 23."
Kim Kardashian-West on Tuesday joined the millions of calls for a more lenient sentence, writing a heartfelt plea on Twitter.
"For those who don't know about this case, Rogel Aguilera-Mederos is a 26 year old that was sentenced 110 years in prison for driving a semi-tractor-trailer and crashed into traffic killing four people," Kardashian-West wrote in a series of tweets on Tuesday night. "He was not drunk or under the influence, his brakes on the semi tractor-trailer failed."
She also called on Colorado Governor Jared Polis to "commute his sentence."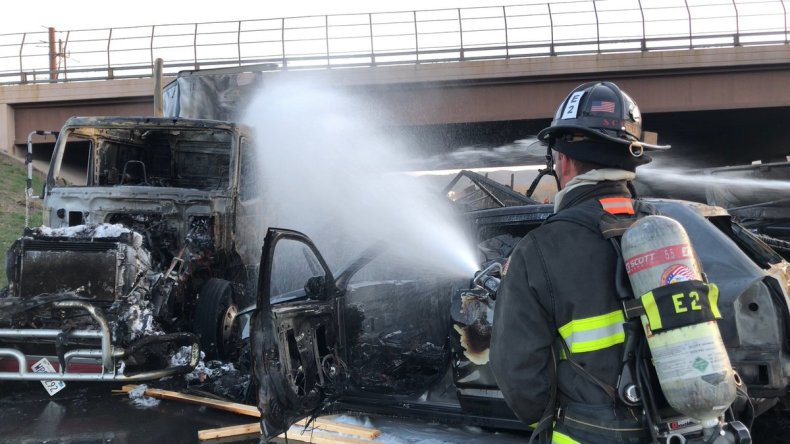 The online petition states that the truck driver was not under the influence of drugs or alcohol at the time of the crash. It says that Castellano 03 Trucking, LLC should be held accountable for what happened, and cites "mechanical violations" that emerged during inspections dating as far back as 2017.
During his testimony Aguilera-Mederos claimed that his brakes failed, and that led to the fatal crash.
Prosecutors meanwhile alleged that he did not use several ramps on the interstate that are intended to slow down vehicles that experience such mechanical issues.
A spokesperson for Polis previously told Newsweek that his office is aware of the sentencing and the online petition. "The governor and his team review each clemency application individually," the spokesperson said.
Newsweek has reached out to Polis for additional comment.