Roger Stone 'Trying to Prejudice Jury' With 'Bullschiff' Adam Schiff Post, Risks Gag Order Violation: Legal Experts
Roger Stone is again flirting with danger when it comes to violating his court-imposed gag order, this time for posting an Instagram image featuring a top Democrat whose congressional committee the former Trump political adviser is charged with lying to, legal experts tell Newsweek.
Stone posted an image on Friday depicting House Intelligence Committee Chairman Adam Schiff, a Democrat, along with the portmanteau "BULLSCHIFF." A caption accompanying the post reads: "In 50 years in American politics, I have never come across a shiftier, more duplicitous con man and charlatan than @repadamschiff. It it's Schiff, flush it! #maga."
A federal judge in Washington, D.C., imposed a full gag order on Stone last month, after he posted an Instagram image of her with what appeared to be the crosshairs of a rifle near her head.
"You apparently need clear boundaries, so here they are," Judge Amy Berman Jackson told Stone. "From this moment on, the defendant may not speak publicly about the investigation or the case or any of the participants in the investigation or the case. Period."
Stone was indicted in January for lying to Congress—including to Schiff's committee— obstruction and witness tampering. He allegedly lied about prior interactions with the Trump campaign and WikiLeaks' release of stolen emails from Hillary Clinton. Schiff has faced growing calls among Republicans for his resignation as committee chairman, due to his repeated claims that the Trump campaign colluded with Russia—despite Robert Mueller reportedly concluding otherwise.
Former federal prosecutors and legal experts told Newsweek that while his latest Schiff Instagram post may not constitute an explicit violation of his gag order, the man described as a GOP "dirty trickster" is on the verge of crossing that line.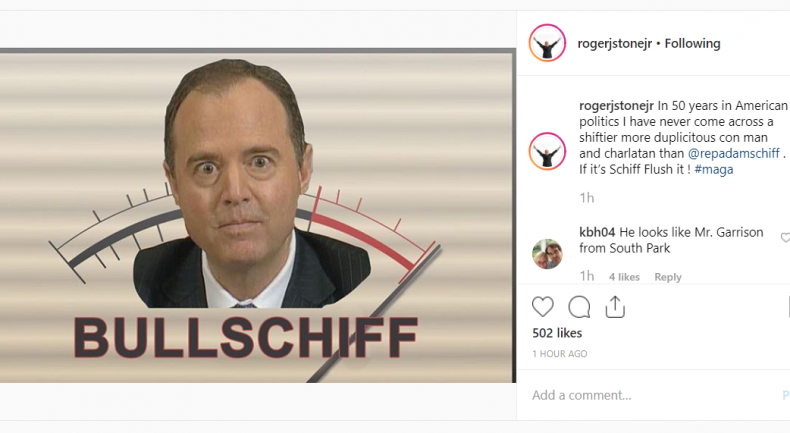 "It's not clear, but Roger Stone is venturing much closer to the line than I would advise him to do if he were my client," said former federal prosecutor Renato Mariotti. "He is playing with fire."
But Bradley Moss, an attorney at Mark S. Zaid law firm and a national security legal expert, said he viewed Stone's post as an outright violation. The reason, he told Newsweek, is that it could taint the juror pool ahead of his November 5 trial, a concern Jackson expressed when she first issued the gag order.
Jackson said Stone was only allowed to post on social media to ask people for donations to his legal defense fund and to deny the charges or claim his innocence.
"This is certainly more than merely stating his innocence or asking for donations," Moss said. "He is again trying to prejudice the jury. Stone is taking unnecessary risks with posts like these."
Jackson previously warned Stone she will "adjust [his] environment" should he break the order—a clear warning she would put him in jail as he awaits his trial, as she did with Trump campaign chairman Paul Manafort, whose D.C. case she also presided over.
Based on those "zero tolerance" warnings from Jackson, said Barbara McQuade, former U.S. attorney for the Eastern District of Michigan, Stone's decision to share the image of Schiff was "quite bold and risky." However, she added, because it does not directly relate to his case, it was less likely the judge would rule he violated his gag order.
"In light of First Amendment equities," McQuade said, "my guess is that the judge does not revoke his bond."