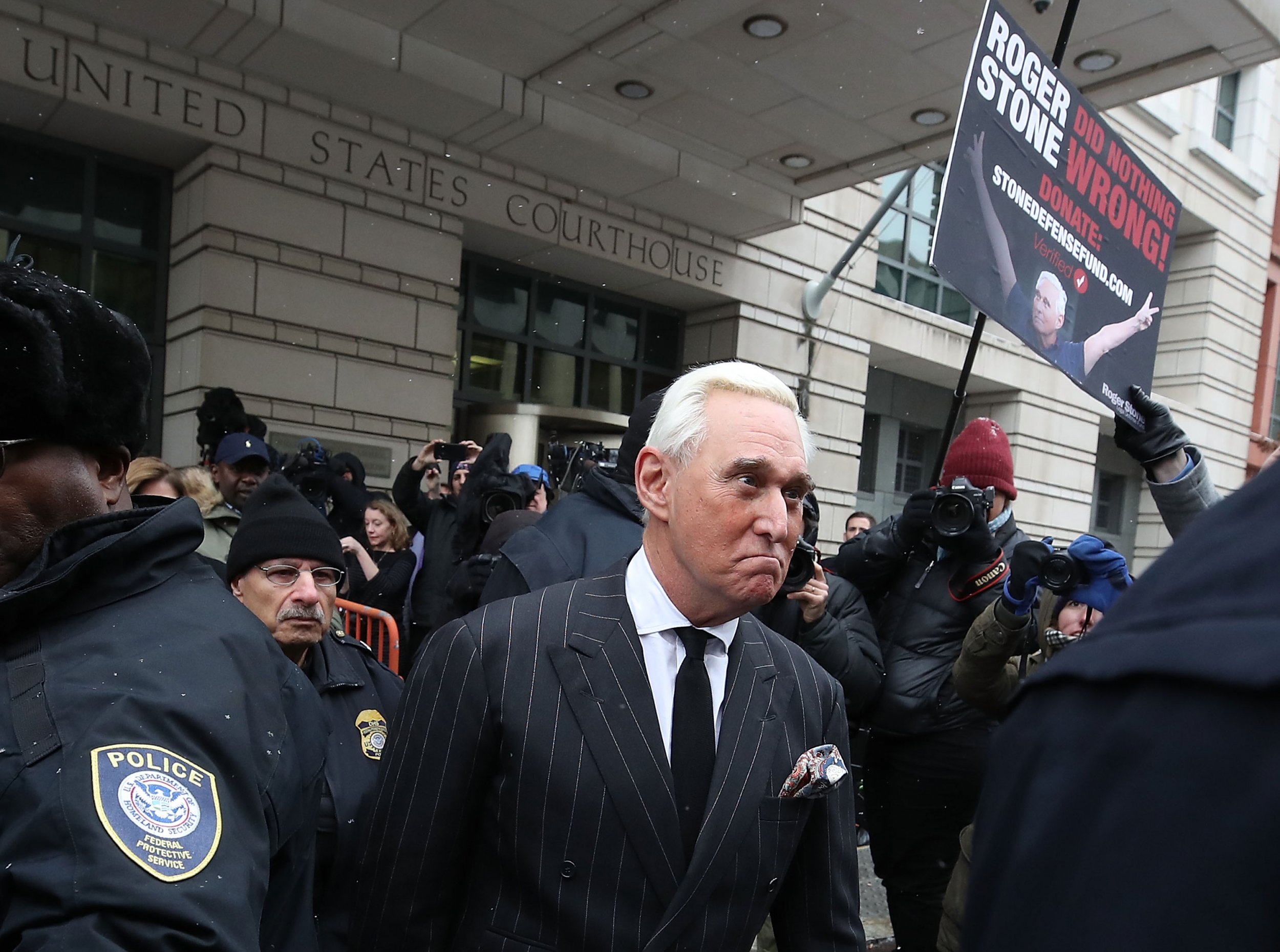 After an extraordinary court appearance in Washington, D.C., Thursday featuring Roger Stone being grilled about his Instagram post of the federal judge presiding over his case with the crosshairs of a gun, he was handed a strict gag order barring him from having any further public communications about his criminal case.
U.S. District Judge Amy Berman Jackson, who was pictured in the image, told Stone that from that moment going forward he may not "speak publicly about the investigation or the case or anyone participating in the investigation or case, period." He may, however, continue to post on social media asking people to donate to his legal defense fund and deny the charges or claim his innocence.
Jackson warned Stone, a longtime Republican operative and President Donald Trump's former adviser, she will "adjust [his] environment" should he break the order, signaling she's prepared to place him behind bars.
"I have serious doubts about whether you have learned anything," Jackson told Stone, who repeatedly apologized throughout questioning from her and U.S. Attorney Jonathan Kravis. "You apparently need clear boundaries, so here they are."
The gag order is a result of Stone posting an image on Instagram Monday, which showed Jackson and the crosshairs of a gun in the upper left-hand corner, along with a caption ridiculing special counsel Robert Mueller as a "Deep State hit man" who's guaranteed his future trial before Jackson will be a "show trial."
Jackson believed the image, paired with the "incendiary comments," had a "more sinister message" that could incite violence from other people and pose a threat to her. His continued comments to the press, she added, could taint the juror pool for his impending trial later this year.
"In the world of social media, there's no such thing as a 'take-back,'" the judge said. "Roger Stone fully understands the power of words and the power of symbols. And there's nothing ambiguous about crosshairs."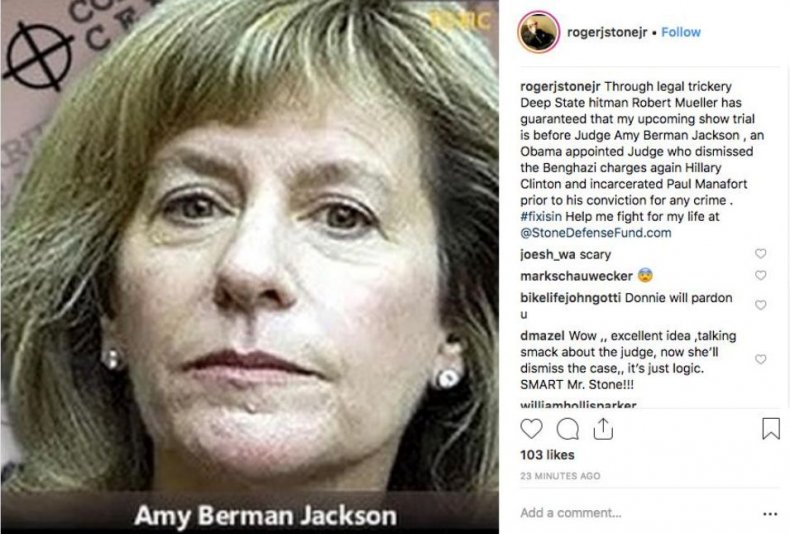 Stone voluntarily took the witness stand to directly answer questions posed by Kravis and Jackson, to whom he profusely apologized. He called the Instagram picture, which he quickly deleted after its original posting, then offered an official apology, an "egregious mistake" and was "heartfully sorry."
"I am kicking myself over my own stupidity, but not more than my wife is kicking me," Stone told the judge. "I believe the lapse in judgment is an outgrowth of the extreme stress of the situation."
"Thank you," Jackson later told Stone, "but the apology rings quite hollow."
The origins of his stress, Stone said, were due to his financial situation. He said most of his money is made from being a media commentator, writing and giving speeches, although he told Jackson that no one was paying him to speak with the media coverage surrounding his current legal case. Stone has continued to make media appearances, even after the Instagram image, about his ongoing legal battle, but Jackson previously warned him this was "not a public relations tour." A limited gag order was placed on Stone by Jackson last week that prevented him from speaking about the case in or around the D.C. courthouse.
"I've exhausted my savings," he said. "I don't offer any rationalization or excuse or justification. This is just a stupid lapse of judgment."
Throughout the combative testimony, Jackson questioned Stone repeatedly about his wavering answers on how exactly the image depicting her with a crosshairs near her head was selected and posted.
"I did not select the image, but I did review it," Stone said, elaborating that the image was originally selected by one of his five "volunteers" who help maintain his social media accounts. He was alerted to the crosshairs after a reporter inquired about it. "The posting is my responsibility. I regretted it.… I now realize that [it was a threat to the court]. I just glanced at [the crosshairs]. It was an egregious mistake."
In another exchange between Stone, Jackson and Kravis, Stone said he gave his phone to "multiple people" that day and does not "exclusively" use it, so he is unable to say with certainty which volunteer selected the image. He did admit to writing the text and posting the image with his cellphone because "all my other devices are in the possession of the FBI."
"My house is like a headquarters. I have many volunteers," Stone said, to which Jackson asked, "I thought you had five?"
"Five is a lot for coming and going...it's a revolving situation," he said. Questioned several times about what their names were, Stone could name only a few off the top of his head: Jacob Engels and Enrique Tarrio, members of the far-right "Proud Boys" group.
Stone was indicted by Mueller last month for making false statements, obstruction and witness tampering in relation to his prior interactions with the Trump campaign and WikiLeaks's release of stolen emails from candidate Hillary Clinton. In court filings last week, prosecutors for Mueller said Stone communicated directly with WikiLeaks and Russian hackers. After the trove of emails stolen from the Democratic National Committee and the Clinton campaign were posted online by WikiLeaks, prosecutors say, "a senior Trump Campaign official was directed to contact Stone about any additional releases and what other damaging information [WikiLeaks] had regarding the Clinton Campaign."
The mystery remains as to who "directed" the "senior Trump Campaign official" to have Stone contact WikiLeaks. He later told the "Trump campaign about potential future releases of damaging material by [WikiLeaks]. Stone also corresponded with associates about contacting [WikiLeaks] in order to obtain additional emails damaging to the Clinton Campaign," according to prosecutors.