Roger Stone's Links to Proud Boys, Oath Keepers Explained
Questions have been raised about Roger Stone's links to far-right groups after five members of the Proud Boys were charged with seditious conspiracy in connection to the January 6 attack.
The Department of Justice (DOJ) announced on Monday that Henry "Enrique" Tarrio, former chairman of the Proud Boys, has been charged alongside fellow leading figures of the extremist group Joe Biggs, Ethan Nordean, Zachary Rehl and Dominic Pezzola.
The five Proud Boys members were handed the rare sedition charges over accusations that they plotted to "prevent, hinder and delay" the certification of the 2020 Electoral College vote by storming the Capitol building on January 6, 2021.
This is not the first time that the DOJ have brought forward sedition charges in connection to the riot.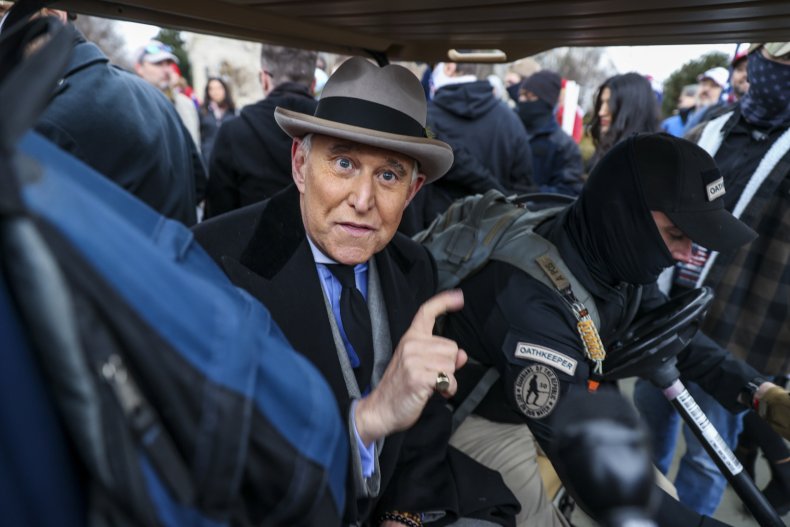 In January, members of the far-right militia Oath Keepers were also charged over allegations they plotted to violently stop the certification of President Joe Biden's election victory, including six members who, according to the New York Times, provided security for Stone in Washington D.C. on January 5 and 6, 2021.
While Stone has not been accused of a crime in relation to January 6 and denies knowledge about any planned illegal activity at the Capitol, his links to far-right groups accused of being involved in the riot have been highlighted once again after Tarrio and the other Proud Boys were charged with sedition.
Author, journalist and attorney Seth Abramson tweeted while discussing the charges: "I actually had today, unbidden, a fleeting thought I earnestly have never before had and whose significance (even in my own thinking about January 6) I remain unsure of: 'At what point does Roger Stone flee the country?'"
The Occupy Democrats online activist group wrote: "Two violent right-wing extremist groups with ties to Trump's oldest political advisor Roger Stone have been tied together in a seditious conspiracy indictment."
Florida congressional candidate Cindy Banyai tweeted "Hold seditionists accountable" while sharing images purporting to show Stone alongside several Proud Boys members.
Stone, a longtime ally of Trump who was pardoned by the former president after he was convicted of lying to Congress in relation to former Special Counsel Robert Mueller's investigation into Russian interference in the 2016 election, has long been connected to the Proud Boys.
In February 2018, a video emerged of Stone declaring himself to be a "Western chauvinist"—which is how members of the all-male group describe themselves—and has frequently used Proud Boys for personal security and posed for pictures with its members.
According to The Daily Beast, the video was part of an initiation in which Stone declared to align himself with the group. Stone denied in a statement to The Daily Beast that he was a member of the Proud Boys.
In March 2018, Stone used members of the Proud Boys for protection while he attended the Republican Dorchester Conference in Salem, Oregon.
Patrick Sheehan, a Dorchester board member who booked Stone, told the Willamette Week that Stone hired the far-right group because he was "worried about getting killed" as he was receiving death threats constantly.
At the time, Proud Boys and fellow far-right group Patriot Prayer were engaged in frequent violent clashes with counterprotesters and antifa demonstrators on the streets on Portland, Oregon.
In February 2019, Tarrio was pictured at a Trump rally wearing a "Roger Stone Did Nothing Wrong" T-shirt.
In May, The New York Times also reported that Tarrio was part of an online group chat entitled F.O.S.—or Friends of Stone—which also included other figures charged over the January 6 riot, including Owen Shroyer, who hosts a show on conspiracy theorist Alex Jones' InfoWars network, and Stewart Rhodes, leader of the Oath Keepers.
After Rhodes and the other Oath Keepers were charged with sedition, questions were also raised about whether Stone was aware of their plans given his proximity to the far-right extremists on January 6.
Stone admitted that he used members of the Oath Keepers, a far-right anti-government militia, for security before the January 6 riot, but did not know any of them on an "intimate basis."
"My interactions with them were entirely professional, efficient, they were very polite, and they helped protect me because I could not move in any direction without security," Stone told Alex Jones' InfoWars show in March 2021.
As reported by The Washington Post, a documentary film crew recording Stone showed him using an encrypted messaging app on his phone to communicate with Rhodes and Tarrio on January 15, 2021.
Stone has been contacted for comment.
The DOJ said the five men who were charged Monday with sedition were part of a special Proud Boys chapter created by Tarrio known as the "Ministry of Self Defense."
"The defendants directed, mobilized and led members of the crowd onto the Capitol grounds and into the Capitol, leading to dismantling of metal barricades, destruction of property, breaching of the Capitol building, and assaults on law enforcement," prosecutors said.
"During and after the attack, Tarrio and his co-defendants claimed credit for what had happened on social media and in an encrypted chat room."
Tarrio was not present in Washington D.C. on January 6, 2021, having been arrested two days before on weapons charges and for setting fire to a Black Lives Matter flag following a pro-Donald Trump rally in the capital in December 2020.