Former adviser to President Donald Trump Roger Stone said Saturday that the president should use his presidential power to control the debates between Trump and presumptive Democratic nominee, former Vice President Joe Biden.
During an online panel put on by LaRouchePAC, titled "How to Stop the Ongoing Coup Against the Constitution and the Presidency," Stone said he hoped Trump did not agree to the current schedule for presidential debates, as Trump has no control over the Commission on Presidential Debates, which Stone said was not about debate but "limiting debate."
"I think the president can command how and when and under what format he debates, and he should use that power to control the dialogue on debates and to control what debates are ultimately heard by the American people," Stone said.
The Commission on Presidential Debates is a non-partisan group established to organize debates. It was started in 1987 by the chairs of both the Democratic and Republican parties.
Stone also stressed the importance of Trump's reelection for the future of America.
"Everything now hinges on the president's reelection. If the president is not reelected, there will be no justice, and it will be a final win for the globalists. This country will go hurtling over the cliff to globalism. It will be the end of democracy as we know it," he said.
Those on the right like Stone are not the only ones critical of the debate process. Many Democratic Party strategists, including former White House Press Secretary Joe Lockhart, have advised Biden not to debate Trump. On Saturday morning, Lockhart told CNN's Michael Smerconish that the debate would give Trump a platform to "repeat lies."
"We saw in the debates in 2016. Hillary Clinton showed a mastery of the issues, every point she made was more honest and bested Trump," Lockhart told CNN. "But Trump came out of the debates doing better I think because he just kept repeating the same old lies: 'We're going to build a wall and Mexico is going to pay for it,' 'We're going to keep all those Mexican rapists out of the country,' and 'We're going to make great trade deals'—none of these things have come to pass."
The first presidential debate is set to take place September 29 at Case Western Reserve University and the Cleveland Clinic in Cleveland, with two more scheduled for October 15 at the Adrienne Arsht Center in Miami and October 22 at Nashville's Belmont University. The vice presidential debate is scheduled for October 7 at the University of Utah in Salt Lake City.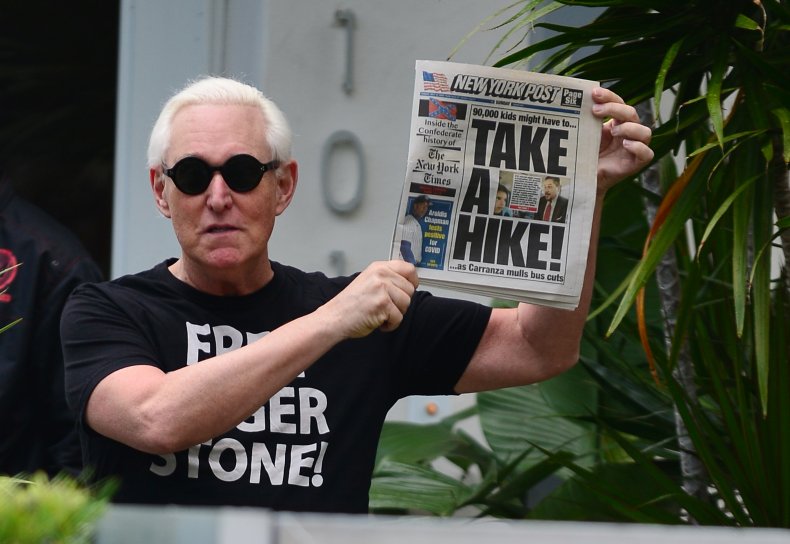 Stone was convicted last year on five counts of lying to Congress, one count of witness tampering and one count of obstructing a congressional committee proceeding into Russian involvement in the 2016 election and sentenced to more than three years in prison. Last month, Trump commuted his sentence four days before Stone was due to report to federal prison.
Stone has argued that the Mueller investigation was a conspiracy by the Democratic party and FBI to punish Stone and Trump for defeating Secretary of State Hillary Clinton during the 2016 election.
During the panel, Stone also accused the Mueller investigation of "defrauding the poor" by attempting to "judge-shop." He compared himself to fringe presidential candidate and conspiracy theorist Lyndon LaRouche. LaRouche was jailed for fraud in 1989, though Stone said that LaRouche's jailing was due to offending then-President George H.W. Bush.
"Lyndon LaRouche was really prosecuted because he irritated the Bushes, because he contradicted them in public. And he did so during the New Hampshire primary. And he did so with great effect. I can tell you now that he and his supporters worked very closely with Ronald Reagan's campaign, those I was involved in, because we both had a mutual distrust of the Bushes," he said.
LaRouchePAC is a political action committee founded in support of LaRouche. Last year, a member of LaRouchePAC confronted Rep. Alexandria Ocasio-Cortez (D-N.Y.) at a town hall, suggesting that people eat babies to avoid the climate crisis.