Ron DeSantis' $100m for Florida "Private Army" Raises Questions
Florida Governor Ron DeSantis is requesting $98 million in funding this year to boost the Florida State Guard, which one critic has branded "a private army", according to local network News 7.
DeSantis revived the Florida State Guard (which was originally created for home defense during World War II) in 2022, and is now seeking to expand it from 400 soldiers to 1,500, saying it is needed to help with emergency response measures and to back up the Florida National Guard.
Unlike the Florida National Guard, which can be called up by the President, the State Guard cannot.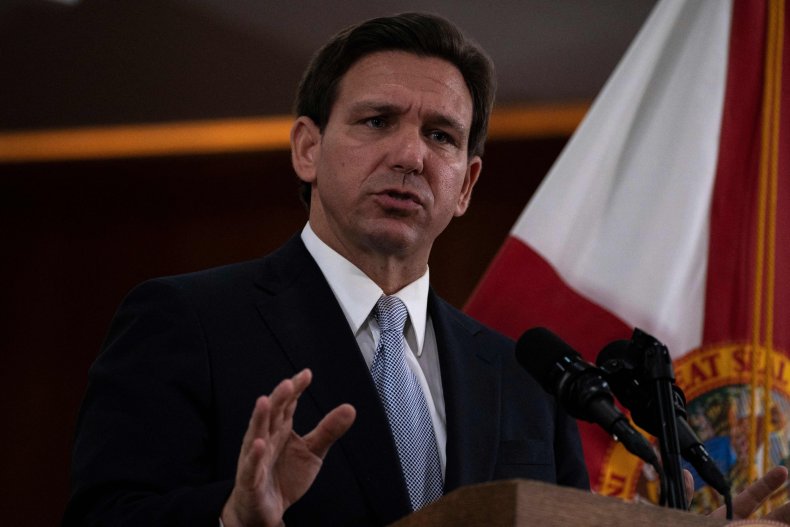 A bogeyman for progressives, DeSantis is running second in opinion polls after former President Donald Trump to win the Republican nomination as candidate for the 2024 presidential election although he has not yet said he will contest.
The request for $98 million for the State Guard formed part of DeSantis' budget proposal, which has been sent to the state legislature in Tallahassee for approval.
The Florida Defence Force, later renamed the State Guard, was formed in 1941 shortly before the U.S. entered World War II, after President Franklin D. Roosevelt federalized the existing National Guard. In 1947 the unit was disbanded, after which it would lay dormant for over 70 years.
A number of U.S. states have state defense forces in some form, many of them geared towards assisting with disaster relief—a major issue in hurricane-prone Florida.
Governor DeSantis announced the Florida State Guard would be reformed in December 2021, and the following year the state legislature approved $10 million to raise a force of 400 soldiers.
Speaking in June 2022 DeSantis said: "The Florida State Guard will be comprised of Floridians, and it will be assigned to assist and help only Floridians.
"It will not be subject to be mobilized by the federal government, and the federal government cannot impose policies or penalties on the Florida State Guard."
Appearing before the Florida Senate's Appropriations Committee, Chris Spencer, DeSantis' director of policy and budget, said the enlarged State Guard would support the National Guard.
He commented: "The purpose of the state guard is to be a force multiplier for our existing emergency response capabilities and a force multiplier for our National Guard.
"Having this additional resource, that's under our control rather than waiting for additional allocations from the federal government, we feel is very important to increase our readiness for emergencies."
However, the move proved controversial with Florida Democrats, with state Senator Annette Taddeo accusing DeSantis of establishing a "vigilante militia" under his command. Representative Charlie Crist went even further, comparing the plan to a "handpicked secret police."
Reacting to the request for increased funding, Ron Filipkowski, who says he sets out to "monitor and report right-wing extremism," tweeted: "Why does DeSantis need a private army?"
Newsweek has contacted Governor DeSantis for comment by email and telephone.
Whilst he's yet to announce his candidacy, DeSantis is widely viewed as the most credible threat to Donald Trump's hopes of being the 2024 Republican Presidential nominee.
A poll of Conservative Political Action Conference (CPAC) attendees found he was the second most popular candidate, behind the former president.
DeSantis has infuriated progressives with his efforts to block the teaching of "critical race theory" and to restrict teaching on gender issues to children in Florida schools.