Ron DeSantis Calls Out Republicans on Immigration
Florida Governor Ron DeSantis took aim at some Republicans on Thursday while speaking about a new legislative proposal in response to what he calls President Joe Biden's "border crisis."
Speaking to reporters, DeSantis was asked about his new legislative proposal and if it was planned in Florida's last legislative session.
"We had a lot on the agenda in the last legislative session, as you guys know," he said. "We got done, more than probably we've ever done, but I also didn't see the great prospects of success on some of these issues with that legislative configuration. Well, now we have super majorities in the legislature.
"I think the problem that voters have, and I, because I'm a voter, too, some of these Republicans, and you see it a lot in Washington, too, they campaigned saying they're going to do all these things, but then when they get up there, they don't want to do it."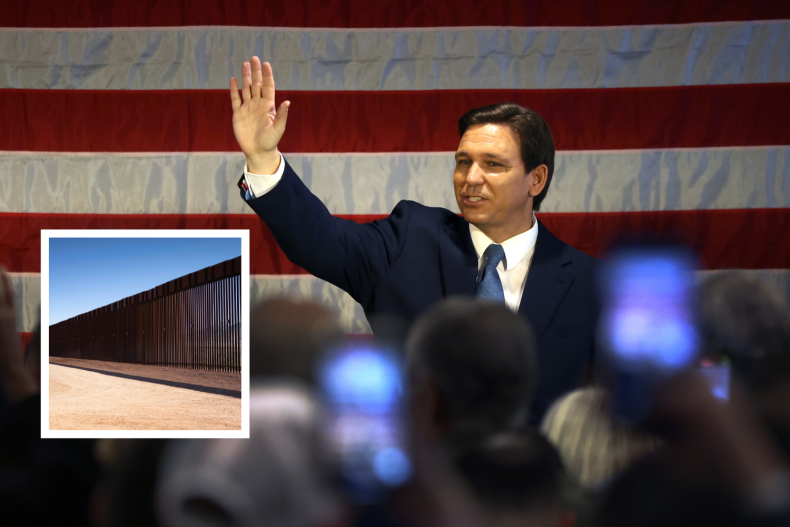 The comments by DeSantis come amid ongoing rumors that he is planning to run for president in 2024. So far, former President Donald Trump, former South Carolina Governor and U.N. Ambassador Nikki Haley, and tech entrepreneur Vivek Ramaswamy have officially announced plans to run for the GOP nomination.
While it is unclear which Republican officials DeSantis was speaking about, his office issued a statement outlining his legislative proposal "to take action against the increasing threats posed by illegal immigration as a result of the Biden administration's failure to secure our nation's borders."
The plan includes increased penalties for those accused of human smuggling, "strengthening statutes for the detention of illegal aliens," the use of universal E-Verify, increased penalties for those found with fraudulent documents and "prohibiting the issuance by local governments of ID cards to people who are not lawfully in the country."
In the statement, DeSantis said: "Florida is a law and order state, and we won't turn a blind eye to the dangers of Biden's Border Crisis. We will continue to take steps to protect Floridians from reckless federal open border policies."
Brandon Rottinghaus, a professor in the political science department at the University of Houston, told Newsweek: "Although Trump and DeSantis may be rivals, Trump set the agenda and tone on the border issue. DeSantis has to lean into that issue or he'll risk being seen as not sufficiently conservative or even anti-Trump. Both are problems in a Republican primary.
"Border security tops the issues for Republican voters, so winning on this issue puts a candidate ahead in a national race."
In September, DeSantis made headlines by sending dozens of migrants to Martha's Vineyard.
"We are not a sanctuary state, and it's better to be able to go to a sanctuary jurisdiction, and, yes, we will help facilitate that transport for you to be able to go to greener pastures," DeSantis said at the time.
Newsweek reached out to DeSantis' office for further comment.