The Washington Post's editorial board slammed Florida Governor Ron DeSantis, a Republican, over his proposal to create a state agency that would police elections in the southern state.
DeSantis, seen by many as a potential 2024 presidential contender, proposed the creation of an Office of Election Crime and Security. He's asked lawmakers in Florida to allocate $6 million for the agency, despite scant evidence that election fraud is a significant problem in U.S. elections. Many Republicans—led by former President Donald Trump—continue to make false claims about widespread voter fraud in the 2020 election.
"But look at the state's recent electoral history, and the plan gets more puzzling. Mr. DeSantis, a Republican, won the governor's mansion in 2018 in a tight election. Donald Trump carried the state handily in 2016 and 2020. Election officials reported results efficiently, enabling networks to call these races on election night. Mr. DeSantis himself declared that the state sets 'the gold standard' in election administration," the editorial board of The Washington Post pointed out on Saturday, in a piece entitled "Ron DeSantis's election police squad would poison democracy."
"Florida obviously is not rife with the anti-GOP fraud that Mr. Trump alleges cost him 2020 presidential victories in other states," it wrote.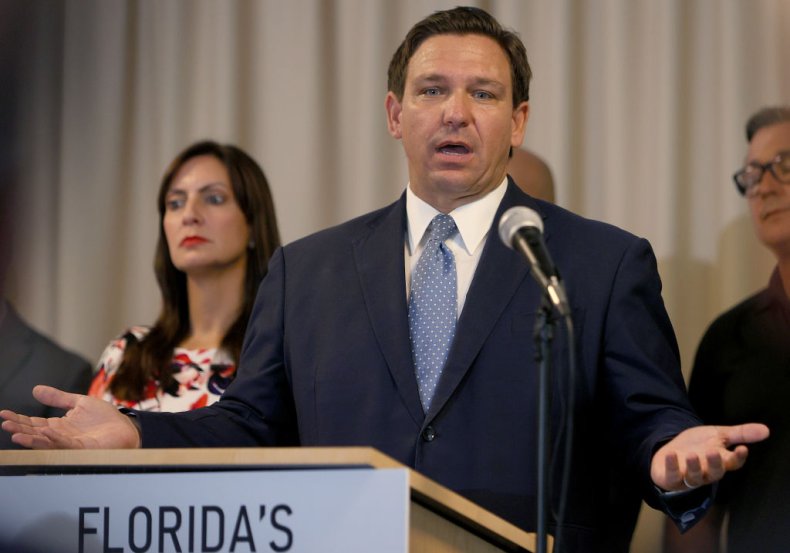 The editorial board connected DeSantis' proposed election policing force to Trump's efforts to overturn the 2020 presidential election results in his favor. It warned that the Florida governor's proposed state agency could be abused to dampen voter turnout.
"Whether Florida's voting cops would field tips from partisans acting in bad faith or dupes who really believe that fraud is ubiquitous in U.S. elections, it is not hard to foresee them harassing election officials or voting rights groups who are simply trying to help people to vote," it contended.
The editorial board concluded the article by noting, "Florida already has plenty of sworn law enforcement officers capable of deterring and punishing election crimes." It argued that the election system "as it stands has kept fraud vanishingly rare in the United States. Proposals such as Mr. DeSantis' would only work to poison America's democracy."
Newsweek reached out to DeSantis' press representatives for comment but did not immediately receive a response.
As the editorial board explained, Republican candidates have performed well in Florida in recent years. No evidence of widespread voter fraud has come to light in Florida or elsewhere in the nation. The state went for Trump in 2016 and then again in 2020. Both of the state's senators are Republicans, and DeSantis won there in 2018. The majority of House members representing Florida are Republican as well.
Nonetheless, Trump and many of his allies still insist that there was widespread voter fraud throughout the country in the 2020 election. The former president has demanded audits and election reviews even in states and counties that he won by substantial margins. Where these election reviews have gone forward, no evidence of malfeasance has been uncovered. Audits and recounts—including in areas where pro-Trump Republicans oversaw the election—have consistently reaffirmed that the results were accurate.
While polls have shown that a majority of Republicans incorrectly believe that Biden was not legitimately the winner in 2020, no evidence has come to light substantiating that conspiracy theory. To the contrary, more than 60 election challenge lawsuits filed by Trump and his allies failed in state and federal court. Even judges appointed by Trump and fellow Republicans rejected the legal challenges.