DeSantis Rapidly Gaining on Trump Among Republicans, Polls Suggest
Florida Governor Ron DeSantis is closing the gap on Donald Trump in a hypothetical race to be the next Republican nomination for president, according to recent polls.
A survey, conducted by The New York Times/Siena College, found that while Trump is still the overwhelming favorite to clinch the nomination should he choose to run, his support has started to weaken with less than half (49 percent|) of GOP voters now backing him as their preferred choice.
In comparison, DeSantis would receive the backing of 25 percent of voters if the Republican 2024 presidential primary were held "today."
DeSantis is the only potential candidate who received double digit support, with Texas Senator Ted Cruz gaining 7 percent and former Vice President Mike Pence 6 percent.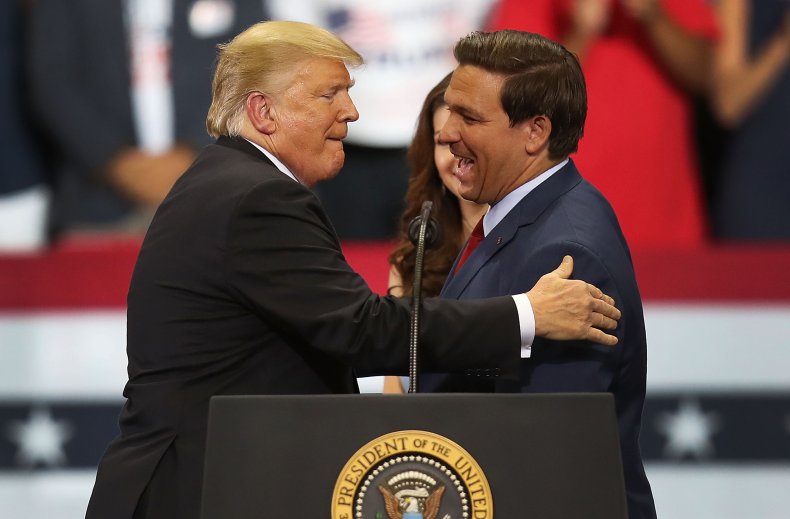 While The New York Times/Siena College survey shows DeSantis is the clear second-placed candidate, albeit way behind Trump, the results do appear to suggest that the Florida governor's support is heading in the right direction and that the GOP primaries may be closer than first expected.
According to a Harvard poll, conducted between June 28-29, Trump again was way out in the lead over DeSantis (56 percent to 16 percent).
An Emerson College Polling National survey, also conducted June 28-29, found that 55 percent of voters would support Trump in a GOP primary, compared to 20 percent who would back DeSantis.
DeSantis' rise within the GOP has been highlighted over the past few months— including beating Trump in a University of New Hampshire Survey Center survey in June—with speculation that the governor is trying to distance himself from the former president ahead of a potential run for the Republican nomination.
Republican donors are said to be moving away from Trump and many now believe that DeSantis should lead the party in 2024 as the damning January 6 hearings continue to tarnish Trump and his future presidential prospects.
Trump is even reported to be debating launching his 2024 presidential bid early, rather than waiting until after the midterms as expected, to deflect attention from the January hearings and the limelight away from DeSantis.
In a statement Tuesday morning, Trump appeared to dismiss the findings of the latest New York Times/Siena College poll.
"The New York Times will continue to decline because people no longer believe their reporting is even close to being true," Trump said. "Fake polls, phony stories, and made up quotes—they are a disgrace to journalism and have set it back many many years. THE NEW YORK TIMES IS TRULY THE ENEMY OF THE PEOPLE!"