Ronald Reagan's Son Warns Republicans Against Kari Lake
Michael Reagan, the son of former President Ronald Reagan, warned the GOP against supporting Kari Lake, the Republican candidate who ran in last year's gubernatorial race in Arizona, who gave a speech at the Ronald Reagan Dinner on Friday.
"My father would be embarrassed for the Republican Party knowing the Kari Lake is speaking at the Ronald Reagan Dinner tonite @CPAC #embarrassing. Put Lake on the Ticket in 24 would be guarantee win for Biden," he wrote on Twitter on Friday night.
Lake was selected as speaker of the dinner this year, which took place as part of the Conservative Political Action Conference (CPAC) in Maryland this weekend. The keynote speaker at CPAC's Ronald Reagan dinner in 2022 was radio host Glenn Beck, according to the Washington Examiner.
"Kari has been a breath of fresh air into conservative politics. She has an uncanny ability to tell it like it is has given a voice to the silent majority in Arizona and across the country, and we can't wait to have her liven up our CPAC stage at the Ronald Reagan Dinner," CPAC spokeswoman Megan Powers Small said in a statement, according to the news outlet.
As chairman and president of The Reagan Legacy Foundation, Michael Reagan was adopted by the late Republican president and his first wife Jane Wyman. He spent around two decades as a radio talk show host and has appeared as a commentator on CNN and Fox News, according to his bio on the foundation's website. He is also a Newsmax television contributor.
Meanwhile, some Twitter users disagreed with his Friday tweet as they defended Lake. One Twitter user @AnnieOldenough commented that his father wouldn't be embarrassed by the attendance or speech at the dinner.
"I disagree with you. Pres Reagan would support Kari Lake but he would be embarrassed by the Republicans for other reasons," Twitter user @bluemoonrambler wrote.
Lake, a former television news anchor, has repeatedly refused to concede to her Democratic opponent Katie Hobbs, Arizona's former secretary of state, who won the state's governorship in the 2022 midterm elections by 17,000 votes.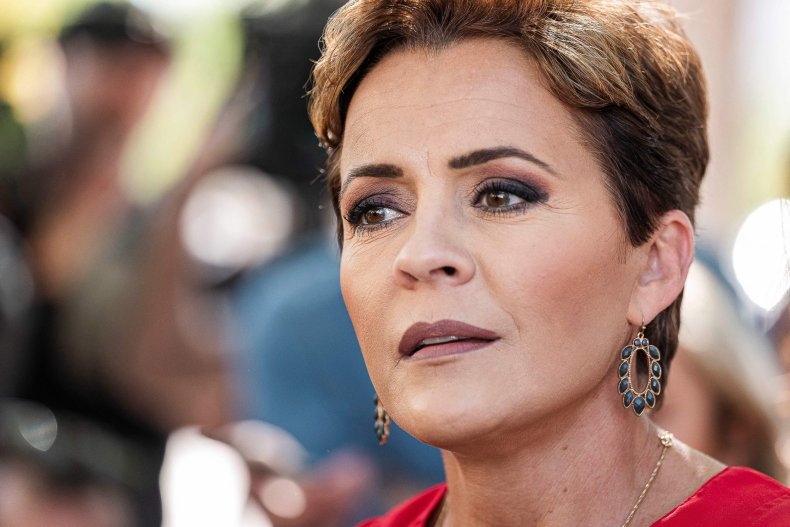 Lake said she lost the governorship due to election fraud in the state and decided to legally challenge the results. However, she has been facing a string of court losses as her lawsuit was dismissed by both Maricopa County Judge Peter Thompson and the Arizona Court of Appeals for lacking any evidence. In her lawsuit, Lake alleged that problems with printers and tabulation machines in Maricopa County on Election Day prevented voters from casting their ballots.
"There's no hiding it. There's no sugarcoating it. They stole that election. The entire world saw that crime was committed in broad daylight on November 8 [2022]. They sabotaged Election Day," she said at CPAC on Friday night, according to The Independent.
Lake continues to be a staunch supporter of former President Donald Trump who endorsed her in November's midterm election. Like Trump, she also repeatedly touted baseless claims of widespread election fraud in the 2020 presidential race.
"...If Trump wins the nomination he won't win the general. It doesn't mean I won't vote for him it just means we need a new leader of the Party. Also, CPAC is so far right they have met the left," Michael Reagan wrote in another tweet Friday night in response to a Twitter user.
At CPAC on Friday, Lake also said, according to the Daily Mail: "We stand with our patriots, past and present, with George Washington, we stand with JFK [John F. Kennedy], Ronald Reagan, Steve Bannon, [and] we stand with Donald J Trump."
Newsweek reached out to The Reagan Legacy Foundation for comment.