Ronan Farrow: MIT Media Lab Knew About Jeffrey Epstein's Abuse, But Accepted Money Anyway
Friday evening, The New Yorker published an exposé by Ronan Farrow alleging that the Massachusetts Institute of Technology (MIT) Media Lab continued to accept donations from convicted sex offender Jeffrey Epstein, despite knowing about his past, and even worked to keep his donations off the books.
In the new article, Farrow says that though MIT had marked Epstein "disqualified" in its donor database, the university's Media Lab not only continued to accept donations from him, but allowed him to consult about how the Media Lab used the money. In addition, Farrow alleges that Epstein worked as a go-between between the lab and wealthy donors like Bill Gates and Leon Black.
According to The New Yorker, the Media Lab received at least $7.5 million from donors with Epstein's involvement — $2 million from Gates and $5.5 million from Black, described as "directed" by Epstein. Gates denies Epstein's involvement; a spokesperson for Gates said in a statement to the magazine, "any claim that Epstein directed any programmatic or personal grantmaking for Bill Gates is completely false." Black declined to comment to The New Yorker.
Farrow alleges that the MIT Media Lab went to great lengths to hide its relationship with Epstein. Joi Ito, the director of the lab, would often meet with donors — but while Ito's calendar was filled out with donors' full names, whenever Epstein would visit, his meetings were recorded with just his initials. According to Farrow, Ito would even refer to Epstein as "Voldemort" or "he who must not be named," in reference to the Harry Potter villain.
Newsweek subscription offers >
Wednesday, Ito revealed that he had received $1.2 million from Epstein for investment funds, plus an additional $525,000 in donations to the lab. An MIT spokesperson told The New Yorker the university "is looking at the facts surrounding Jeffrey Epstein's gifts to the institute."
Farrow's article goes into detail about the many times Ito allegedly asked Epstein for funds, telling his staff to make sure the disgraced financier's donations were "accounted for as anonymous." Ito isn't the only one, however — Peter Cohen, the lab's former director of development and strategy wrote in an email shared by The New Yorker about one of Epstein's donations, "Jeffrey money, needs to be anonymous."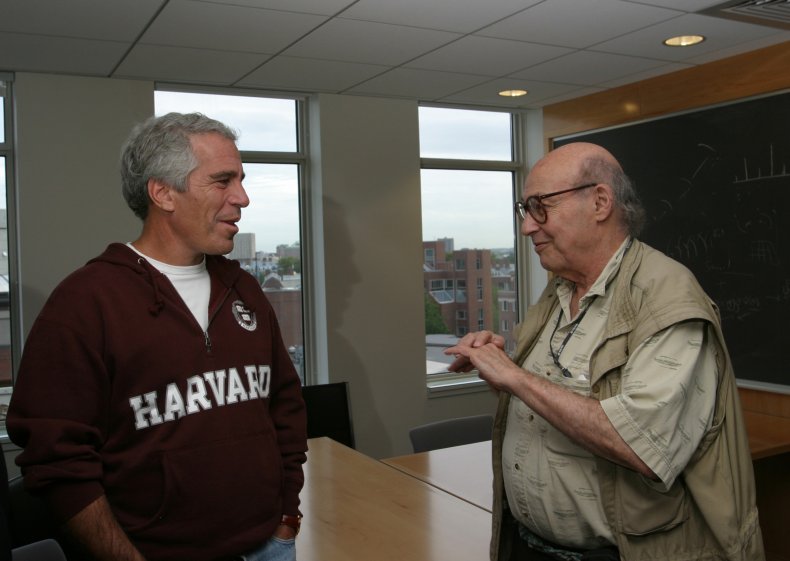 According to the article, many faculty and staff at the Media Lab were uncomfortable with not only Epstein's involvement but the lengths the lab went to to conceal it.
Newsweek subscription offers >
Ethan Zuckerman, the director of MIT's Center for Civic Media, told Farrow that when he told Ito in 2013 that he didn't think it was a good idea for Ito to meet with Epstein, Ito replied, "You know, he's really fascinating. Would you like to meet him?" When Zuckerman declined, Ito later told staff to keep Zuckerman away from the office where Epstein would conduct meetings. Zuckerman resigned last month after learning about how connected the Media Lab was with Epstein.
Another person who objected to Epstein's involvement with the Media Lab was Signe Swenson, a former development associate and alumni coordinator. Swenson told Farrow she resigned in 2016 due in part to Epstein's involvement.
Swenson also told Farrow about a 2015 visit Epstein made to the lab. She said Ito told Cohen that Epstein "never goes into any room without his two female 'assistants.'" It was eventually decided that though the "assistants" would be welcome to accompany him to the lab, they would have to wait outside the meeting room.
"They were models. Eastern European, definitely," Swenson said. "All of us women made it a point to be super nice to them. We literally had a conversation about how, on the off chance that they're not there by choice, we could maybe help them."
On Saturday, MIT president L. Rafael Reif released a statement about Farrow's article.
"Because the accusations in the story are extremely serious, they demand an immediate, thorough and independent investigation. This morning, I asked MIT's General Counsel to engage a prominent law firm to design and conduct this process. I expect the firm to conduct this review as swiftly as possible, and to report back to me and to the Executive Committee of the MIT Corporation, MIT's governing board," Reif wrote. Reif also confirmed that Joi Ito had submitted his resignation.
Update 9/7, 4:15 p.m.: This article has been updated to include comment from MIT.
Ronan Farrow: MIT Media Lab Knew About Jeffrey Epstein's Abuse, But Accepted Money Anyway | News