Rosalía Chewing Gum Video-Turned-Meme Has the Internet in Stitches
Rosalía has the internet in stitches as videos of the Spanish singer chewing gum have been turned into a giant meme.
Currently traveling around the world on her MOTOMAMI world tour, Rosalía performs her biggest hits including "LA COMBI VERSACE," "LA FAMA," and "SAOKO" to thousands of die-hard fans.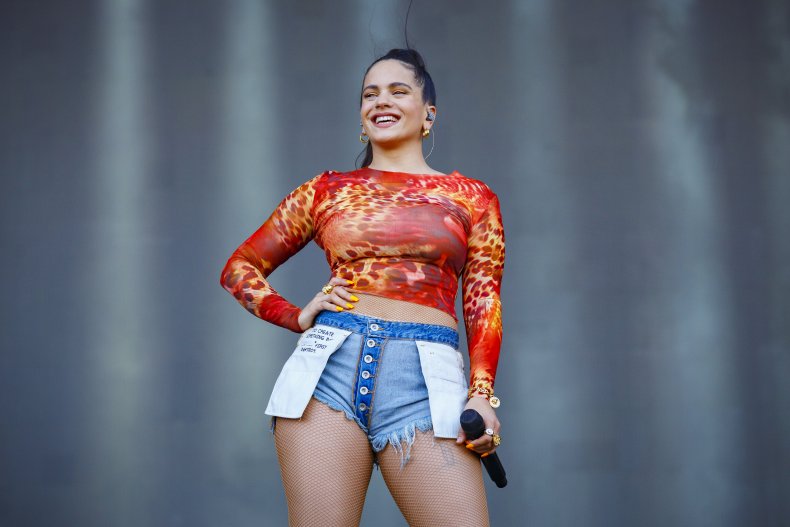 While singing her hit song "BIZCOCHITO," Rosalía appears to chew gum with an attitude and struts up the stage to pose in videos that have gone viral on TikTok. These videos have gained millions of views and likes on the video sharing platform.
Since being published, the videos have gained the internet's attention and some have turned them into a meme. Twitter users share their ideas and their creativity earns them thousands of likes and retweets.
Many internet users have shared their appreciation for the viral meme.
"the videos of rosalia aggressively chewing gum is playing on loop in my head," said another.
A fan exclaimed, "There's multiple videos going around of Rosalía fake chewing gum, each with MILLIONS of views. She's the moment omg."
One user stated, "im obsessed with the Rosalia chewing gum memes."
"THE CHEWING GUM FACE ROSALIA DOES DURING HER BIZCOCHITO PERFORMANCE," another echoed, "THE MEMES ARE F**KING FUNNY."
"i wanted to go to the rosalia concert before but now i wanna go even more to see her aggressively chewing gum before bizcochito," explained one user.
"Rosalia chewing gum is my new favorite thing to watch," said another.
With over 18 million monthly listeners on Spotify, Rosalía gained worldwide attention with her 2018 landmark album El Mal Querer. Born in Barcelona, Spain, her music is filled with Latin American beats as well as a mix of R&B, electronic and hip hop inspiration. Since her career began, Rosalía has been nominated for Best New Artist at the 2020 Grammy Awards. She has also been nominated for several Latin Grammy Awards and has won many including Best Alternative Song for "Malamente" and Album of the Year for El Mal Querer.
In the past, Rosalía has worked with many top artists including Bad Bunny, The Weeknd, Billie Eilish and J. Balvin. The singer has also graced the cover of many well-known magazines including Vogue, Rolling Stone, Elle and GQ.
Her most recent album MOTOMAMI is the singer's third studio album, released in March 2022. Rosalía is currently touring around the world hitting many countries including the United States, Spain, Mexico, Chile, Argentina, Portugal, Italy and the United Kingdom.