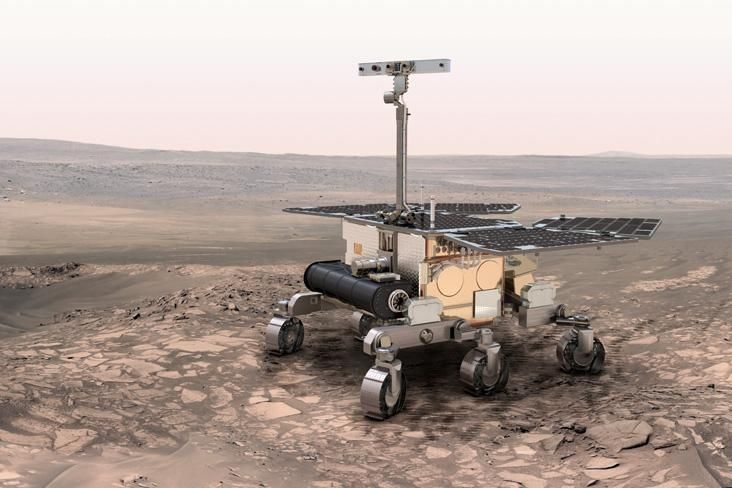 The summer of 2020 is set to be a momentous time for space exploration, with not one but two Mars rovers slated to blast off toward the red planet. On Thursday, one of those rovers got a name.
Europe's ExoMars rover, which will hunt for evidence of life on Mars, is now officially known as Rosalind Franklin—an English chemist whose research helped scientists understand the molecular structures of DNA. At a conference announcing the name, Johann-Dietrich Woerner, the director general of the European Space Agency, said the name reflects the fact that "exploration is in our DNA."
Some 33,000 members of the public competed to name the pioneering traveler, the U.K. Space Agency reported. Experts picked "Rosalind Franklin" from a shortlist of contenders.
In 2016, the British public tried to name an Arctic research vessel "Boaty McBoatface" in a poll. But authorities intervened and called it the RRS David Attenborough, after the famous naturalist. A remotely operated vehicle on the ship, however, retains the public's original choice.
The winning Mars rover name was announced by British astronaut Tim Peake and U.K. Universities and Science Minister Chris Skidmore at an Airbus facility in Stevenage, U.K., where it is being constructed in a clean room.
If all goes to plan, the six-wheeled explorer will search for evidence of past and present life on Mars when it reaches the surface in 2021. It has special scientific tools to probe the planet, including a subsurface drill, ground-penetrating radar and an organic molecule analyzer.
Part of the ExoMars program is already in full swing. Since October 2016, an orbiter has been exploring the gases that make up the red planet's atmosphere. Part scientist, part messenger service and part delivery-bot, the orbiter carried the ill-fated Schiaparelli lander in tow on its journey to Mars. But the passenger crash-landed on the planet's surface on October 19, 2016.
NASA is set to launch a rover in the summer of 2020. As yet unnamed, the Mars 2020 rover will search for past life on the planet. The road hasn't been completely smooth for the American mission either, with NASA announcing a failed heat shield test last April. But the agency said this shouldn't delay the rover's launch.
Scientists and engineers hope these rovers' metal wheels will eventually pave the way for human feet.
"A lot of the scientific results from these missions will then actually direct where a human mission might go and who we might send on a mission like that. Will we send a biologist or a geologist? Or both?" Airbus's Paul Meacham, lead systems engineer on the ExoMars rover project, previously told Newsweek. "These missions are really, really important in leading us towards that human mission."