Rose McGowan Is Back on Twitter, What Will She Say Next?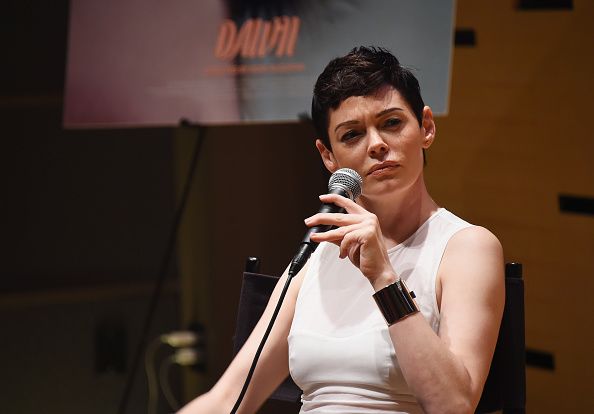 Rose McGowan's suspension from Twitter has been lifted. The actress, who has been a leading voice in speaking out against producer Harvey Weinstein, had been tweeting furiously for days when her account suddenly went quiet late Wednesday.
At about 1 a.m. ET Thursday, she posted on Instagram a screenshot of a message she had received from Twitter, informing her of a 12-hour suspension of her account for violating Twitter rules. It was only a partial suspension, meaning she couldn't tweet, retweet or like anything, but her account was still visible, and she could browse and use direct messages.
"TWITTER HAS SUSPENDED ME. THERE ARE POWERFUL FORCES AT WORK. BE MY VOICE," she wrote on Instagram in a post that garnered more than 13,000 likes and more than 2,000 comments.
Related: The men of Hollywood don't own women: Rose McGowan becomes voice of Weinstein resistance
Midday on Thursday, Twitter lifted its suspension. "We have been in touch with Ms. McGowan's team. We want to explain that her account was temporarily locked because one of her Tweets included a private phone number, which violates our Terms of Service," the company tweeted via its Twitter Safety account. "The Tweet was removed, and her account has been unlocked. We will be clearer about these policies and decisions in the future."
The company then turned to the bigger picture, trying to assure observers that, "Twitter is proud to empower and support the voices on our platform, especially those that speak truth to power. We stand with the brave women and men who use Twitter to share their stories, and will work hard every day to improve our processes to protect those voices."
In the first part of its investigation into Weinstein, The New York Times revealed that McGowan reached a $100,000 settlement with him in 1997 over an incident at a hotel room during the Sundance Film Festival. McGowan didn't provide any comment for the Times story, but she very quickly took to social media to challenge the men of Hollywood to do better, to call on the entire Weinstein board to resign and to encourage women and men to share their stories.
She called out several individuals specifically, including the members of the Weinstein board and other Hollywood figures such as Matt Damon and Ben Affleck. When her account was suspended, the Times and others suggested it might be because she called Affleck a liar after he released a statement saying that he was "saddened and angry that a man who I worked with used his position of power to intimidate, sexually harass and manipulate many women over decades." He added: "We must support those who come forward, condemn this type of behavior when we see it." He did not indicate that he had been aware of Weinstein's alleged behavior.
McGowan didn't buy it. "'GODDAMNIT! I TOLD HIM TO STOP DOING THAT' you said that to my face. The press conf I was made to go to after assault. You lie," she tweeted at Affleck. But that tweet has not been deleted and did not, as Twitter explained in its reasoning for the suspension, contain a phone number.
As of this writing, McGowan has yet to resume her active commentary on the Weinstein allegations and the aftermath of the revelations on either Twitter or Instagram. But you can bet she'll be back soon, louder than ever.