Rose McGowan Defends Matthew McConaughey's Critique of 'Illiberal' Hollywood
Rose McGowan has defended Matthew McConaughey after the Interstellar actor was criticized for his rant about the "illiberal left" last week.
The Charmed actress and MeToo activist took to Twitter Thursday to echo McConaughey's sentiments and blast what they both referred to as the "condescending" and "elite" liberals of Hollywood.
"Matthew McConaughey is right," McGowan tweeted. "Hollywood has been condescending, northern elite media liberals, too & it trickles down. Far before Trump presidency illiberal condescension & patronization has formed how too many think. Break the class structure."
A frequent critic of Hollywood, it appears McGowan has found common ground with McConaughey's stance.
Last week, the actor and heartthrob made headlines for speaking about his political views on a podcast.
Speaking on Russel Brand's podcast Under The Skin, the True Detective actor lambasted those who label people who voted for Donald Trump or Brexit as "dumb."
"There are a lot [of people] on that illiberal left that absolutely condescend, patronize, and are arrogant towards the other 50 percent," McConaughey, 51, said.
"I'm sure you saw it in our industry when Trump was voted in four years ago, they were in denial that was real. Some of them were in absolute denial," McConaughey said of how many people in Hollywood struggled to accept the result of the 2016 presidential election that saw Donald Trump elected president.
"[Now] it looks like Biden's our guy," he added. "Now you've got the right that's in denial, cause their side has fake news. And I understand, they've been fed fake news. No one knows what the hell to believe, right? So they're putting down their last bastion of defense."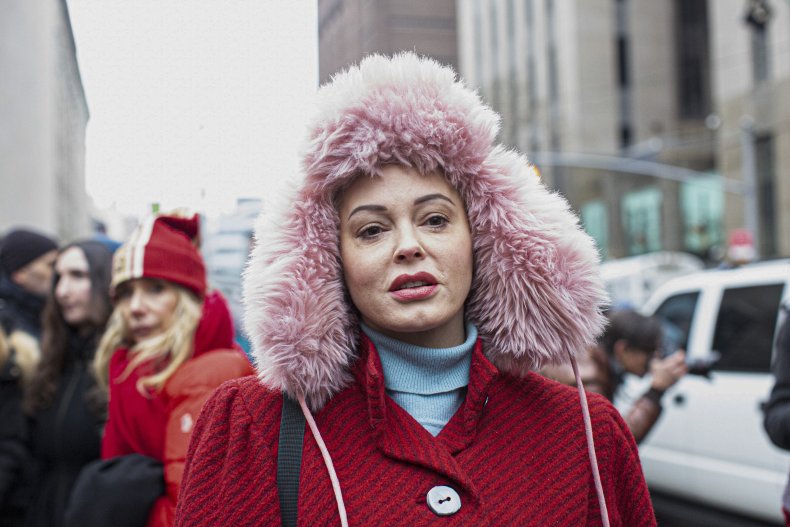 This year has seen McGowan becoming increasingly critical of Joe Biden and the Democrats—a party she once said she supported.
Such criticisms led people to wonder if the 47-year-old is a Republican.
In August, she referred to the former vice president as the "season of darkness."
She tweeted: "You are the season of darkness. @JoeBiden @dnc You are monsters. You are frauds. You are the lie."
McGowan was referring to Biden's acceptance speech during the final night of the Democratic National Convention, when he promised to be "an ally of the light and not the darkness" and told Americans "united we can, and overcome."
Addressing the Democrats in general, McGowan railed against apparent shortcomings and failures of the Democrats to stop a number of social issues like systemic racism and police brutality when in office.
She wrote: "What have the Democrats done to solve ANYTHING? Help the poor? No. Help black & brown people? No. Stop police brutality? No. Help single mothers? No. Help children? No. You have achieved nothing. NOTHING. Why did people vote Trump? Because of you motherf******."