Is Rose McGowan Republican? Actor Calls Biden and Democrats 'Monsters' and 'Frauds'
Rose McGowan has lashed out against Joe Biden and the Democrats just as Biden accepted the Democratic Party's presidential nomination this week.
Taking to Twitter, the actress and #MeToo advocate referred to the former vice president as the "season of darkness."
She tweeted: "You are the season of darkness. @JoeBiden @dnc You are monsters. You are frauds. You are the lie."
McGowan was referring to Biden's acceptance speech during the final night of the Democratic National Convention, when he promised to be "an ally of the light and not the darkness" and told Americans "united we can, and overcome."
Later, addressing the Democrats in general, McGowan railed against apparent shortcomings and failures of the Democrats to stop a number of social issues like systemic racism and police brutality when in office.
She wrote: "What have the Democrats done to solve ANYTHING? Help the poor? No. Help black & brown people? No. Stop police brutality? No. Help single mothers? No. Help children? No. You have achieved nothing. NOTHING. Why did people vote Trump? Because of you motherf******."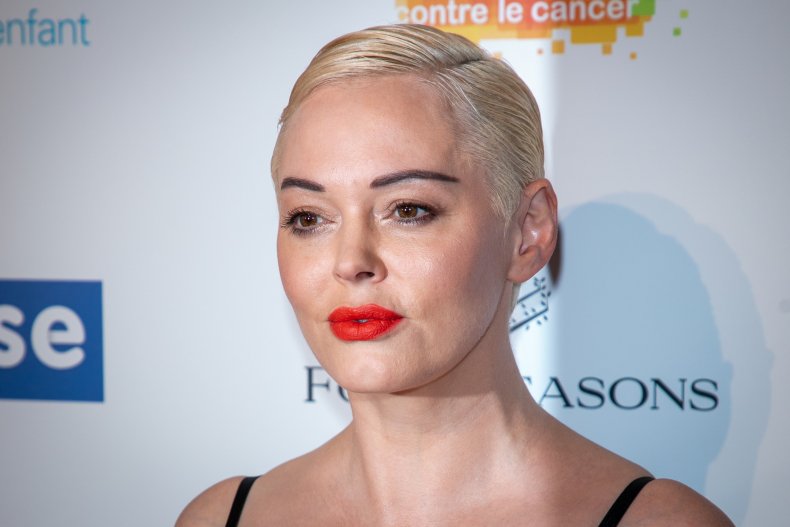 McGowan is one of the few high profile celebrities to call out Biden over sexual assault allegations brought on by his former staffer Tara Reade—allegations Biden denies.
The fresh tirade against Joe Biden is not the first time the actress has blasted the Democrats. But the 46-year-old has a long history of attacking President Trump as well. Here is a roundup of her views on both the Democratic Party and the GOP.
Is Rose McGowan a Democrat?
In April, the Charmed star demanded Biden end his presidential bid and also deemed the Democratic Party a "cult."
Posting a tearful selfie, McGowan said she was once a "proud Democrat."
"I would have died for this damned country & its ideals. I was raised to be a proud Democrat. When my youngest brother graduated as a fighter pilot at the Air Force academy, I wore a Vote John Kerry pin (lol,) got into verbal altercations with big men who were mad I was a Democrat," she wrote.
"I thought democracy meant I had a right to choose those who lined up with my value system. But what if there's no one? Now I know too much. And I feel really quite a sense of loss tonight."
She went on to say: "This is deeper than a cover-up. And I'm sad because there's death around all corners & shadows in the daytime. It hurts. Now I know too much and I feel really quite a sense of loss."
Is Rose McGowan a Republican?
McGowan has also been a fervent critic of President Donald Trump.
In 2016, she blasted the president in an open letter which she also addressed to the Murdochs.
She wrote at the time: "Living with your daily reign of terror cancer, and it is terror cancer, is something we are unwilling to do for another minute. I do not want to live my life this way. I am a proud AMERICAN & GLOBAL CITIZEN who's [sic] head is bowed to her knees in because she is sickened every day. Because of you. It is NOT most of America who should be ashamed, it is YOU for propagating this propaganda."
In January, McGowan tweeted that she was a registered Republican, before backtracking and saying she tweeted it as a bet.
On an episode of the Shut Up Evan podcast with Evan Ross Katz, she explained it was also to shut down her conservative critics.
She said: "In my mind at that time I was like, 'Oh, I'm just going to blow them. I'll be like, I'm a Republican. What are you going to say to me now? Am I still snowflake? Am I still a libtard idiot?' You know what I mean?"
McGowan's tirade against Biden comes as she this week accused director and screenwriter Alexander Payne of sexually assaulting her when she was 15-years-old.
She wrote on Twitter: "Alexander Payne. You sat me down & played a soft-core porn movie you directed for Showtime under a different name. I still remember your apartment in Silverlake. You are very well-endowed. You left me on a street corner afterwards. I was 15."
Payne has yet to respond publicly to the allegation.