Roseanne to Visit Israel and Address Parliament Over 'Insidious and Anti-Semitic' BDS Movement
Roseanne Barr will visit Israel in January to speak at the Mediterranean nation's parliament and condemn the Boycott, Divestment, Sanctions (BDS) movement.
The controversial comedian and actor, who is an ardent advocate for Israel, said she has planned the trip to further her "own knowledge of Jewish and Israeli history" as "a lover" of the country, The Hill reported. Barr was invited to address the Knesset (Israel's parliament) by Deputy Speaker Hilik Bar, according to Israeli newspaper Haaretz. She will tour the country with Rabbi Shmuley Boteach, founder of the World Values Network.
Barr called Israel an "oasis of openness, freedom, democracy and tolerance amidst a desert of brutality from an age gone by," The Jerusalem Post reported. At the same time, she also blasted the BDS movement, which advocates boycotting Israel and its products in support of Palestinian rights, as "insidious and anti-Semitic."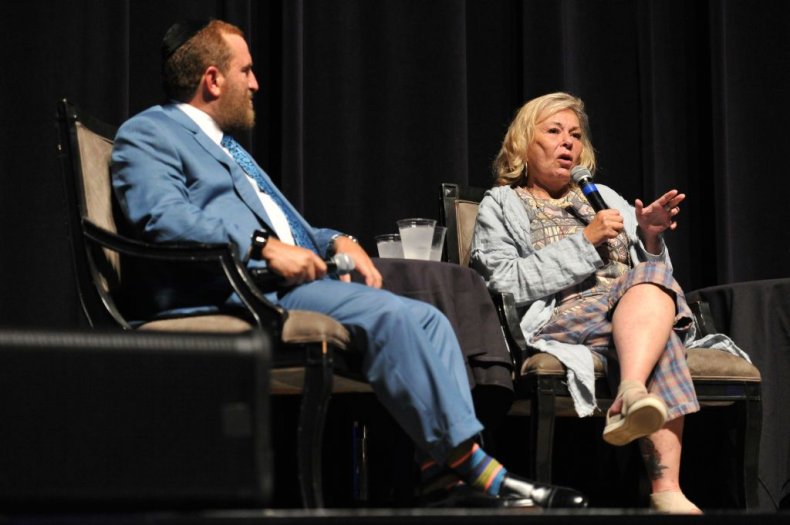 Boteach said that "bringing an incredibly proud Jewish woman like Roseanne to Israel will be a great boost to its citizens."
Barr, who is also a staunch supporter of President Donald Trump, made a television comeback when a reboot of her sitcom Roseanne premiered in March. However, it was canceled in May after the comedian made a Twitter comment comparing former Obama administration official Valerie Jarrett to a Planet of the Apes character. Many deemed the remarks as racist and highly offensive.
She later defended herself and apologized, in an interview with Boteach published by The Jerusalem Post. "I'm just so sorry that I was so unclear and stupid. I'm very sorry," she said. "I have loved ones who are African American."
This past spring, old photos of Roseanne dressed as the infamous Nazi leader Adolf Hitler resurfaced and went viral online. In the images, the comedian, sporting Hitler's iconic mustache, holds a baking sheet with burnt gingerbread men cookies. The photographs were deemed highly offensive by some, as they reminded viewers of the Holocaust, when the Nazis killed millions of Jews in death camps during World War II. Many Jews were gassed to death and their bodies were then burned.
The images were initially published in a 2009 issue of Heeb, a now-defunct satirical Jewish publication. Barr herself was born into a Jewish family.
After the publication, the magazine defended itself saying, "Heeb is a satirical Jewish culture magazine that interrogates stereotypes and ideas (hopefully in creative ways) that many hold sacred in order to represent the complex and nuanced perspectives that many Jews have about their identities."
It went on to say that "certainly Jews have been joking about the Holocaust since the Holocaust ... but these jokes have largely been uttered in private or underground. In recent years, they have been finding themselves in the most public of conversations."
While Roseanne will go to Israel and criticize BDS, many celebrities, academics and activists have joined the movement. They often compare the Israeli government's treatment of Palestinians and other non-Jewish citizens to South Africa's former apartheid system, which legally segregated and denied rights to the country's majority black population.
In July, the Knesset approved the controversial "nation-state law," which declared that only Jews have the right to self-determination in the country. The legal change led to a significant outcry from Israel's minority Druze community, with high-profile military leaders from the community resigning their posts.