Rosie O'Donnell Calls Donald Trump a 'Child Rapist'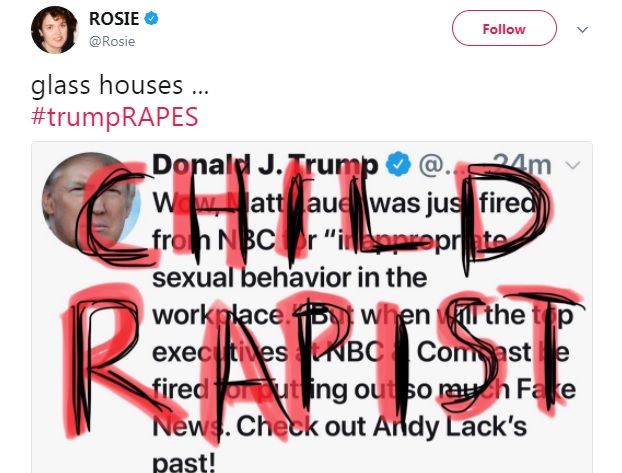 The years-long feud between President Donald Trump and Rosie O'Donnell took a dramatic turn Wednesday when the former talk show host accused Trump of being a "child rapist."
O'Donnell leveled the accusation at Trump after the president weighed in on NBC's decision to fire veteran Today show anchor Matt Lauer. Trump appeared to deflect sexual harassment allegations against Lauer—who attended the billionaire's wedding to Melania Trump in 2005—and instead called for a probe of senior NBC executives.
O'Donnell, a former View co-host, posted a screenshot of Trump's tweet about Lauer with the words "child rapist" scrawled on it.
O'Donnell captioned the picture "glass houses" and used the hashtag "#trumpRAPES."
During the 2016 presidential election campaign, several women accused Trump of sexual misconduct, allegations Trump has denied. The month before Election Day, a now-infamous Access Hollywood recording from 2005 resurfaced, featuring Trump making crude remarks to Billy Bush about sexual assault.
Although O'Donnell didn't clarify her accusation, the 55-year-old comedian is perhaps alluding to a rape allegation made in a lawsuit filed by an unidentified woman in June 2016. The woman, who went by "Jane Doe," claimed she was raped by Trump and billionaire Jeffrey Epstein—a pedophile convicted of sex offenses—when she was 13 years old. The alleged assault took place at a party at Epstein's Manhattan home in 1994.
"Immediately following this rape Defendant Trump threatened me that, were I ever to reveal any of the details of Defendant Trump's sexual and physical abuse of me, my family and I would be physically harmed if not killed," said Jane Doe in the lawsuit.
The woman dropped the suit in November 2016, just days before the presidential election. The woman's attorney, Lisa Bloom, said she was too scared to continue after receiving death threats.
Trump denied the allegations against him.
O'Donnell and Trump's feud dates back to 2006, when she criticized him for not firing Miss USA winner Tara Conner, who admitted to drug use and underage drinking. Trump responded calling O'Donnell "a loser" and "fat."