Roy Moore, Who Faced Multiple Sexual Misconduct Allegations, Tops Republican Poll for 2020 Alabama Senate Race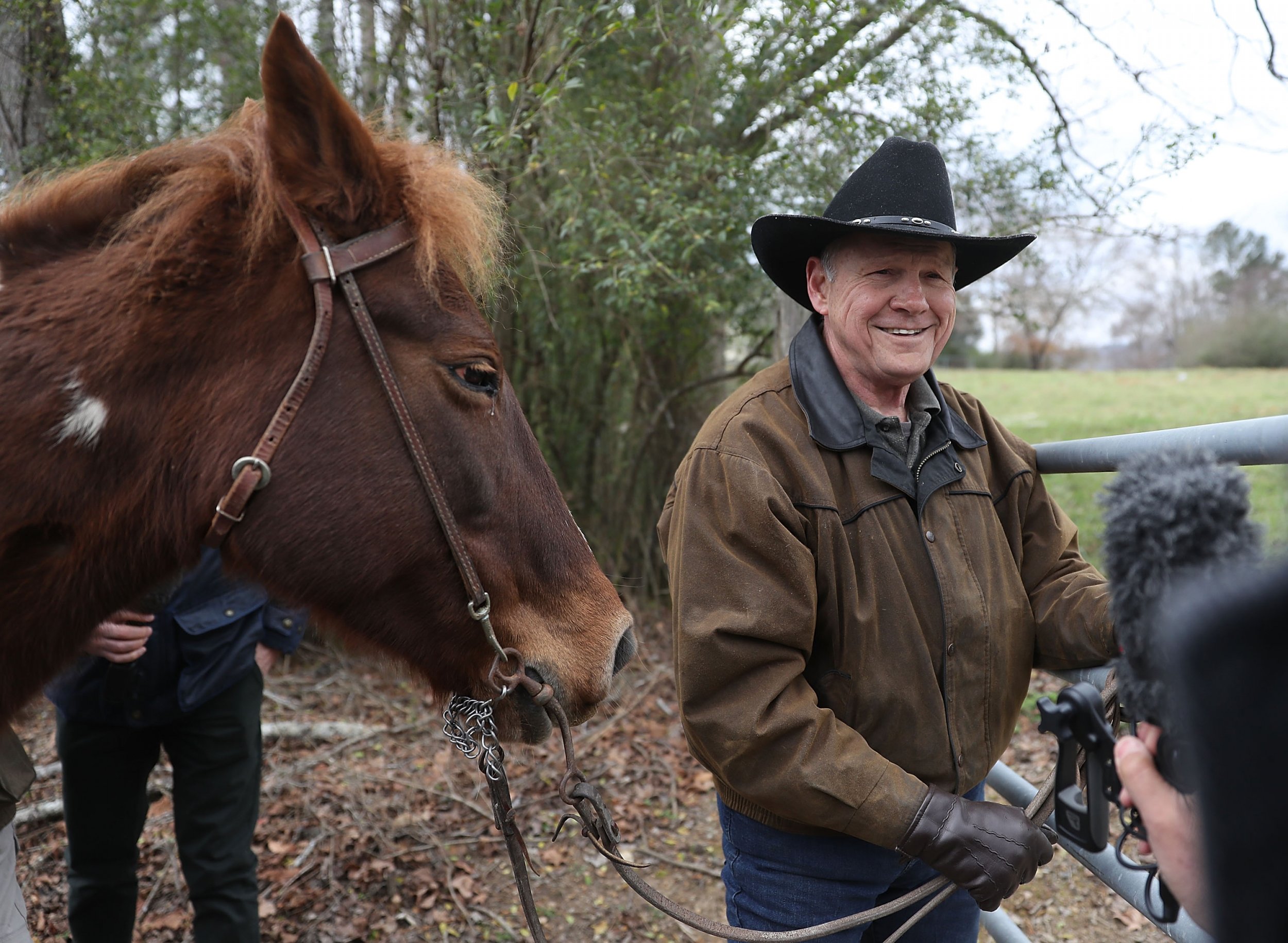 Roy Moore, the Alabama judge who narrowly lost a 2017 special election Senate race to his Democratic opponent after facing accusations of engaging in sexual misconduct with underage girls, has now topped the list of Republican candidates for the 2020 Alabama Senate race.
A new Mason-Dixon Alabama poll released Tuesday found 27 percent of respondents, who were registered Alabama Republicans, said that if the 2020 primary were held today, they would vote for Moore. The former chief justice of the Alabama Supreme Court was followed by Representatives Mo Brooks at 18 percent, Bradley Byrne at 13 percent, Gary Palmer at 11 percent, State Senator Del Marsh at 4 percent and former gubernatorial candidate Tim James at 2 percent. A quarter of voters said they were undecided.
Democrat Doug Jones, a former prosecutor, won a narrow victory with little more than 20,000 votes—less than 2 percent—over Moore during the 2017 special election to replace Jeff Sessions in the reliably conservative state. Tuesday's poll showed Jones' job approval rating was split among overall voters, with 45 percent saying they approved, 44 percent saying they disapproved and 11 percent unsure. Half of all respondents said they would vote to replace Jones, a moderate Democrat, with a Republican in 2020, with 40 percent indicating they would re-elect Jones and 10 percent not sure.
Moore's name, although largely recognized to poll respondents, still divides the Republican Party in Alabama. His favorable rating among GOP primary voters was 34 percent while his unfavorable rating was 29 percent.
Although not officially running, Moore indicated in March that he was "seriously considering it," during an interview on the Christian radio program "Focal Point," produced by American Family Radio. Newsweek's efforts to contact Moore by phone Tuesday morning were unsuccessful.
Previously endorsed by President Donald Trump, Moore branded himself as an unabashed Southern conservative, even arriving to the polls on election day by horseback.
But sexual misconduct accusations brought by several women, whom he later sued for defamation and conspiracy, aided in partially derailing his campaign. The allegations, which Moore denied, included women saying Moore engaged in sexual misconduct with them when he was in his 30s and they were teenagers.
Despite Jones emerging victorious, Moore refused to concede, instead asking supporters for donations for an "election integrity fund" to challenge "numerous reported cases of voter fraud and irregularities." No such evidence was ever found to support his claims of voter fraud.
The poll was conducted by Mason-Dixon Polling and Strategy Inc. of Jacksonville, Florida, from April 9 to April 11, with 625 registered Alabama voters by phone. The margin of error was plus or minus 4 percent. The GOP primary portion was conducted among 400 self-reported registered Republicans and had a margin of error of plus or minus 5 percent.