Twitter Turns Prince Harry's 'Two Weeks' Royal Baby Comment Into a Conspiracy Theory
Twitter seized on a comment by Prince Harry about the new royal baby to spin a conspiracy theory that Meghan Markle gave birth much earlier than we thought.
The Duke and Duchess of Sussex made their first appearance with the as yet unnamed royal baby boy, born early on Monday morning, during a small event with the media in Windsor on Wednesday. At that event, a reporter asked the couple who the baby looks like.
"You know, everyone says babies change so much over two weeks," Prince Harry replied. "We're basically monitoring how the changing process happens over this next month, really. But his looks are changing every single day so, who knows?"
Prince Harry was talking about the coming weeks. And he later said explicitly that "it's only been two and a half days, three days." But for some Twitter users, his comment was a slip up—and evidence that, for some not immediately obvious reason, the royal family covered up the birth of the royal baby for a fortnight.
"It's magic," Markle, an American actress best known for starring in the drama Suits, told reporters. "It's pretty amazing. I mean, I have the two best guys in the world so I'm really happy…He has the sweetest temperament. He's really calm…and he's just been a dream, so it's been a special couple of days."
Whether he was born on Monday or two weeks ago, there is still no name for the baby.
Among the royal baby names tipped by bookmakers as likeliest are Arthur, Alexander, Albert and James. According to Google, the top searched names in association with the royal baby are David, Spencer, Luke, James, John, Stephen, Tyrone, Rupert, Alan, and Robert.
The royal family announced on Monday that the Duchess gave birth to a baby boy at 5:26 a.m. BST (00:26 a.m. EST).
The baby, who is seventh in line to the throne, weighed 7 pounds 3 ounces. The Duke of Sussex was present for the birth. The graphic below, provided by Statista, illustrates the line of succession to the British throne.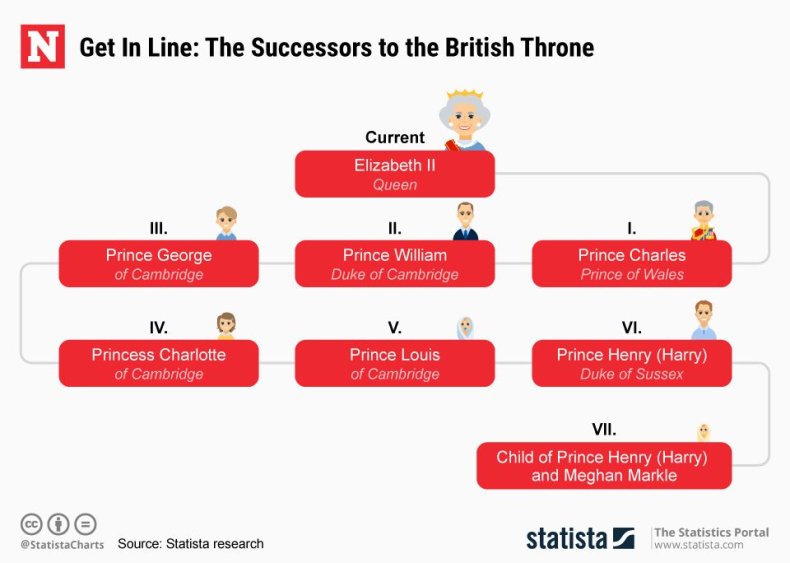 Harry's family—including brother Prince William and sister-in-law Kate Middleton, the Duke and Duchess of Cambridge; his father Charles, the Prince of Wales; and grandparents Queen Elizabeth II and Prince Philip, the Duke of Edinburgh—were all described as delighted.
"The Duchess's mother, Doria Ragland, who is overjoyed by the arrival of her first grandchild, is with Their Royal Highnesses at Frogmore Cottage," a statement from Buckingham Palace said.